#SAVETHEDATE
Trending Events Weekly Calendar: What you shouldn't miss this week!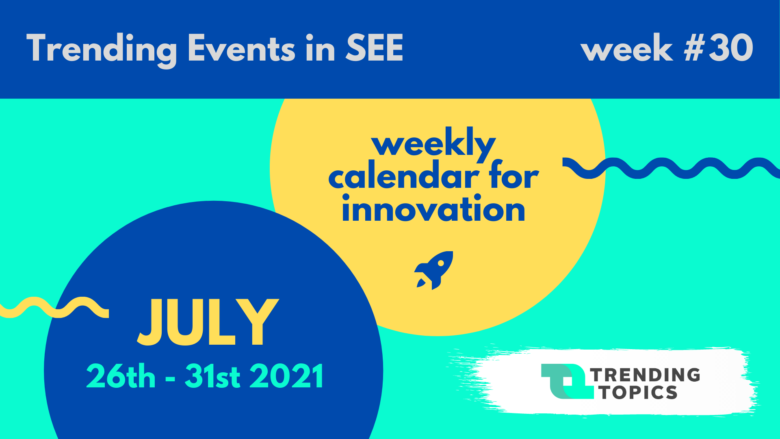 This is our list of all major events and open calls from the world of startup, innovation, and all things trending in the week of July 26th – August 1st 2021. Save the dates!
27-28 July 2021
Cyber Security Global Summit'21 (by Geekle.us)
Largest Cyber Security Event of the Year! Geekle has the unique experience to gather huge tech summits with 10'000+ attendees with 95% of free users registered in other tech domains.
More information HERE
28 July 2021
Your LinkedIn Growth Strategy (by ReturnClient)
Creating a Repeatable Daily Process for your LinkedIn Activity to maximize your results and minimize your time.
More information HERE
29 July 2021
Shaping The Future of Operations in The Food & Beverage Sector (by Stratega Consulting)
This webinar will equip you with the knowledge to conduct a basic loss valuation of your process. What do consumers value in food product and how to embed them into your process?
More information HERE
29 July 2021
Founders in Europe: Free Company Building Session (by Founders in Europe)
In this session, you'll be together with other founders who want to grow their businesses. Benjamin Ruschin & Michael Ionita, entrepreneurs who are on a mission to help as many founders as possible to succeed, will answer your questions LIVE!
More information HERE
30 July 2021
Webinar: What is the future of association events? (by Brightelm)
In this webinar we will be discussing the questions most asked about the future of association events: What trends in other industries are going to affect ours and how will the events industry supply chain need to adapt?
More information HERE
1 August 2021
Design Thinking & Innovation Week (by Future Academy London)
An immersive programme for creative entrepreneurs, innovation directors and business owners – introducing you to London's most innovative businesses and uncovering the latest approaches to design thinking and innovation.
More information HERE
OPEN CALLS: 
Leaders – Women Innovators in Manufacturing (by eit-Manufacturing)
Apply until July 31 2021
Leaders is a competition aiming to reach out to support the best women innovators (i.e. professionals, researchers, entrepreneurs) playing a leading role in developing solutions / initiatives addressing manufacturing-related challenges with strong financial, environmental, or societal impact.
More information HERE
We forgot to list your event? Drop us an email at office@trendingtopics.bg.