#SAVETHEDATE
Trending Events Weekly Calendar: What you shouldn't miss this week!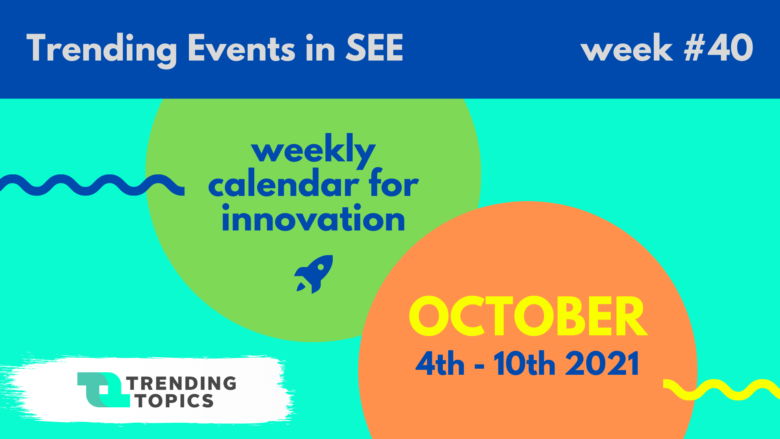 This is our list of all major events and open calls from the world of startup, innovation, and all things trending in the week of October 4th – 10th, 2021. Save the dates!
7 October 2021
EVENT: Europe Challenge 2021 (by Thrive Global Initiative)
The THRIVE Europe Challenge solves problems of the European agri-food industry, accelerates the development of the ecosystem, and selects the best startups and scaleups for investment,t and global recognition.
More information HERE
7 October 2021
EVENT: RedBull Basement Bulgaria (by RedBull Events)
Red Bull Basement empowers student innovators to drive positive change through tech solutions. Students from around the globe have brainstormed innovative ways to create positive change. Give a shout-out to the most impactful ideas!
More information HERE
10 October 2021
EVENT: Digital Festival Poland (by European Digital Days)
The Digital Festival is the largest initiative in Poland focused on showing how to best take advantage of the opportunities offered by new technologies. The festival is an opportunity to acquire digital skills and practical digital knowledge.
More information HERE
10 October 2021
EVENT: Forbes Innovation Forum (by Forbes & Launchlabs Sofia)
The Forbes Innovation Forum is a half-day event dedicated to the holistic approach to innovation. Customer care brings success. Leaders will share their experience in the holistic redesign of their companies. They will talk about those revolutionary changes in business processes and strategies that have made consumers become loyal and long-term customers.
More information HERE
10 October 2021
EVENT: Future Past (by Ratio)
Future Present is an all-day event that shows the intersection between science and business. It will present both the global aspects of the commercialization of science and successful scientific startups from Bulgaria and the ways in which local entrepreneurs use science to change the future.
More information HERE
We forgot to list your event? Drop us an email at office@trendingtopics.bg.