MORE THAN TRENDING
Trending Topics 2022: We are launching Austria's first magazine with an NFT cover!
An exciting year is drawing to a close. 2021 will go down in history in many ways, not just because of Covid-19 and the restrictions that came with it. The past twelve months have also shown what can be achieved if we work together and what is possible if we support one another. All in all, it was a year full of ups and downs, a reason enough for us to launch a magazine in which we want to take a look back, but above all an optimistic look ahead.
Big NFT auction
At the end of the year, we also want to meet our social responsibility once again. That is why we are auctioning an NFT on January 10, 2022, provided by the Austrian artist John Petschinger . Many thanks for this! The highlight: The cover image of our new magazine "Trending Topics 2022" also exists as an NFT, the image was christened "This is for you" by the artist. In this case, "you" is the Sterntalerhof, a hospice for terminally and seriously ill children, to which we will hand over the entire sum raised by the NFT. We look forward to many bids and as large a sum as possible!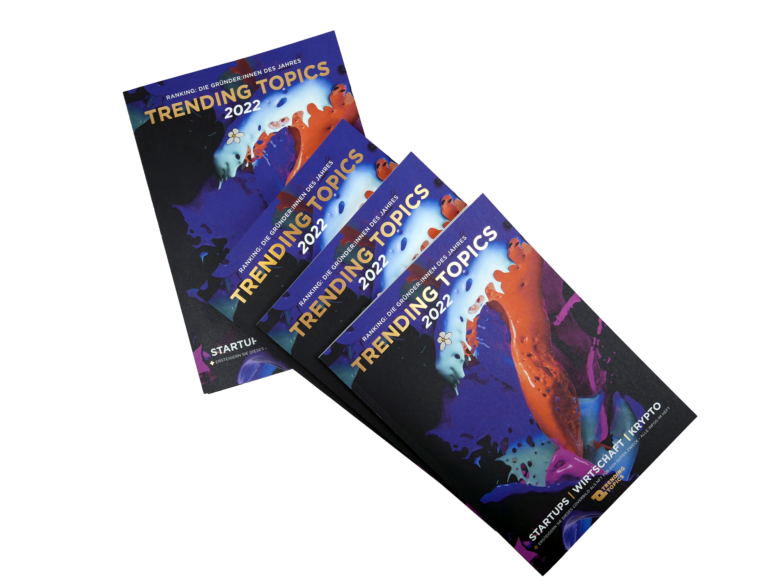 The content in the magazine
On 76 pages we take a comprehensive look at the domestic startup ecosystem and the economic developments of the previous year and the coming year.
Review: We took a look at how domestic startups got through the crisis, where business models were adjusted, and who didn't make it. We also analyzed the trends of 2021 and took a look back with CEOs and industry experts.
Voting: The big ranking of the founders of the year 2021! The Trending Topics readers and a prominent expert jury voted and voted for the founders of the year.
Outlook: what's coming in 2022? Will the economy continue to improve? And what about sustainable developments? We will clarify this and much more in our last section.
>>> Download Trending Topics 2022 in German <<<
The report will be shipped to subscribers of our sales partner DerStandard this week, is available in selected startup spaces in Vienna, and is also available as a digital download as a PDF free of charge. We hope you enjoy reading it!