scaleflex
How One Of The Biggest Acquisitions Of VMware Led To A Bulgarian Startup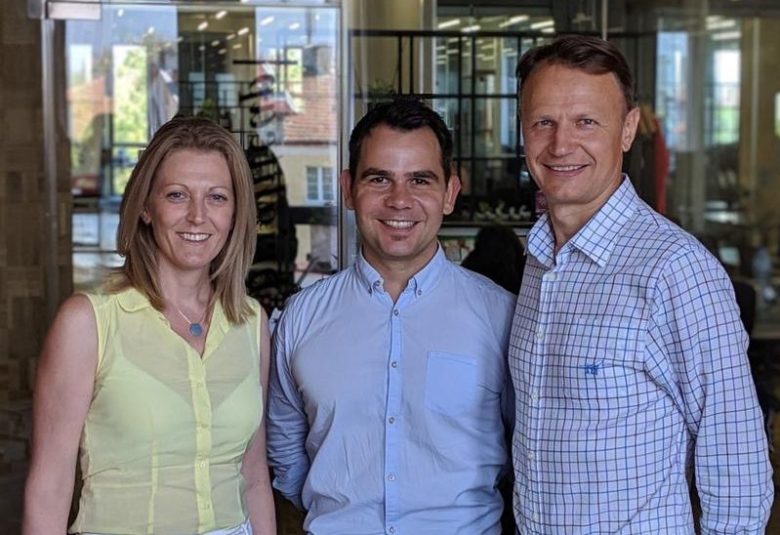 Emil Novakov left Bulgaria when he was three, and since then has traveled the world living in Tunisia, France, Germany, the US, and the UK, yet he was always willing to find a way to reconnect with his home country. After obtaining a masters degree in computer engineering from the Georgia Institute of Technology in Atlanta, USA, Novakov started working for a local startup called AirWatch that later turned into one of the biggest acquisitions of the software corporation VMware. As a result of this $1.6B deal, Novakov met his first investor – Diana Stefanova, who is managing director for EMEA at VMware, and also a partner at the Bulgarian BrighCap Ventures.
And this whole story leads to Scaleflex, a startup that develops digital image optimization and media asset storage products, and works between Paris, Munich, and three locations in Bulgarian. Founded in 2016, the company of 12, has doubled its revenue year-over-year and is expecting to reach €1M annual recurring revenue (ARR) by the end of 2020. So far self-funded with founders' own savings of €150K, and with two products developed in Bulgaria, Scaleflex has recently received a small pre-seed round of €200K from BrightCap to make its next step. 
"Actually the reason to invest in Scaleflex is Emil and his personality, in the first place," comments partner Diana Stefanova. "I think this capital will help them further develop so we can follow-up our investment soon."
Just the right size and speed
Co-founders Emil Novakov and Julian De Maestri know each other from college, the third co-founder Charles Hirel, came to them through AirWatch. Around the time AirWatch got acquired, De Maestri was already testing the market for image resizing and distribution via content delivery networks. Back then in 2014, he launched a website where users could do exactly this. In 2015 Novakov already had thoughts on working with him on the project, and the company was officially founded in 2016, shortly after Novakov quit his corporate job at VMware. 
It all started with the idea to allow web platforms, especially in e-commerce, to perform better and accelerate sales thanks to better page loading times. "100  milliseconds of latency in the loading of an e-commerce site results in a 1% drop in sales. Half of the users expect pages to load in less than two seconds. Therefore websites need to be lighter and their imagery needs to be optimized," explains Novakov.  In its early days, their first product Cloudimage was a B2D (Business-to-developer) SaaS solution that helped anyone building websites, e-shops, diverse mobile apps easily resize and manage images. On the one hand, this helps developers accelerate their process by not taking extra care of resizing, cropping, etc… and on the other hand accelerates the page loading time, resulting in better SEO and eventually higher conversion.
With the time the product evolved to a tool that is also used by marketers themselves to be able to easily produce several versions of a particular visual for different purposes, and easily manage it. Now Scaleflex launches another product called Filerobot that can also store all media assets (images, videos, audio, code, files, etc.), process them and eventually accelerate their distribution worldwide to improve overall asset lifecycle management and web performance. 
Business in acceleration
It may not sound like the next Google, but the solutions of Scaleflex kill important pains of digital businesses. And their numbers are evidence. Within the first two years, Novakov and the team attracted over 400 customers, a third of which paying. Over two-thirds of the revenues now come from Europe, which has so far been the focus. 
Of course, Scalflex has competition, mainly in the US and Israel, shares the founder. He sees the unique selling proposition of the company in the technology and the compressing algorithms themselves, but also in the simplicity of their tools. "We are not trying to offer everything possible, but 10% of the features needed by 90% of the customers," shares Novakov. "To carefully choose their focus was also one of the first pieces of advice we as investor gave the team," comments Stefanova. Alongside the focus when it comes to product development, the young venture is also carefully choosing its channels and partners. Currently, Scaleflex is partnering with infrastructure vendors like Microsoft and Amazon, digital agencies and also large Content Delivery Network (CDN) providers. 
With the new investment from BrightCap, the team now aims to go on the global stage and plans to make the first steps in Asia. "This is a tremendous market when it comes to mobile content, so we have to be there. We even already have two team members over there," tells us Novakov. Part of the seed-investment will be used to grow marketing, sales, and development capacity, also in Bulgaria. 
"I'm confident that Scaleflex will justify our commitment and expectations, and we will invest also in the next stage of their development," concludes Diana Stefanova.