RUSSIA vs UKRAINE
We are witnessing the "first crypto war in human history"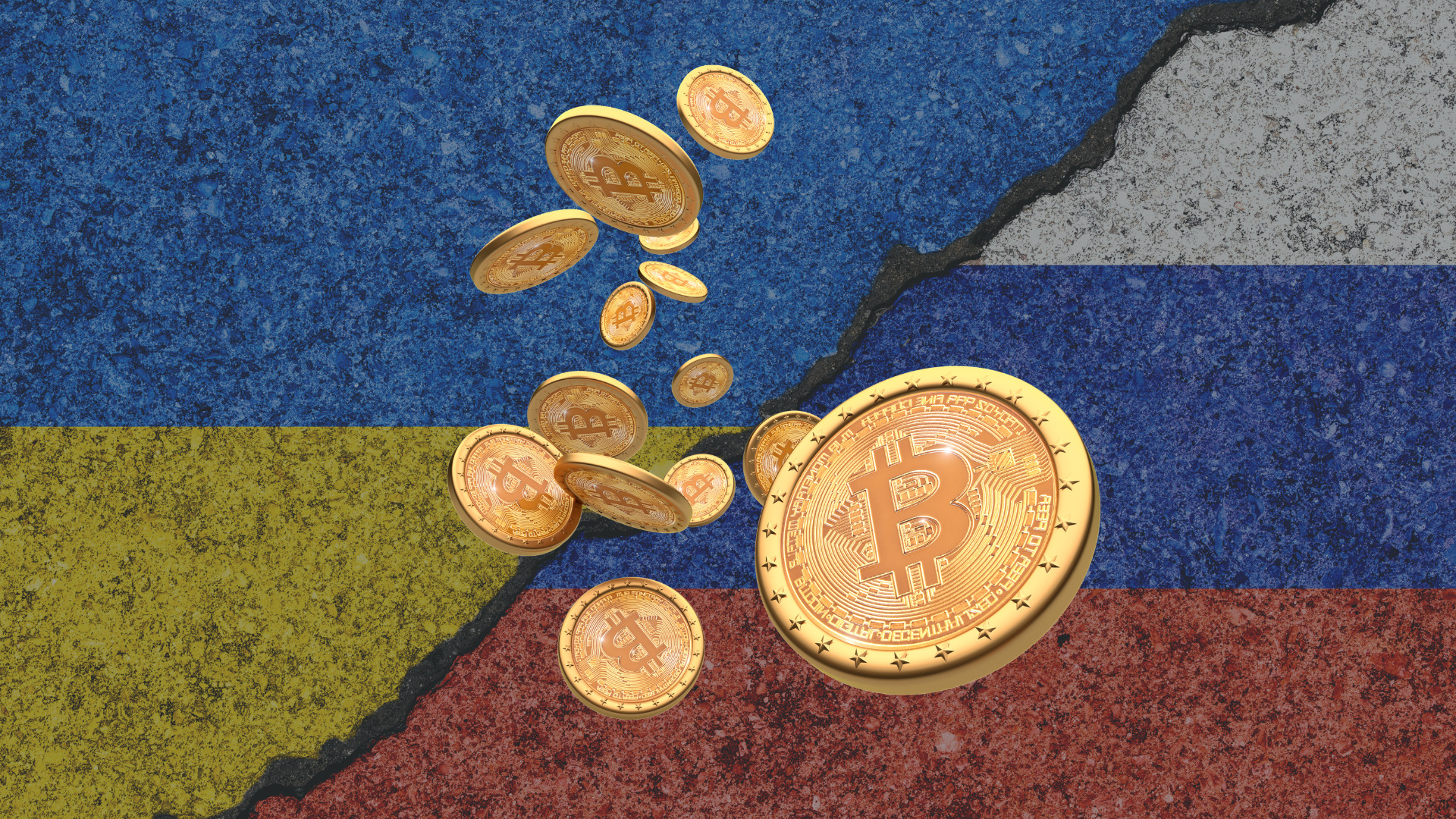 Russia's bloody war of aggression against Ukraine is spread on multiple levels: physical, financial, and in cyberspace. This is the first war in human history in which cryptocurrencies play a major role. 13 years after Bitcoin's emergence, both sides are trying to use crypto assets to their advantage in the conflict. Crypto donations are used to buy weapons, Russia thinks it can use Bitcoin and Co. to compensate for the economic sanctions and the exclusion from SWIFT.
The Washington Post, therefore, writes that this is the "first crypto war in the world". This has not only to do with the fact that both countries are banning crypto assets based on new laws (both in Russia and Ukraine) as a new tax source. Historically, crypto-asset adoption is already relatively high in both countries. The analysis company Chainalysis calls Ukraine the "leading country in Europe" for the adoption of BTC and Co. and ranks 4th worldwide – behind Vietnam, India, and Pakistan. This means that crypto-assets have already arrived in everyday life for many Ukrainians. So it is not surprising that stories are spreading about people who report that they have managed to save at least parts of their assets abroad with the help of their crypto assets. According to Chainalysys, Russian (sometimes state-affiliated) hacker groups managed to take around $400 million in crypto assets through ransomware attacks last year.
Ukraine vs. Russia: A war fiercely fought also in cyberspace
More than $13 million in crypto donations
Now, in the first week of the war between Russia and Ukraine, you can see millions of dollars worth of crypto assets moving. The analysis company Elliptic calculates how much has come together through donations to Ukrainian wallets to date. "The Ukrainian government and NGOs supporting the military have raised $13.7 million through thousands of cryptocurrency donations since the invasion began. An NGO received a single Bitcoin donation worth $3 million," Elliptic said Sunday morning. An interesting connection: Among the income of the Ukrainian government wallet is a single donation of $1.86 million, which appears to have come from the sale of NFTs.
Already on Thursday and Friday, it was shown that Ukraine can receive a lot of donations via crypto assets. Fueled by this, Mykhailo Fedorov, the Ukrainian Minister of Digital Affairs, once again tweeted a call for crypto donations, which can now be made in BTC, ETH, and in the stablecoin USDT (runs as an ERC-20 token on Ethereum).
There is also the NGO Come Back Alive, active since 2014 and run by IT specialist Vitaliy Deynega. He collects donations, which are then invested in military and medical equipment. Crypto assets are hugely important to Deynega. For example, Come Back Alive was suspended from the Patreon platform because funding military groups violated their guidelines. Bitcoin is there a little, being able to access donation funds directly without intermediaries or banks.
If you want to see for yourself how much BTC, ETH, or USDT Ukrainian wallets have received to date, you can do so here (e.g. Block Explorer such as Ethercsan or Blockchain.com). The equivalent of almost $14 million to date is a handsome sum. For comparison: the Czech Republic announced that it would deliver weapons and ammunition worth €7.6 million, while the USA promised Ukraine $350 million. The other question, of course, is what is really happening with these crypto donations. The Ukrainian side must also find other governments or companies that will accept the crypto assets as a means of payment.
Ukrainian Government Crypto Addresses:
Come Back Alive BTC address:
Addresses of the Unchain Fund :
ETH: 0x10E1439455BD2624878b243819E31CfEE9eb721C
BSC: 0x67ef9A8D7f4ed931ac63e873b75d8F8dea64Cdb2
Harmony: 0x50239f0D06636a4Ca97Fb2Ad7125fDDa63E692A4
MATIC: 0xb37b3b78022E6964fe80030C9161525880274010
AVAX: 0x0a1e264cDeb531657b7Ff65860B70bE6761DC7aa
Russia is trying to circumvent sanctions
However, cryptocurrencies could also be an issue. Since Putin tightened the noose around Ukraine, Russia has assembled an estimated $600 billion to $700 billion "war chest". That will help Putin fund this bloody war of aggression longer. According to Estonian MEP Riho Terras, this war is costing Russia around $20 billion a day – the longer it lasts, the more it eats into Russia's budget. Added to this are the sanctions imposed by the West and the decision to exclude Russian banks from the international banking information system SWIFT on Sunday night and other planned sanctions against the Russian central bank. Bitcoin and Co could help circumvent the sanctions.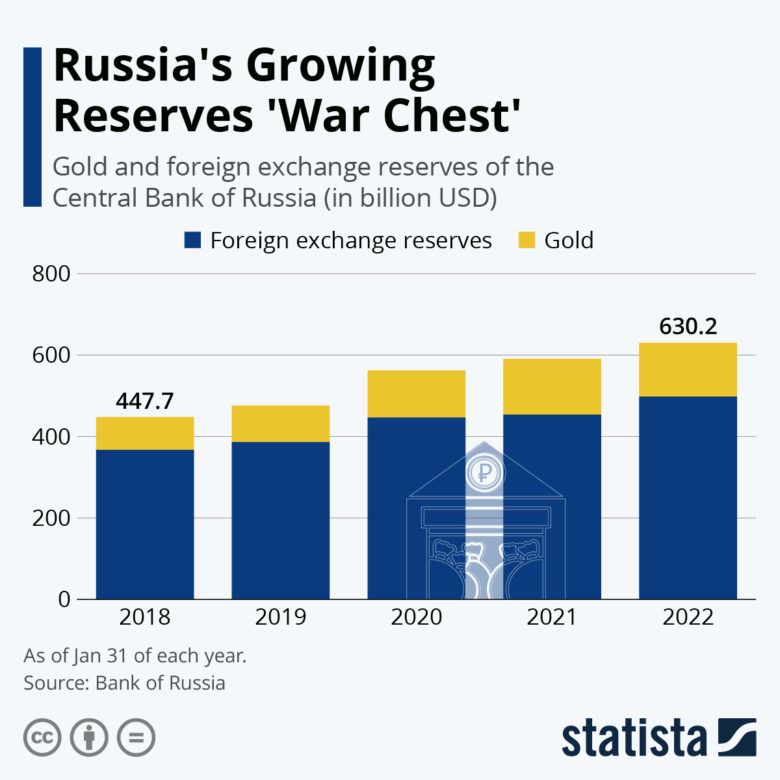 Putin and his cronies must have foreseen that the West would unleash the SWIFT mace in the face of the invasion of Ukraine. Putin switched from a planned crypto ban in Russia shortly before the start of the raid, instead, it should now be legal (under strict conditions) to trade Bitcoin and Co. in Russia. Strict registration requirements for use are intended to ensure that appropriate taxes are paid and that who pays for what bitcoin in the country is closely monitored. So it is also possible that more and more Russians are looking for salvation in BTC or ETH in view of the hard decline of their own ruble currency – knowing full well that the cryptos have also experienced additional price turbulence due to the Ukraine war. Here is a comparison of price developments over the past 6 months:
Bitcoin = Blue
Ethereum = Violett
Gold = Yellow
Ruble = Red
Ukrainian hryvnia = green
An instrument of war
Russia's war of aggression against Ukraine has also caused an outcry in the crypto community itself. Ethereum mastermind Vitalik Buterin, himself of Russian descent, verified the Ukrainian government's crypto addresses (mentioned above) and also called for donations to the Unchain Fund. According to Deeser, it has so far raised $1.3 million (in ETH, BNB, MATIC, ONE, and NEAR tokens) for humanitarian aid in Ukraine. "This is a crime against the Ukrainian and Russian people," Buterin said.
But Buterin also writes: "Ethereum is neutral, but I'm not." And that must always be taken into account in the current scenario. In the crypto west, the focus is now on tracking which BTC and ETH donations end up in Ukrainian wallets. The fact that deadly weapons can then also be bought with these assets and one does not know exactly who will get their hands on them shows that cryptocurrencies have now (after drug trafficking, ransomware attacks, etc.) also become an instrument of war. The blockchain does not ask what is done with the coins and tokens – it just verifies transaction after transaction incessantly. Both on the Ukrainian and on the Russian side.