Raiffeisen Elevator Lab Opens a Call for Fintech Startups. Read This Before You Apply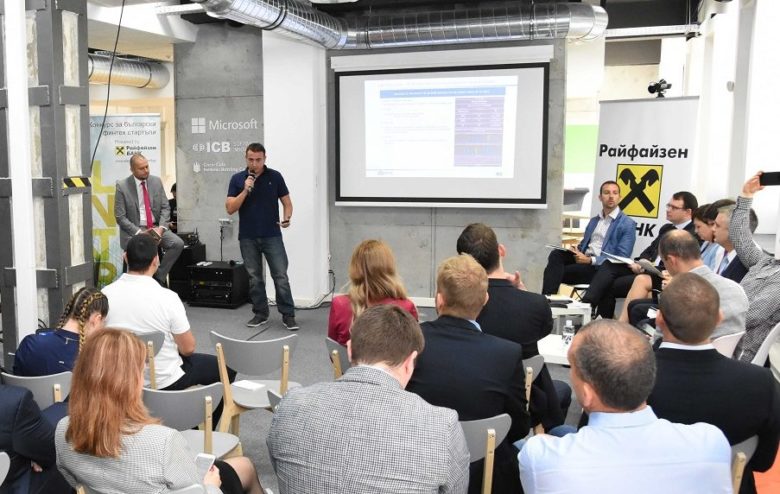 "When we started out we had a rather basic rules engine for anomaly detections. During the Proof of Concept period with Raiffeisenbank in Bulgaria, and because as a bank they had a very complex set of rules, we managed to refine our product and make it transferable to the whole sector," tells us Anton Gerunov, COO of LogSentinel.
Last August, his company was named Local Hero at the Bulgarian challenge of Elevator Lab, the fintech partnership program of Raiffeisen Bank International in Central and Eastern Europe. LogSentinel is one of the three startups that participated in the program and are already working with the bank, along with the winner of the local challenge Evrotrust and one of the global finalists Pisano.
Given the pace at which fintech startups are disrupting the banking sector, established players don't want to stay aside and watch innovation surpassing them. So, they are looking for ways to get in touch with disruptors. This applies especially for Raiffeisen Bank International, which for the third time launches its corporate acceleration program Elevator Lab Challenge.
Call for disrupters now open
Up until June 21, fintech startups that have already developed a product can apply and secure their chance to be among the five finalists who will be pitching in front of Raiffeisenbank Bulgaria's top managers. This year there's also a separate track for seed stage companies – the Elevator Lab Bootcamp. Raiffeisen will contact the selected teams before June 29 and will accompany their preparation for the national Demo Day on July 3.
The banking group is looking for disrupters in eight particular areas: Advanced Analytics & Artificial Intelligence, RegTech, Corporates & Institutional Clients, Digital Payments, Retail Banking, SME banking, Cyber Security, and Forex Solutions. On local level, Raifeissenbank Bulgaria has partnered with different startup and tech ecosystem stakeholders to make sure the right companies are selected. 
The national winners in both tracks will receive the chance to meet senior managers at RBI's headquarters in Vienna. The one who wins Elevator Lab Challenge gets a wild card for the global semi-final and the opportunity to integrate with RBI's systems on its 13 markets reaching 16M clients.
The winner doesn't take it all
"Even though we didn't make it to the global finals, the participation in the challenge gave us the opportunity to meet the top management of both Raiffeisen Bank Bulgaria and RBI. We have already been contacted for PoCs within the group – one in Romania, and one in Albania," says Konstantin Bezuhanov, CEO of Evrotrust, last year's winner in Bulgaria, who is working in the RegTech domain.  His company has developed a based-on face recognition technology, remote e-trust and identification solution.
"We aim a long-term partnership with the best fintech companies and offer access to our expertise, experience, resources and the established clients base," says Oliver Rögl, CEO of Raiffeisenbank Bulgaria.  
Like Gerunov, Evrotrust CEO also shares the company has polished one of their products – the remote attorney, during the preparation phase with Raiffeisen team, and thanks to templates provided by the bank. According to Bezuhanov, probably the most valuable takeaway from the Challenge is that companies get to talk directly with the C-level management and decision makers. "They have taken digital transformation seriously and are ready to actually listen to what companies could offer them," he says.
A strong local fintech ecosystem
"We are eager to explore what else Bulgarian fintech companies are working on and to work together on the development and implementation of the best products in our system," Rögl is determined.
Last year there were 23 applicants from Bulgaria, the second largest group after Russia in Eastern Europe. In sum, the fintech companies that have applied for the two past editions of RBI Innovation Lab are 743 and 22 of them are already working on PoCs. Visibility within the group and access to the clients are the two major pains of fintech startups that find a solution through such corporate partnerships, both Gerunov and Bezuhanov agree.
It remains to be seen how many applicants are coming from Bulgaria this year and whether someone will make it to the grand finale. Here are some tips & tricks for the newcomers from Elevator Lab veterans Anton Gerunov and Konstantin Bezuhanov:
Practical Tips:
#1 Be specific
Be very specific about the case you are making and focus. Don't try to explain everything the company is capable of. Be very clear how technology can give a solution to the problem the bank has
#2 Listen and see it through their eyes
Once selected, listen to the team that supports you during the preparation. They are usually very open in sharing particular cases and pains for which the management is looking for innovation.
#3 Communicate the high-level message and explain the technology in an understandable manner
In other words, follow the "mission – problem – product" formula and it should be all right. Start with "because".