CEE Star Of The Week
AltFins, a Fintech from Slovakia, Launches a Tool For Cryptocurrency Screening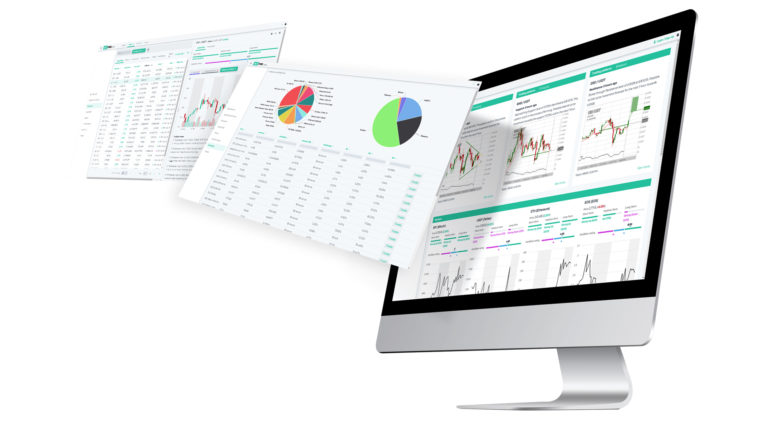 "CEE Star of the Week" is our weekly series of short stories where we present a company from Central and Eastern Europe that has recently achieved something significant – closed an investment round, won a prize, successfully launched on a new market, made a prominent hire, etc. The stories can be found both on trendingtopics.at and trendingtopics.eu.
Digital commerce during the times of a pandemic has experienced strong demand for development and specialization. Most services are quickly moving online, so what has happened to the corporations that have always operated in the cyberspace?
For altFINS, a Slovak digital assets startup founded by Richard Fetyko in 2018, the last months have been a period of expansion as the company has managed to raise €1 million in seed funding led by CB Investment Management. The fintech has launched its platform officially last week and is planning to answer the demand of the public and use this new capital to improve the capabilities of the platform and expand globally. Richard Fetyko, the CEO of the company, comments on the Slovak digital assets ecosystem and the altFINS platform.
Trending Topics SEE: Tell us more about the Slovak digital assets ecosystem – what is it like? What is your place in it?
Richard Fetyko: It's a small scene, we do not know too many individuals who are in it but there are a few players – a Slovak-based crypto exchange (Eterbase) and a crypto accounting and asset management provider (Cripkit). Our products are really intended for global audiences, so we do not really focus only on the Slovak audience, we aim at traders located all over the world.
Trending Topics SEE: What is your place in this ecosystem, competitively?
Well, to answer this, we need to break the landscape in accordance with what segment of the users is the app targeting. Let us think of the user base as a pyramid. At the bottom of the pyramid, there are the investor novices – these are the people who are just learning how to invest in cryptocurrencies, exploring various strategies and technical indicators. Next, we have intermediate investors, who are used to trading; they usually do not trade frequently but are used to the process and have a portfolio of cryptocurrencies. At the top of the pyramid are the very advanced users some of who even create their own strategies. There are various competitors for each segment of the user base. At this stage of our development, I would say that we are aiming at the bottom and middle segments of this pyramid. In fact, there are a lot of platforms that are intended at the automation of trading and algorithmic trading, and that is intended for the top segment of the pyramid, so for now we are targeting other tools.
Trending Topics SEE: What does the process of trade idea discovery consist of?
I should begin by saying that the trade idea generation system has been quite difficult for us to build. It took us a lot of time because it is really data-intensive. Our system is currently ingesting data from 20 different crypto exchanges. One of the big challenges that exist in our ecosystem is that it is very fragmented – there are 300 crypto exchanges and that number is growing. This makes the price data for those coins very fragmented as well. We're ingesting trade and market data from 20 exchanges and that means that we're ingesting around 200 million records a day. After ingesting data, we are calculating around 60 different types of analytics in 7 different time frames.
What all that means is that our platform is doing around 1 billion calculations a day. This is very resource-intensive and the sole process of programming it was a real challenge. That gives the users tools to screen the market quickly and easily and find the coins that fit their criteria. Another feature of our platform is that it recognizes 16 different chart patterns. A lot of advanced traders try to predict the market by recognizing chart patterns such as rising wedges or descending triangles and a lot of them do it by themselves. We've taken that art, if you will, and put it into science by optimizing our system to automatically recognize certain chart patterns for the user so that he doesn't have to search through various charts and look for the data. We've already cranked the data and identified the trends for him. I think that this is a very important time-saving tool for traders.
Trending Topics SEE: What is special about your company?
I think that what is special about us is that we're not just focused on the trade execution; there have been a lot of platforms that promise to help customers easily execute at the best price. Contrastingly, we are focused on what a customer should be selling or buying and why. We stress on the pre-trading analytics or trade ideas generation and this is something that very few companies do for their clients. When it comes to trade execution, there are a lot of apps – there is Coingy, another example is Quadency, etc. Yet, we differentiate ourselves as we have both the execution and the analytics that help the traders find trading ideas and that combination is, I think, unique at the marketplace.
Trending Topics SEE: What is the platform like for the customer? Do you base your trade idea generation process on a customer's personal profile?
The users have the ability to customize the platform themselves but we do not have AI technology to personalize the trade ideas and technologies according to the customer's preferences. Of course, this is something that we may be able to do down the road.
Trending Topics SEE: How many people do you have in your team?
We have 6 developers that are working on the project. We will be adding a few more people to work on the system. We'll be hiring some operational people and people in the marketing area. If we had more people, we could've done it faster, but as a startup, that was bootstrapped, we worked with what we had at the moment.
Trending Topics SEE: How many active users do you have?
We have around 100 active users, but it is very early. We literally launched last week. We received the seed-funding at the end of July and started working on our visibility shortly after.
Trending Topics SEE: What are the biggest challenges that you have faced so far? What will be the biggest challenges for you in the next 12 months?
So far, keeping up with all the data that we are ingesting has been one of the biggest challenges. The analytics, the calculating, the data management process itself were difficult for us. Making ourselves visible and acquiring users is, for sure, going to be a challenge in the near future. We want to establish ourselves as the leader in this sphere. From this perspective, marketing is going to be a challenge. There is a chance that this will be even more challenging than dealing with the technology itself.
Trending Topics SEE: What are the main benefits of using your platform?
Once again, I think that one of the huge benefits we provide our clients is the ability to screen the markets and some pre-defined filters that we have. We make it really easy to find the trends or the coins that are trending. We are making it very easy for users to monitor their portfolios across multiple exchanges. It is for this reason that a user quickly finds himself managing multiple accounts on different exchanges. One can also see his whole portfolio in one single place, which is also a benefit when it comes to digital assets. Finally, we have a clean UI – there are no advertisements. We do not upload content that is not beneficial or absolutely necessary for users to make investment decisions. There is no paid ranking of exchanges and coins. This means that the platform is unbiased and consists of clean information that the user can digest easily.
Trending Topics SEE: What may indicate to a user that a crypto platform is biased? 
Biased platforms often get paid by exchanges for being listed and ranked on top. On other occasions, they get money from projects to list their coins. These are things that users should definitely watch out for.