Sustainable Materials
Biomyc: Working With The Production Planning Department of Mercedes-Benz To Develop Eco-friendly Replacements In Car Production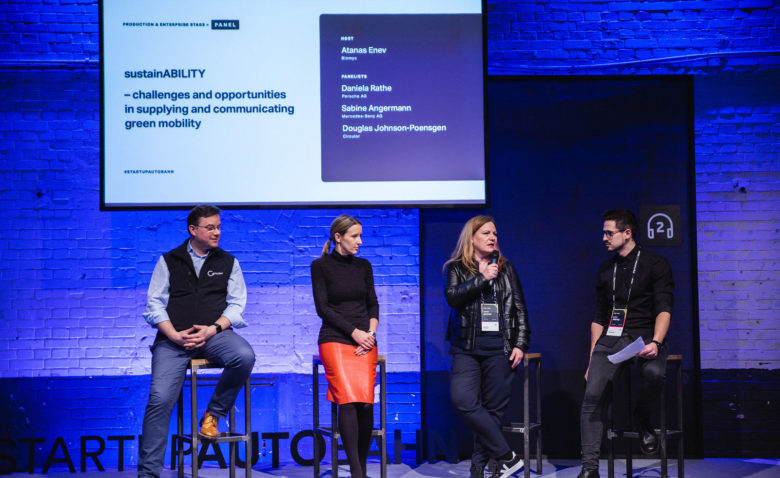 Biomyc has been working for several months with the Production Planning and Research Departments of Mercedes-Benz on the development of parts made from eco-friendly materials. The Bulgarian startup focused on eco-material innovation and the German automotive giant presented the project last Thursday, February 13th, at Startup Autobahn's Expo Day, organized by Plug and Play, one the world's largest open innovation platforms, which connects large corporations with promising startups.
There, Biomyc's co-founder Atanas Enev also moderated a panel on Green Mobility alongside Sabine Angermann, Director Mercedes-Benz, Cars Procurement & Supplier Quality, Daniela Rathe, Director Politics, External Relations and Sustainability at Porsche AG and Douglas Johnson-Poensgen, CEO of Circulor.  Over 1500 visitors, investors, and representatives of industry-leading companies like Rolls-Royce, Yanfeng Automotive Interiors, and Hyundai attended the event.
How it all happened
"We received an email invite a week before a scheduled Startup Autobahn Deep Dive Selection Session at the Mercedes-Benz Production Plant in Sindelfingen, Germany. Biomyc was shortlisted out of 1000 startups to present there. In the past, pitching events were not the most productive way to develop our startup, so we were hesitant at first. But then we got a great call from a Plug and Play representative.
They told us about their great innovation platform and asked us whether we wanted a chance to meet the management department of various divisions of Daimler and present in front of them to discuss a possible pilot project with the company. This was an amazing opportunity so, the next thing we know, we were booking a flight and flying to Germany. We went to the Mercedes-Benz plant in Sindelfingen and over the course of a day, we discussed and brainstormed different options for pilot products we could do together," shares Atanas Enev.
R&D and material innovation
Soon after that, the team received an email telling them they were one of only 27 startups selected to participate in the 7th  edition of Startup Autobahn. A few weeks later, Biomyc started working with the Production Planning and Research departments of Mercedes-Benz on the development of a mutilation cover from sustainable materials, to be used in car production. Mutilation covers, parts used in assembly when equipment is mounted, have until now been made of standard plastic material. On top of that, usually, the design, prototyping, production, and delivery of such parts take a very long-time.
The first thing on the to-do list for Biomyc was to select a suitable eco-friendly material. The Bulgarian biotech startup tested six different options – from 100% recycled composite materials to plant and mushroom-based ones.
In the end, 3D printable, engineering-grade, industrially compostable, plant-based plastic with recycled content was picked. Enev tells us that this solution results in 4x less CO2 emissions compared to the materials currently used by Mercedes-Benz. With the additive manufacturing approach, production and design are also 4x faster. Normally, every car model has a designated mutilation cover, but now one part can fit two vehicles, resulting in material, time and CO2 savings. The part is already being tested by the Production Planning department of Mercedes-Benz.
After the successful initial collaboration, now Biomyc and Mercedes-Benz are working on the next iterations of the part that could fit not one, not two, but six cars. With the goal to result in five times more savings and additional increases in eco-efficiency.
Where is Biomyc now and what's next
Biomyc is starting to experience a surge in customer adoption when it comes to its sustainable packaging proposition as well. At the beginning of February, the company launched the first series of a mushroom-based package, together with the Bulgarian biocosmetics company E LEK. In addition, since September 2019, Biomyc has been working on innovative packaging solutions with British American Tobacco and a Zaara Estate – a premium Bulgarian winery. The four-person team offers a circular approach, managing everything from R&D through rapid prototyping, production and delivery to end-of-life care.
However, it looks like Biomyc has set its sights on the automotive industry. "The project with Daimler will be our main focus for this year. But we are seeing that our R&D work has the greatest impact, so after the end of this collaboration we will continue to work with large automotive businesses," says Enev, explaining the plan for 2020.