CRYPTO MARKET
Bitcoin up as opinion leaders support digital coin future
Bitcoin went above the $32,000 mark on Wednesday (July 21st) as crypto opinion leaders Elon Musk, Jack Dorsey, and Cathie Wood made statements supporting the future of the digital coin.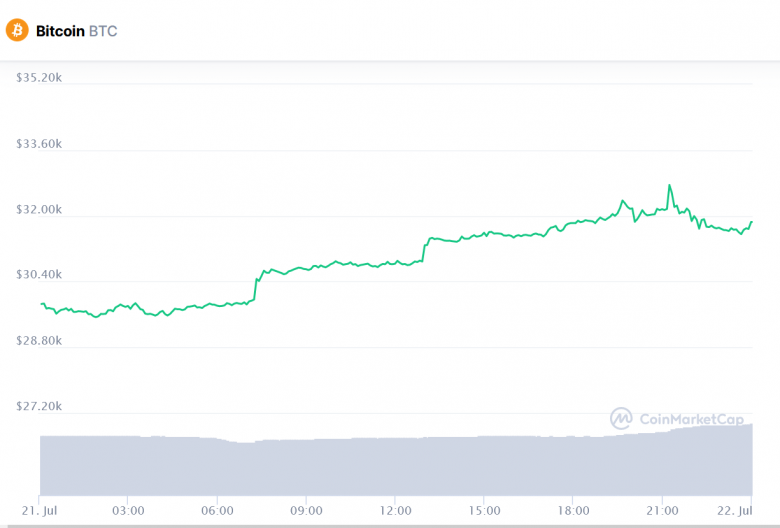 Speaking at a panel called "The B World" , Elon Musk said he owned bitcoin, Dogecoin, and Ethereum, adding that SpaceX also holds bitcoin assets, while Tesla will "likely" accept the cryptocurrency again.
Twitter CEO Jack Dorsey expressed high ambitions for Bitcoin, saying that "My hope is that it creates world peace."
Cathie Wood, Ark Investment founder and CEO, defended bitcoin's role as an inflation hedge in certain situation, citing emerging markets as an example.
Ethereum was also up Wednesday, reaching a top value of $1,983.
Top stories
Goldman Sachs: 45% of ultra-rich families interested in crypto
At least 45% of family offices, firms in charge of managing the money of billionaires, are interested in investing large amounts of money in cryptocurrency, a recent Goldman Sachs study revealed. Some 15% of them have already put some of their clients'  wealth in digital coins, but an additional 45% plan to do that in the near future.
Tether promises audit in "months"
Tether, the world's most popular stablecoin, will undergo an official audit within months, Stu Hoegner, the project's general counsel told CNBC in a rare mainstream interview on Wednesday (July 21st). The audit has been awaited for several years. "We are working towards getting financial audits, which no one else in the stablecoin sector has done yet," Hoegner said in the interview, where he appeared alongside Tether CTO Paolo Ardoino.