UNTIL 2029
Boom Supersonic: American Airlines orders 20 supersonic aircrafts from US startup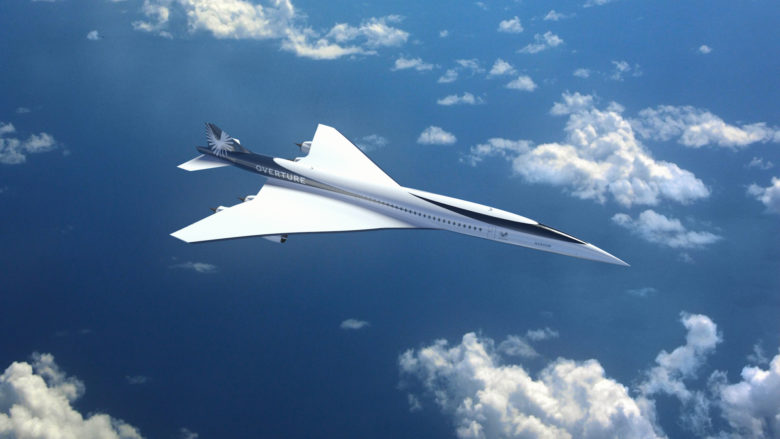 Supersonic flying is on the increase again, decades after Concorde. Boom Supersonic, a U.S. company, recently received an order for 20 supersonic fleets from American Airlines. Supersonic flights are said to restart in 2029.
Boom Supersonic said the deal includes an optional 40 extra aircrafts. Nearly 20 years after the last flights of the legendary Concorde, commercial supersonic air travel is well on its way to regaining momentum. The so-called "Overture jets" which promise speeds of up to Mach 1.7 over water – twice as fast as today's fastest commercial aircraft – are expected to begin rolling off the assembly line in 2025 and carry their first passengers in 2029. Concorde flew at a top speed of Mach 2.04, so it was even faster.
3.5 hours London – New York
According to Boom, the new aircraft is designed for a range of 4,250 nautical miles, which should allow it to fly about 600 routes around the world. The startup further estimates that a flight from London to New York would take 3.5 hours, compared to 6.5 hours using current means. London to Miami would take just under five hours, compared to nearly nine hours today. However, Boom Supersonic carries far fewer passengers:  The Overture is reported to be able to transport fewer passengers than subsonic passenger jets; Boom Supersonic claims 65 to 88 seats, which is less than Concorde's capacity. The seats will first be available at business-class prices.
Breaking News: @AmericanAir places deposit on 20 Overture aircraft. American, the world's largest airline, is poised to have the world's largest supersonic fleet. The agreement also includes an option for an additional 40 Overture aircraft. https://t.co/VbGWQiXnCC pic.twitter.com/BhHken9Yws
— Boom Supersonic (@boomaero) August 16, 2022
Further pre-orders
At any rate, business is booming for Boom Supersonic: American Airlines is already the third airline to place an order for the jets – after United Airlines, which ordered 15 last year, and Virgin Atlantic, which already signed a contract in 2016. So it all looks like we'll be flying faster than sound again in the future. What remains open is the environmental question. Boom Supersonic wants to be aware of the problem. They are focusing on "circular economy by reusing used tools, recycling components on the shop floor, and using additive manufacturing techniques that lead to less production waste and lighter, more fuel-efficient products" they told The Guardian. It also said it aims to have zero carbon dioxide emissions by 2025 and zero greenhouse gas emissions by 2040. It also aims to fly on "100 percent sustainable fuel"
Croatian startup MobilityONE aims at €1.5M to reach US and EU markets