OPEN CALL
Cassini Hackathon: Tech contest across Europe looks for the best solutions for the Arctic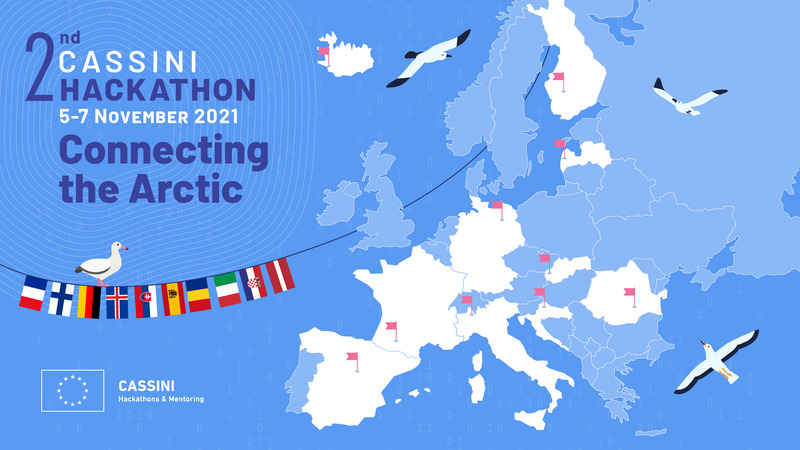 The 2nd CASSINI Hackathon, the international space tech competition brings together entrepreneurs from 10 European countries in order to discover the best solutions to solve problems of global interest. The event will take place between November 5-7, both live and online.
The theme of this year's competition is "Connecting with the Arctic". The participants' mission is to find, with the help of innovative ideas and technology, new travel routes, to protect wildlife, help indigenous communities, and preserve the natural habitats of the distant Arctic.
Solutions in 3 main categories are wanted:
Safe passage at sea – Products, devices, or services that enable container ships, cruise liners, and fishing trawlers to navigate safely across our Nordic Seas.
Life on Land – Products, devices, or services that enable human societies, plants, and wildlife to better adapt to the Arctic climate.
Caring for our wildlife – Products, devices, or services that can help protect biodiversity and the natural habitat of wildlife in the Arctic.
The hackathon is open to anyone with a passion for entrepreneurship, the Arctic, and EU space technologies. Participants can register their projects until October 29 HERE.

From Croatia to Iceland, this truly pan-European is set to make an impact all across Europe. The 10 countries-organizers are:
Zagreb, Croatia (Organized by INVENTO)
Tampere, Finland (Organized by Nordic Startup School)
Toulouse, France (Organized by Aerospace Valley)
Berlin, Germany (Organized by N3xtcoder)
Reykjavik, Iceland (Organized by Startup Iceland)
Lomazzo, Italy (Organized by ComoNExT)
Riga, Latvia (Organized by Green and Smart Technology Cluster)
Bucharest, Romania (Organized by iDEA)
Bratislava, Slovakia (Organized by Slovak Investment and Trade Development Agency – Slovak Space Office Industry Branch)
Madrid, Spain (Organized by BluSpecs)
The EU takes action
The Arctic region is warming 3 times faster compared to the rest of the plane and the European Union (EU) plays a major role in solving this problem. Today, the European Commission (EC) unveiled an updated Arctic policy. The EU will further strengthen its Arctic engagement with key targets:
contribute to peaceful and constructive dialogue and international cooperation, to keep the Arctic safe and stable, by raising Arctic matters in its external contacts, intensifying regional cooperation and monitoring and anticipating emerging security challenges.
take strong action to tackle the ecological, social, economic, and political impact of climate change and environmental degradation. Make the Arctic more resilient, by environmental legislation, concerted action against black carbon and permafrost thaw, and by pushing for oil, coal, and gas to stay in the ground, including in Arctic regions;
support a comprehensive, inclusive, and sustainable development of the Arctic regions to the benefit of its current inhabitants and future generations, with a particular emphasis on the needs of indigenous peoples, women, and the young, and investing in future-orientated jobs, including in the blue economy.
Josep Borrell, High Representative of the European Union for Foreign Affairs and Security Policy/Vice-President of the Commission, said: "The Arctic is changing rapidly, owing to the impact of global warming, increased competition for natural resources and geopolitical rivalries. These developments show that Europe must define its geopolitical interests broadly to promote stability, safety and peaceful cooperation in the Arctic."