CRYPTO MARKET
Cryptos tumble down from earlier soar as Amazon posts digital currency job
Bitcoin climbed to a six-week high of over $40,000 on Monday (July 26th) as Amazon posted a job opening for a digital currency and blockchain product lead. Ethereum reached a 24-hour high of $2,431. Later in the day, both digital currencies tumbled down.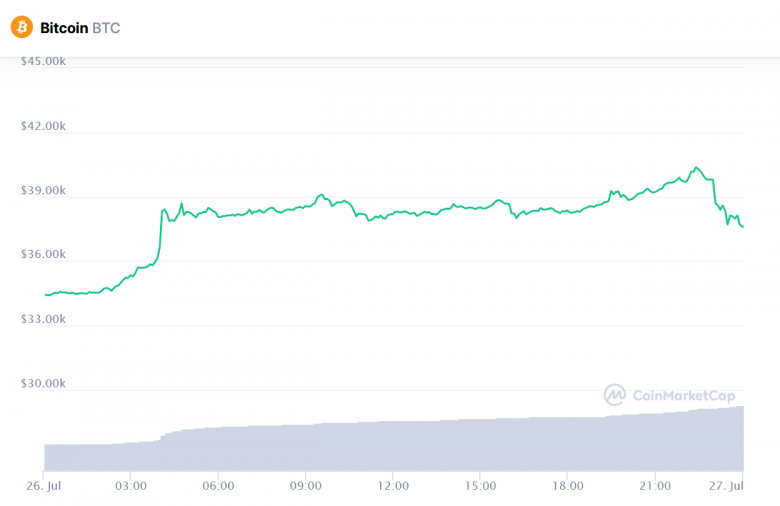 According to Amazon's listing, which was actually posted on Thursday, the company is looking for a candidate with a "deep understanding" of the cryptocurrency ecosystem and related technologies. The future role would be part of the e-commerce giant's payment acceptance and experience team – a fact that made experts suspect the company may start accepting digital coins as payment in the near future.
All other Top 10 crypto currencies by market cap apart from stablecoins Tether, USD Coin, and Binance USD, posted declines in the past 24 hours. Dogecoin registered the highest loss (-9.63%). On e weekly basis, however, all Top 10 digital coins, with the exception of stablecoins, were up with Polkadot posting the best performance (28.10%).
Top stories
Tether execs facing criminal probe over suspected bank fraud: report
The US Department of Justice is investigating whether Tether's execs may have committed bank fraud during the early stages of their crypto business, Bloomberg reported on Monday (July 26th). The probe focuses on events that took place several years ago and aims to find out if Tether hid from banks the fact that transactions were linked to digital coins, the report said, citing three sources familiar of the matter.
Shopify to let merchants sell NFTs directly through their stores
Shopify head Harvey Finkelstein announced in a tweet on Monday (July 26th) that the company now allows merchants on its platform to sell NFTs directly to their clients. Earlier, merchants had to use third-party marketplaces to sell NFTs. ""Once again we are putting the power back into the hands of merchants and meeting customers how and where they want to buy," Finkelstein said.
Goldman Sachs files application for EFT
Investment bank Goldman Sachs has filed an application with the US Securities and Exchange Commission (SEC) for an exchange-traded fund (EFT) that would allow exposure to public companies in decentralized finance and blockhain around the world. At least 80% of the fund will be invested in companies that advance blockchain technology and digitalization of finance, the filing noted.