user experience
E-Scooters And The City: Why And How To Choose One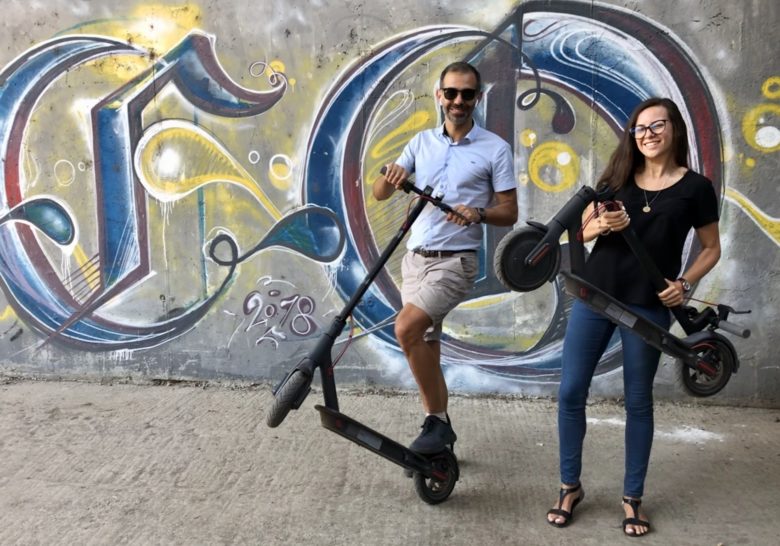 Micro mobility and e-scooters, in particular, are gaining momentum also in Bulgaria. While waiting for Lime, Voi or Hobo to launch services in Sofia, every day our team observes or gets to know people who have chosen to purchase their own e-scooter and integrated it into their urban habits. So we decided to ask around and find out why are people actually buying them, how they choose the right model for the, let's say, challenging infrastructure in Sofia. And how to use it optimally.
"It's a convenient means of transportation, that is also entertaining. I feel certain freedom while riding it," tells us Stefan Grigorov, co-founder of the software development company Dreamix. He's been enjoying his basic model Xiaomi M365 as primary transport means in the city for two months, riding to work or just taking "walks" in the city.
+++ Are e-scooters invading Sofia?+++
Why buy an e-scooter
"Even though I'm a driver, I was using the public transportation network. At some point, I started seeing e-scooters and thought this might be something for me, so I went to the store and purchased it," recalls Rositsa, a financier, who bought her Xiaomi M365 last September. One of her first days in a new company, she appeared on an e-scooter and the co-founder tried it out. A week later, Stefan bought the same model.
He was anyway already looking for something to bring him out of the car and allow him to be among people. "Better than a car because it's clean and doesn't affect the air quality, better than a bike, because you don't arrive in the office sweaty, plus you can fold it up and take into any other transport" is his summary. It takes him 12 minutes to the office, as much as with a car.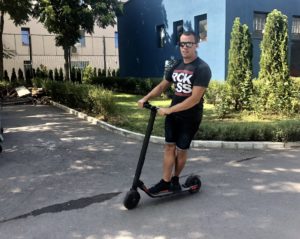 "I already had enough of being stuck in traffic. I just saw them and decided to try it out," says Kristiyan Kalugerov, who also comes from the tech sector, and combines the e-scooter with his car. He's riding a Segway ES2 and preferred it to the other most popular product of Xiaomi because of the type of the tires, the stability, and… the looks. For the past two and a half months, he's ridden it for 300 km.
How to choose an e-scooter
There are several criteria one needs to look at when choosing an e-scooter: comfort, stability, maintenance (closely correlates with the specific of the infrastructure), battery size and range. Generally speaking, it all comes down to battery, weight, and tires. And of course, the price varies depending on those three (see comparisons below).
 "Around 12 kg is an optimal weight for an e-scooter if you want to be able to fold it and carry it too," says Stefan. Basic Xiaomi and Segway weight so much. More powerful models may weight up to 40 kg. The tires could be inflatable or solid – the first option brings more comfort, the second means fewer punches. More expensive models also feature shock absorbers for more comfort but this may extend the weight and the charging time. 
The most popular models by Segway and Xiaomi have a range of up to 30 km with a single recharge. "So far I had only two cases when this was not enough," says Stefan. Larger and expensive models as the premium class of ZERO (soon also on the local market) feature a range of up to 70 km. 
Single recharging of the more basic models takes around 3.5 – 4 hours. For more powerful vehicles with a larger range, it may take up to 7-8 hours.
Costs and maintenance
After we personally tried it out, there's no doubt that e-scootering is fun. There are also other benefits – the price. To get a basic Segway or Xiaomi costs around €400 ( BGN 800). It could be then upgraded with a bigger battery that will extend its range. 
"It spares time and costs. A single charging costs anywhere between 5 and 10 euro cents, there's no tax, no vignette, no oil change," explains Ivaylo Milchev, co-founder of the e-store for urban e-mobility e-Point. He started his business earlier this year after observing the growing micro-mobility trends. The e-scooters he offers are in the rather premium segment. Depending on the features, a ZERO scooter costs between €350 for a basic model and  €1.900 for one with hydraulic brakes and shock absorbers.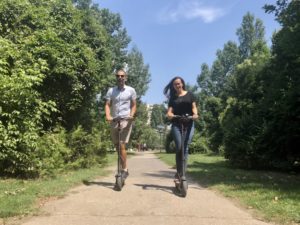 "It turns out that most of the firmware is exchangeable, and you can upgrade your model. This is also one of the reasons I decided to not go for the premium version of my Xiaomi, it's just not necessary," explains Stefan. 
Different owners take different additional care of their scooters. For instance, Kristiyan makes sure to tighten the screws every two weeks and additionally sprays with silicon spray the most vulnerable parts of his scooter – the springs on the front and the back. Rositsa does this rather occasionally and has gotten a 3D printed protector for the springs. Stefan had to exchange his tires twice already because of punches and he considers changing them with solid ones.
The maintenance and the upgrades depend, not least, on the routes one chooses. Rositsa, for instance, rides on bike lanes, rarely on the street. Stefan and Kristiyan ride also in parks or on the streets, which makes their rides slightly bumpier. And this has its consequences for the vehicle.
How to use
An e-scooter would typically come with an app that helps you manage it – it shows the battery status, the temperature of the motor (you better stop using it if it goes above 40 degrees), controls the lights, etc. Surprisingly, you can also turn on a cruise control mode. The app is however not a necessity. Rositsa, for instance, stopped using it after a bug occurred in the very beginning and the e-scooter was blocked.
There are also different modes – economy, standard, sport. The energy consumption and the speed of the vehicle depend on which one is chosen. Even though the vehicles are technically capable of accelerating to sometimes over 40 km/h, in most of Europe there's a software limitation that doesn't allow them to go over 25 km/h. Keep in mind, the weight of the rider, and the mode affect the range – the listed ranges are not necessarily the real ones.
+++Where to ride an e-scooter and where to park+++
+++ The new 200 parking spots +++
Currently, there's no regulation, so protectors or helmets are not a must. Rositsa was using them in the beginning, but realized with time, that she doesn't need them. Kristiyan, to whom we spoke right after he almost had an accident trying to choose between a hole on the road or a puddle, has started considering buying some protection.
Available brands
On the market in Bulgaria, there are currently several models, that could be bought online, from tech stores, even from mobile operators. The brands available locally are Xiaomi, Segway, ZERO (currently only basic models, soon also upgraded versions), and the less popular and low-cost versions Razor, Takira, Manta, Denver that could be purchased from large chains. 
*This article doesn't aim to promote any brand or the purchase of e-scooter, it just only explores the experience of different users.