Guest Post
Education: A Real Crisis in Innovation And How to Get Involved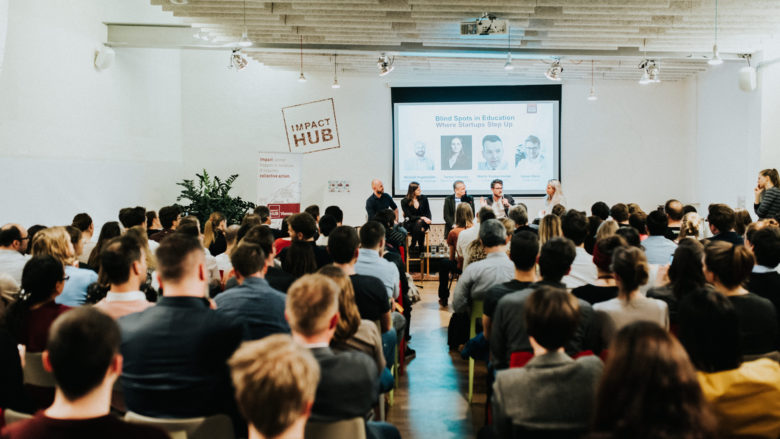 We know we need to break the silos and start collaboration and innovation in the education sector, but how do we start?
Last month, Impact Hub Vienna hosted WineDown: Blind Spots in Education – Where Startups Step Up, bringing together stakeholders from across the education sector to have an eye-to-eye conversation about shortcomings in Austria's current system and the potential impact that bringing new changemaking skills to the arena could have in our communities.
A real crisis in innovation
About the education system, Teresa Torzicky, a Teach for Austria program alumni and General Manager of SEED, remarked, "We miss opportunities and processes for quick change. Change happens over a very long period of time, and we need something faster to be able to adapt to our quickly changing world."
"If you think about how many things changed in your surrounding in the last 10 years–think about technology and how globally interconnected we've become–if you look into schools these things are not happening because the systems are so rigid," she added.
The impact on our communities
One very tangible impact of the lack of innovation in the education sector, is that students seems to be finishing school with a lack of fundamental skills and knowledge.  "Our kids are leaving school, and they really have no idea what is going on in the world," said Goran Maric, CEO of Three Coins. Three Coins is an Impact Hub program alumni and social enterprise which specializes in developing and implementing education formats that increase financial wellbeing. "We have to better prepare (kids) somehow during school."
An additional effect is that teachers are spending too much time on admin tasks. "Teachers have to use their time to do things which have nothing to do with working with children. Looking into those processes is something you can do to redirect resources to where they should be going" said Teresa. By helping automate some of these admin responsibilities, we can help teachers get back to focusing on the emotional and educational wellbeing of our youth.
The challenges to innovation
Addressing the lack of innovation in the education sector is a complex and multifaceted challenge. "There is a small round of people in the education sector who work together, but the system itself does not work together. So how can you create change, impact, and transformation of schools if there isn't a culture of collaboration?" said Martin Ruckensteiner, a co-founder of Initiative Schule im Aufbruch which is a grassroots movement of innovative schools in Austria. "We invite teachers to connect and create partnerships on a micro-level. Every day the network gets a bit wider. At the end, it's the teacher and the parents who can drive bottom up change and advocate for change."
Where startups step up
And what role can startups play in innovating the education sector? Panelists gave their input on how to get involved, challenges they faced, and the way forward.
Start with the problem: "You have to ask people working in the system what needs to be done," said Michael Hagelmüller who leads Ashoka Austria's multi-stakeholder work in education known as Bildünger.
Have a proof of concept: One clear takeaway was that teachers and schools lack the resources to assess the viability of startup projects to have an impact in their schools. By bringing a strong proof of concept to the table when approaching schools, entrepreneurs are much more likely to successfully kick off projects.
Forge partnerships: When you can't break through the bureaucracy of the formal education system–find your supporters elsewhere. "You need partners. Go around the formal education system. Find your advocates within the school like parents, teachers, or youth workers," suggested Goran. In addition, finding sources of funding outside of the school is critical.
If you'd like to check out the full panel event, you can watch it on Impact Hub Vienna's website here.
About Impact Hub
Located in the beautiful 7th district at the heart of Vienna, we are a unique ecosystem of resources, inspiration, and collaboration opportunities that support the development of a more sustainable world. The Impact Hub Vienna community is made up of social businesses addressing challenges both locally and globally. Our members are entrepreneurs, social investors, freelancers, advocates, campaigners, creatives, artists, consultants, coaches and more. Members enjoy a global platform connecting them to 15000+ like-minded entrepreneurs.