‍ ‍ ‍
Facebook: The New Privacy Vision and What It Might Change for Businesses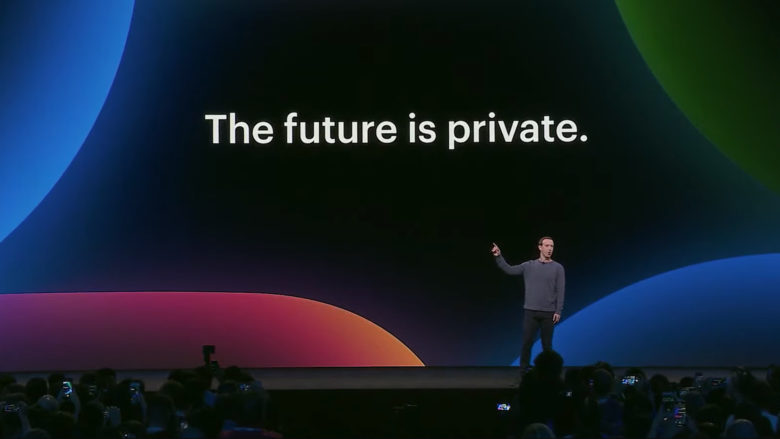 Facebook CEO Mark Zuckerberg has just shared a new vision during F8, the Facebook developers conference. The main topic of the conference was "building a privacy-focused social platform", he said. The social network has been redesigned to become a space for more private communication, groups, and interactions with friends will be from now on prioritized to any other content. As of for businesses – there are also new products for them.  
"Privacy gives us the freedom to be ourselves. […] I know that we don't exactly have the strongest reputation on privacy right now, to put it lightly," Zuckerberg laughed nervously at the beginning of his keynote.
What's new
There are shifts across the whole company's portfolio: Facebook, Messenger, Instagram, WhatsApp. The next chapter for Facebook is called "Future is private." "It's not a surprise that the fastest way the world is communicating is private messaging, small groups, and stories," Zuckerberg outlined in his keynote. The new vision is based on six principles: private interactions, encryption, reduced permanence, safety, interoperability, secure data storage.
Here's what it means translated into products and features:
Facebook makes communities as central as friends, but not only. The freshly redesigned FB5 is already available in the US and Canada and coming soon globally. The most significant shift is the Groups tab and the mechanics behind it – groups will be more easily discovered, notifications and interactions within the groups will be pushed more in the feed, relevant groups will be suggested. There are also interesting features within the groups. One of them is for professional ones – the new design will allow employers to post jobs to which seekers can apply directly via Facebook.
The Events tab is also getting a makeover, and it will be easier to explore cities, coordinate with friends, find local businesses, etc.  
Facebook is also introducing native shipping (now for the US only) – sellers across the US will now be able to send packages and receive payments via Facebook Native Shipping.
From now on Facebook takes more care of people's community by introducing a Meet New Friends feature. And by the way, it is expanding its Dating feature to another 14 counties (no in CEE) and launches a Secret Crush feature that works similarly to Tinder. It's not directly business related but still another deep dive in personal preferences.
Messenger will be smaller, faster and a social network for closest friends and family. It will also be end-to-end encrypted. Users will be able to call and message friends and family on Instagram and Whatsapp. One of the tabs in Messanger will be specifically related to a person's closest circle of connections, and there will be an option for sharing status, stories and watching videos together within a group. Messenger is also becoming a desktop app for Windows and iOS.
Instagram has a new simpler camera with new quizzes, stickers, and countdowns. Oh yeah, there will be no count of likes. The company claims to have started a redesign that will prevent online bullying but is still in the ideation phase. What's more interesting is the shopping push. The ability to buy products from certain brands and check out directly through shopping tags on the app was introduced last month and is now expanded to influencers' accounts.
WhatsApp is launching more powerful tools to stimulate communication between people and businesses. Soon a business product catalog will be rolled out. Payments are already tested in India and will be brought to other countries as well.
What's not so new
While Zuckerberg plays the visionary card with the privacy to regain the trust and love of Facebook's users, it might look a bit different under the surface. Even though the CEO tries to put all new announcements under the privacy umbrella, they look more like ways to get to know the user base even better.
Indeed, the stimulation of real-world connections a.k.a interaction with the closest community is something that started in 2017 when the CEO published a 5000 words manifesto on the matter. In 2018 the algorithms changed and "socially meaningful interactions" were prioritized to the regular News Feed, which has been the core of the social network for years, but also a source of disinformation and fake news problems.
It may seem that the company is answering its users' needs. Most of the time it's rather doing reputation damage management to be able to stay a factor in people's lives, know them better and get better in selling ads.
Despite scandals, the company's revenues from advertising are increasing. Even if we only take the first quarter of 2019 – the ads revenues have grown 26% YoY to almost $15B. Yet losses are also growing, financial reports show. Facebook expects to lose $3B in this period – legal expenses related to the ongoing U.S. Federal Trade Commission investigations of platform's  "user data practices."
It's interesting to follow Facebook's financial performance in the next months as the redesign and the new products roll out. To what extent the privacy vision has to do with users' experience and communication, or it's just Facebook's next data collection strategy, remains to be seen. Will it be good for users, businesses, publishers, influencers or for paying advertisers?