INTERVIEW
How will 6G and Metaverse change the world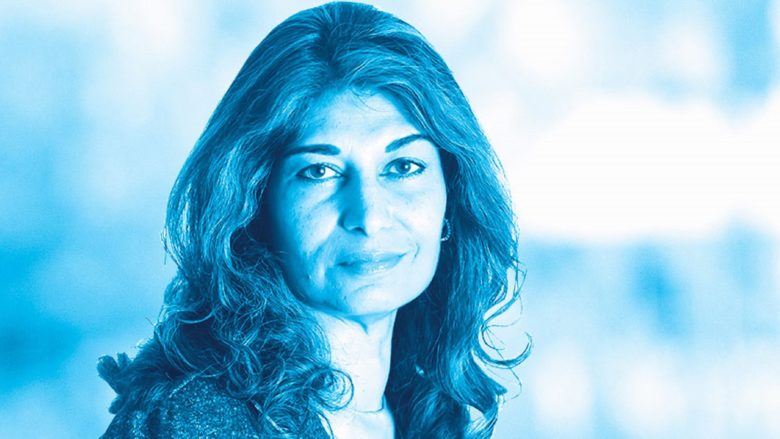 "6G is about putting the focus back on humanity and sustainability," said Kaniz Mahdi, vice president of the Distributed Edge at VMware. The Trending Topics team met her at the MWC (Mobile World Congress) in Barcelona. Kaniz Mahdi is not satisfied with 5G. After all, the next generation should make everything better. In her view, this also entails challenges – from the fairest possible (broadband) distribution to next-generation communication via the metaverse.
"Whenever someone asks me about 6G, I always remember the beginnings of 5G. What happened with 5G has a lot to do with what we do with 6G. Basically, 5G was one generation among many, but there were a lot of very good, positive ambitions," Mahdi recalls. "
"Ten years ago, 5G was supposed to be a generation that made connectivity as ubiquitous as possible. And, of course, everyone wanted to achieve that reliable, low-latency communication rate. What ultimately came out of it is that I have in my hands a 5G phone that is no different from LTE and 4G. We missed the target and are now supplementing that," she says.
Worldwide 4G in ten years
The geopolitical dynamics that are emerging in the regions of Asia, Europe, and North America and the associated security and resilience concerns are also problematic. "It normally takes ten years for the generational change to be completed. So while one generation is starting up, the next is in the lab. But usually, the government and industry are not that involved in the next generation," Mahdi explains.
But why is that? "5G is so ubiquitous. Increasingly, it is no longer just a technology that allows two people to connect over long distances. 5G enables critical infrastructures. And because of that, several governments are very interested in how 6G will define the future."
However, the distribution is still very different. While large parts of North America, Europe, and individual parts of Asia are already supplied with 5G, the corresponding infrastructure is still almost completely missing in Russia, South America, and Africa.
Trending Topics: When is 100% global 5G coverage coming?
Kaniz Mahdi: I can't comment on that. Equality in any kind of broadband – not just mobile broadband, but any kind of broadband – is a big challenge. If you look at third-world countries, emerging markets are still on 2G or 3G – and expecting them to make a full jump from 5G to 6G would be a bit too ambitious. But the goal is that over the course of the next ten years we will have at least 4G coverage around the world.
Meanwhile, research is already being done on 6G – which should then make everything better. But what exactly?
Each new generation has been about better performance. Each new generation introduces a new dimension in terms of performance, right up to 5G. 6G is about putting the focus back on humanity and sustainability. 6G is about resilience and about justice. You will see societal, economic, and human development drivers coming to the fore in the conversations we are having about 6G. It will be about creating an equal environment for all people so that they can use consumer goods and digital services to the same extent. This is the key for 6G. 6G also requires less power, has less energy consumption, and better resource efficiency. All of this contributes to sustainability. However, it is necessary to create a sustainable and fair 6G.
The reason for this [just 6G, ed.] is that until the fight against Covid-19, there was no pandemic for decades, i.e. in the times of the older network generations. The pandemic lasted longer than we thought, people were basically isolated in their homes, with no choice but to use broadband or long-distance connections and carry out everyday services like health care, education and shopping over long distances. This is when people realized that they needed to put more emphasis on the actual societal and economic needs of today's broadband network by making it bigger – rather than looking for better performance and very nice-looking devices for the urban rich areas builds.
Is it thought about a possible "wrong direction"?
I was there when the requirements for LTE for Haiti were written. In all cases, the question was: Okay, how do I do it better? The broadband connection could be better and how can I make the device more attractive to the tech savvy user? Now writing the requirements for 6G, that's a whole different conversation. The question is: How can I conserve resources? How do I best use the resources to distribute these services evenly across all possible geographic areas, not just the urban areas, not just the affluent neighborhoods? The problem was always there, but now it becomes more obvious.
"6G will also be the communication of sensory impressions"
Nevertheless, 6G will also change some things in everyday communication. What could that look like?
6G is supposed to allow you and I to talk to each other, over the phone, but it looks like we're having a normal conversation. Today, people interact via the communication of sensors. Putting a medium between us creates a barrier to this interaction. Therefore, many companies and academic institutions are researching the medium itself to find out what the medium of the future will be – so that it does not become an obstacle to human-to-human or human-to-machine communication. 6G will also be the communication of sensory impressions, it will not differ from the communication of these senses without media.
Hologram too?
Yes. I speak of the evolution of holograms in such a way that I am able to communicate with my counterpart at a great distance without him or her knowing that that great distance exists and how far away I am. This is the area where the most research is needed in terms of consumer experience. But I don't know how far that will go.
And the metaverse?
That's a good starting point. This is a very good starting point in the sense that it opens up possibilities for further research into how to further develop the medium in a way that makes it more conducive to today's human communication metaphors. We want to keep the human in the loop, put them in the foreground, but also allow multiple people to communicate with each other as if they were communicating with the Metaverse. So it's basically about creating a virtual and physical experience in a way that breaks down all barriers.
Many people do not want to live in a virtual world.
Exactly. There are many social concerns here. Basically, the vision we share is to make the best of advanced technologies. But in a way that allows me to experience life as it is. It's not about leading a life in a virtual environment, but about capturing life with all your senses. Basically, the spatial and temporal barriers are removed. That's the ultimate goal for all of these things.
Kaniz Mahdi is Vice President of Distributed Edge at VMware. She leads a global team of researchers, architects, and developers specializing in advanced technologies at the intersection of wireless, cloud, and AI at VMware. Her main focus is user-centric research and co-innovation with industry and academia to decipher the complexity of distributed cloud systems. Before joining VMware, Kaniz held various technology leadership positions at Ericsson, Huawei, Ciena, and Nortel.
Disclaimer: The travel expenses of the Trending Topics editor to the MWC were covered by VMWare.