AWARDS
"Innovative Enterprise of the Year 2021" has launched its application for innovative companies in Bulgaria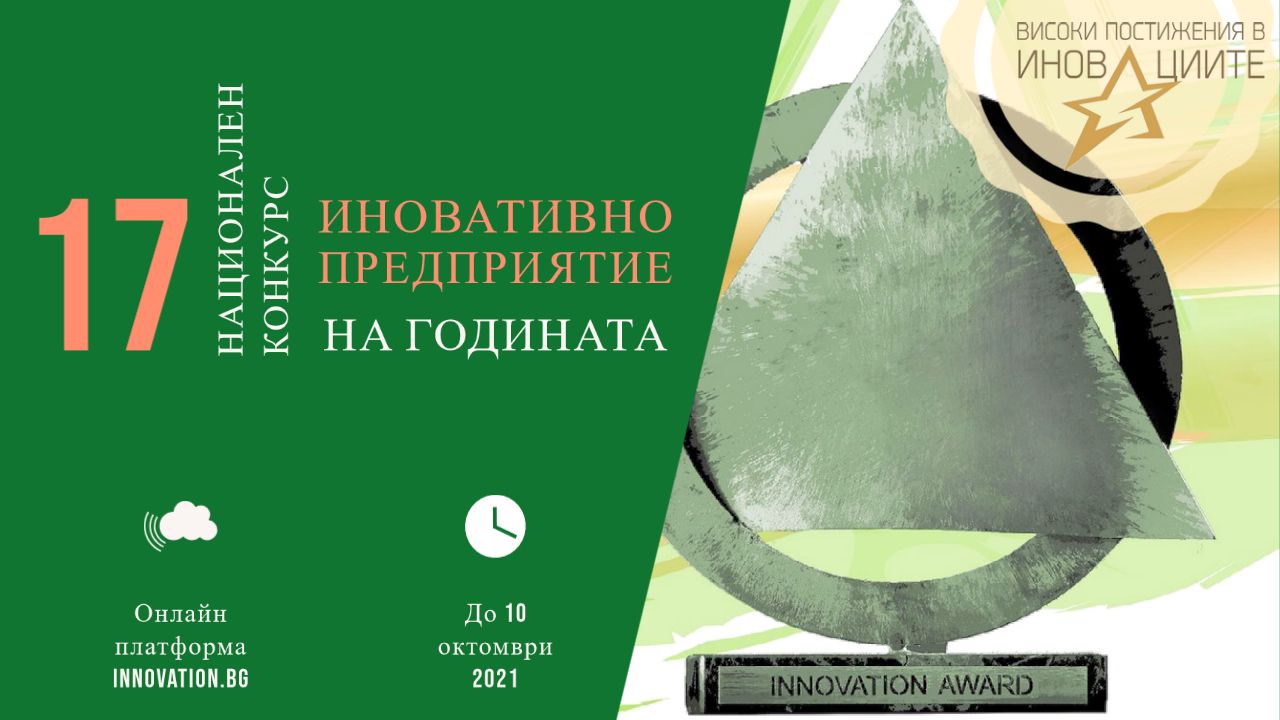 The National Contest "Innovative Enterprise of the Year 2021" has launched its candidate recruitment campaign. The initiative is looking for Bulgarian startups and established enterprises that have successfully developed and implemented innovations in its production, management practices, and provision of services. Traditionally, the contest is held under the auspices of the President of the Republic of Bulgaria.
The application process is entirely online until 10 October 2021, 23:45 on the Innovation.bg platform.
Companies that have successfully developed and implemented innovation over the past three years can apply for 8 categories of innovations:
Market leadership
Social innovation
Green innovation
Innovation management
Digital transformation
Innovation for a better quality of life
Innovative start-up enterprise
Innovation in creative industries
Candidates are evaluated by an expert group and final jury, according to the impact of their innovations and by special methodology. Besides the awards, the finalists are also given the right to use the "Excellence in Innovation" brand of the Applied Research and Communications Fund. The initiative is also a major opportunity for companies to reach potential international partners and clients in all economic spheres within the framework of Enterprise Europe Network in over 60 countries.
In this year's edition, the Sofia Tech Park will also support the winner in the "Innovative startup enterprise" category with a special package of services and consultations targeted entirely to the startup business needs.
In the previous editions of the contest, over 120 companies in various economic sectors – from start-ups to market leaders have received recognition for their successful innovations. Among the winners of the competition are:
ONDO Solutions
Ontotext
Spesima
Printivo
Scale Focus
Ultraflex Corporation
International Power Supply
Evedo Bulgaria
Central Cooperative Union
Nicoms
Leanplum
The National Contest "Innovative Enterprise of the Year 2021" is organized by the Applied Research and Communications Fund, ARC Consulting, and Enterprise Europe Network – Bulgaria, with the support of the Directorate-General for Internal Market, Industry, Entrepreneurship and SMEs of the European Commission and Sofia Tech Park.
Media partners of the contest are: TV Programme "Inovativno" of BNT2, Bulgarian National Radio – Radio Sofia, "Economy" Magazine, Digitalk, Kaldata.BG, "Bulgarian Science" Magazine, Uspelite.BG, Innovation.bg, IndustryInfo.bg, 3e-News.net, Trending Topics.eu.