Life Sciences
Martin Shiderov: SEE will never be another 'Golden Triangle', but can build its own identity and offer differentiation to investors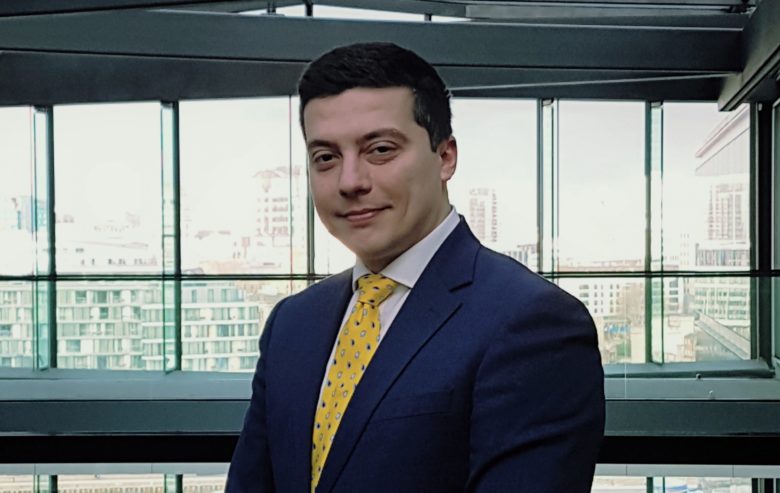 There should be more focused efforts on technology transfer and venture build in the SEE region. This is what Bulgarian-born Martin Shiderov*, head of Healthcare and Life Sciences for Ernst & Young's London-based investment services team, believes. "There are no shortcuts to quick wins in this process," he says, adding that the government and the sector as a whole should be prepared to invest 10-20 years of committed efforts to build a self-sustainable flow of innovation.
We talked to him to find out more about the UK's good practices and vision that can be borrowed by the region, opportunities for SEE life science players there, venture building, and more. Read on to find out what he thinks.
Q: What is the UK's strategy in attracting foreign investment and innovation?  
Martin Shiderov: The UK is committed to remaining the leading destination for attracting foreign investment, capital and innovation. The country offers a strong ecosystem and support for anyone with ambitious plans – from entrepreneurs with early-stage ideas to established corporates with complex supply-chain needs.
The UK supports innovation by offering an environment of R&D incentives, tax benefits, and competitive research and innovation grants. In Life Sciences, London and the 'Golden Triangle' are well known destinations but there are
plenty of high potential opportunities all around the UK.
Companies can rely on the UK for medicines manufacturing, cell and gene therapy development, diagnostics, digital health, longevity research and healthy ageing to name but a few.
Furthermore, the country is an epicentre for raising capital, with yet another record-breaking year of UK start-ups and scale ups raising close to £11bn in tough macroeconomic conditions. The country has produced
80 unicorns with a pipeline of another 130 to unfold in the coming years.
This is twice as big as that of Germany and France combined.
Notable catalysts are also government institutions such as the British Business Bank, which acts as a Fund of Funds, investing across fund managers and financing vehicles. One example in the sector is the British Patient Capital, a division of the British Business Bank, which has committed £2.5bn to invest in life sciences, aiming to leverage three times more private capital.
The UK's ability to attract and unlock private capital is further underlined by the recent £1 billion UK-UAE joint venture partnership, where Mubadala Investment Company is committing £800m to invest in Life Sciences over 5 years.
Q: What is the UK's vision of the life sciences sector?  
Martin Shiderov: The UK is a global hub for life sciences and innovation, possibly only rivalled by Boston and West Coast, US. The sector is forward thinking, with a solid track record of scientific breakthroughs.
We are witnessing the power of the life sciences engine during the Covid pandemic with the Oxford and AZ vaccine and the successful vaccination roll out across the population. This shows the strong bond between academia, industry, the healthcare system and government, which is best observed in moments of crisis.
In terms of sector commitments, The UK's focus is on strengthening the ecosystem to remain a world leading centre for next generation innovation and the future of medicine.
Particular areas of interest are advanced therapies, digital health, diagnostics, and AI applications
to life sciences and healthcare.
The application of AI to drug discovery, imaging and clinical trials offers some exciting perspectives. However, growth in the sector does not happen overnight. There are currently 1600 Phd students studying specifically AI in the context of applying it to life sciences. This future workforce in this sector will also serve as a tipping point for many others to follow.
+++DIGITALEUROPE's Ray Pinto to EU governments: Don't over-regulate – nurture, support and prioritise digital transformation+++
Q: What are the opportunities for SEE Life Sciences companies in the UK?
Martin Shiderov: The UK offers support in every step of an entrepreneur's journey, from a proof of concept of digital health applications to complex cell and gene therapy development and manufacturing.
One significant benefit for companies from the SEE region is the
opportunity to conduct research and validate innovations directly in the healthcare system.
The UK offers a research infrastructure which collaborates with the NHS, the largest unified healthcare system in the world, servicing over 60m patients. A company's ability to validate their innovation, in some cases even subsidised by the healthcare system itself, is a powerful springboard to future growth.
Another fantastic opportunity is the work of academia, centres of excellence and research organisations such as the UK Biobank. The Biobank offers a repository of biomedical data of half a million participants. Companies can tap into a breadth and depths of genetics, physical measures, biomarkers, and many others to support their product development.
SEE companies would be also offered government support to ensure they are in the best possible shape to enter the market, from finding premises, opening a bank account, attending key networking events, to engaging with key opinion leaders and raising capital.
Q: Do you see the UK market becoming less attractive for companies after Brexit?
Martin Shiderov: I do not see that happening. I believe that with the necessary levels of regulatory synchronisation and joint research frameworks as part of Horizon, a solid bridge between the UK and EU would remain, for the benefits of businesses and innovators.
In Life Sciences, the strong scientific basis and leading institutions would always offer strong competitive advantage.
The UK is also a big market in its own right; accessing 60 million healthcare consumers will always be an attractive proposition.
Operating in the UK gives you certain level of brand reputation which can serve as a springboard to accessing other foreign markets, and the UK government offers support to help you grow beyond the UK.
Q: Can you discuss the role of venture capital and venture building in the UK?
Martin Shiderov: Venture capital is a catalyst but getting investment cannot be your end goal, it is the beginning of a journey and therefore operating in such an ecosystem would give you the right environment to grow.
I think the most important component of a successful venture capital ecosystem is the
availability of a pipeline, which can be often proactively generated or spun out of universities.
I would highlight the work of Oxford Sciences Innovation (OSI), Albion Capital and their work with University College London (UCL) and Parkwalk Advisors with leading investments in Cambridge. Oxford and Cambridge generated 119 spin out companies last year, across life sciences and deep tech.
There are also other examples which are worth noting by other leading institutions such as the EIF and EIT Health and their Venture Centre of Excellence, which is an innovative model that brings together corporates and venture capital investors with the purpose of offering visibility and access to pipeline.
+++VC snapshot: These Are the Top 10 Venture Capital Funds in Eastern Europe+++
The Venture Build model is becoming increasingly popular due to the efficiency it offers to organisations. I see a growing number of
hybrid models where venture capital and venture build models are applied together.
The benefits are substantial: pipeline development, leveraging capital, more efficient investment, building the right teams from the outset, and offering a differentiated strategy to portfolio companies and investors.
I would be interested to see venture strategies which are more deeply intertwined with the economic development of a country, essentially venture capitalists and builders acting 'as a country' and investing with economic development in mind. The focus on economic prosperity, sustainability and promoting the development of different communities should be encoded in these capital strategies.
Q: What are the lessons and best practices which the Bulgarian ecosystem can adopt?
Martin Shiderov: One important strategy is the development of a long-term vision. A vision which is also communicated consistently with sector stakeholders so that we all speak the same language and look in the same direction.
The country has a
highly educated workforce
with students working towards degrees in medicine, biotechnology, chemistry and computer sciences. Bulgaria has over 40,000 students in STEM disciplines.
Sofia is one of the fastest growing technology ecosystems in Europe, with 90% of the tech business based in the capital. Bulgaria was also recently crowned as the best European country for women to work in. This is an exceptional opportunity to harness the power of female entrepreneurship.
The country is also a
leading clinical research centre,
with 10,000 engaged patients and the home of large CROs such as IQVIA, PPD and PRA Health. Bulgaria is also
strategically positioned in south-east Europe,
with access to a large market across Eastern European regions, the European Union, Turkey, Russia and the Middle East.
The market offers an
unexplored opportunity, particularly in life sciences, biotechnology and artificial intelligence.
The country has an immense diversity of plants and herbs which can be applied in medicine and cosmetics. Good examples are Orpheus Skincare and Proviotic.
Interestingly, I haven't come across any investment funds exclusively dedicated to life sciences and health. I see this as a significant equity gap and an opportunity for hands-on investors, not only with capital but also with the necessary sector expertise and local networks, to make a significant impact in the future.
Q: What is the focal point in the SEE region in the context of Life Sciences?
Martin Shiderov: The SEE market is never going to be another 'Golden Triangle' or 'Silicon Valley', but this is an opportunity for the region to build its own identity and offer a differentiation to investors.
Patient capital to invest in innovation is needed to support the growth of the life sciences and health sectors in these markets. There should be an understanding across all levels that this sector does not offer quick wins but some fundamental long-term gains.
A focus on building and consolidating a pipeline
in life sciences should be another key priority. My belief is that there are many golden nuggets of innovation all around the SEE region; some names which come to mind are Printivo, Nasekomo and Micar Innovation.
There should be more focused efforts on technology transfer and venture build. Again, there are no short cuts and quick wins in this process. The government and sector need to be prepared to
invest 10-20 years of committed efforts
to build a self-sustainable flow of innovation.
Finally, bringing expertise and best practices is important but it would not work if it is not adapted to the country and cultural characteristics. I don't think that parachuting an Oxford, Boston, or a Syncona anywhere in the SEE would work. However, joint ventures and collaborations with such clusters and institutions would build expertise, capacity and reputation.
If you want to hear more from Shiderov, sign up for the April 7th, 2021 online conference "The Role of Venture Building in Ecosystem Development and Economic Growth, organized by the Health & Life Sciences Cluster, Bulgaria. Shiderov will moderate the event, which will also feature Alper Celen, founder of ENHANCE, a venture builder specializing in online vertical marketplaces that improve lifestyles in the Middle East and Africa; Martin Danovsky, Chairman of the Bulgarian State Agency for Research and Innovation; Vladimir Danailov (Executive Director, Member of the Management Board at Bulgaria's Fund of Funds; Angel Hadjiev, Fund Manager, at Capital Investments Fund. Trending Topics SEE is the official media partner of the event.
* Martin Shiderov has been living and working in the UK since 2007.  He leads the healthcare and life sciences sector for the investment services team at Ernst & Young, London. As part of his role, he works closely with the British Government to attract foreign direct investment, innovation and capital to the UK life sciences ecosystem. He has been supporting the growth of a range of innovative businesses, from digital health to cell and gene therapy. He holds a Diploma in Economics and Emerging Markets from the University of Oxford, Msc Business and Enterprise form Oxford Brookes Business School, and Bsc Business Administration from City University of Seattle.