PRODUCTIVITY
Microsoft: AI features for Office will cost $30/month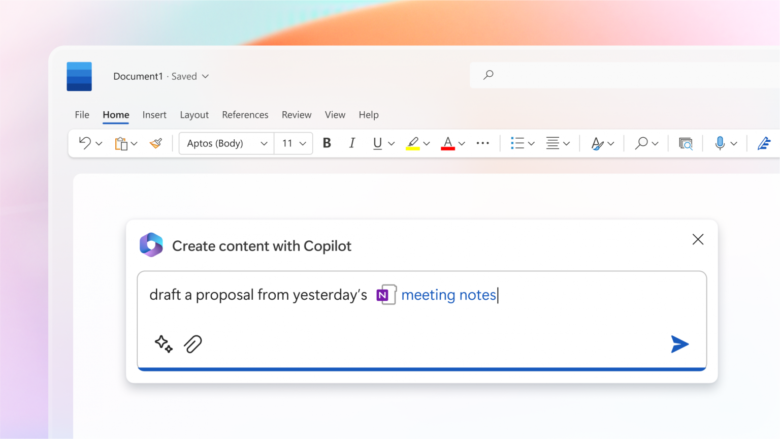 The new AI functions for the Microsoft 365 apps – i.e. Word, Excel, PowerPoint, Outlook, Teams, etc. – are intended to increase productivity by completing sentences or building presentations. Announced in March 2023, they are now here. But anyone who thought that the so-called "Microsoft 365 Copilot" could simply be used as part of the Office applications is wrong.
At the Inspire conference, Microsoft announced the pricing for its new AI features, which are heavily based on OpenAI and its LLM GPT-4. Specifically, Microsoft 365 E3, E5, Business Standard and Business Premium customers will be able to upgrade for $30 apiece. Then the users get access to the Microsoft 365 Copilot. It is said to have thousands of features that adapt to the app you are using.
The Microsoft Copilot draws its responses from business data like your documents, emails, calendar, chats, meetings, and contacts, and combines it with your work context—the meeting you're in, the emails you bring to a exchanged topic, the chats you had last week – and thus provides more comprehensive, more relevant and more actionable answers to your questions, says Microsoft.
This is what Microsoft's ChatGPT attack on Google Search and Chrome looks like
Significant surcharges on existing subscription costs
For Business Standard (11.70 euros/month) or Business Premium (20.60 euros/month), the announced 30 dollars per month are a decent surcharge. Employers will probably consider in detail whether they want to afford the features for dozens or even hundreds of employees in view of the additional costs.
In any case, the stock market loves what Microsoft is up to. On Wednesday night, Microsoft's share price rose by up to six percent immediately after the announcements, which also included an AI partnership with Meta. For Microsoft, with a market cap of $2.67 trillion, that translates to a nearly $160 billion increase in company value.
ChatGPT will provide Microsoft with data for personalized advertising