RE:TURN
Nikola Kaludov: The Scientist Entrepreneur And His Contribution To Healing Hereditary Blindness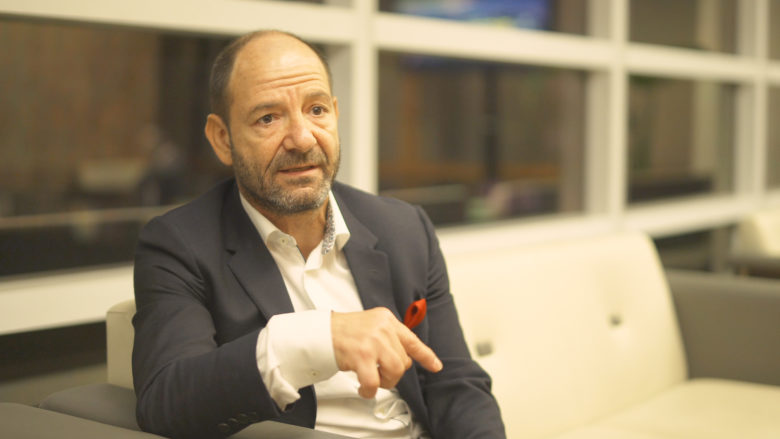 Nikola Kaludov lives in Washington D.C. and prefers to introduce himself as Kolyo. He's an avid soccer player and a windsurfer and runs two startups. He also holds a Ph.D. in molecular biology and chemistry.  After graduating with a Masters in Biotechnology from Sofia University, at the beginning of August 1990, Kaludov left for Florida State University to continue his academic career path.
After obtaining his Ph.D. he moved to Washington, "because I received a great opportunity for a postdoc at the premier US research institution – the National Institutes of Health (NIH), but also because, being a windsurfer, I had to be near water" he smiles. After his postdoc, he thought that there are enough molecular biologists and chemists, so he went for another postdoc in applied science. "Then with my boss, we discovered and eventually patented a method for purifying viruses," recalls Kaludov. 
Just a small step
While he was a postdoc at the National Institute of Health (NIH), Kaludov, together with his mentor patented a purification method for gene therapy viruses. He explains that viruses can serve as "molecular trucks" that deliver genes into the cells. He then started MolecularTrucks, a startup company aiming to miniaturize and simplify the patented adeno-associated viruses purification method in the form of purification kits for AAV (AAV is a small virus that infects humans and some other primate species and causes a very mild immune response – ed.n.) to laboratories working in the gene therapy field with this particular gene therapy vector. And although the company was closed down two years later in 2005, the entrepreneurial bug didn't go away. Neither was the purification method forgotten.
While Kaludov continued his career in the start-up world of biotech, a pharmaceutical company called Spark Therapeutics,  licensed the purification method from the NIH, which is the holder of the AAV purification patent. In 2017, Spark's gene therapy for hereditary blindness called LuxturnaTM was approved. LUXTURNA is the first FDA-approved gene therapy for a genetic disease, the first and only pharmacologic treatment for an inherited retinal disease (IRD) and the first AAV vector gene therapy approved in the U.S. "They basically inject a virus carrying the gene for a photoreceptor in each eye of a blind patient that lacks this photoreceptor and voila, the patient sees. But my AAV purification method is just a small step of the whole manufacturing process of Luxturna," insists Kaludov humbly. 
Crisis, science, entrepreneurship
Although the first discovery was not what brought him fortune and fame, Kaludov didn't quit trying to commercialize science. "I discovered very late on that I'm not meant to be confined between four walls. I didn't want to become a scientist who is looking at the same problem for the next 40 years," he says. The crisis in 2008 that led to cost cuts and layoffs in the company he was working at the time, was an additional motivator, he admits smilingly. And ever since then he's been developing his own ventures. 
First, together with Martin Martinov, a former colleague from Sofia University and Florida State University, he started a company called Gradient Biomodeling. Martinov had developed a computational platform for modeling of biomolecular interactions and pathways, and Kaludov used this technology for drug discovery and design, repositioning of therapeutic compounds, etc. "The whole idea was to explore this novel computational platform to discover novel applications of existing drugs. This is called drug repositioning and it significantly shortens the cycle of drug discovery and development, and thus makes the approval much easier since these drugs have already been tested with humans," he explains. In 2012 they received a grant from the Bill & Melinda Gates Foundation to use the computational platform to identify antimalarial activity in existing drugs. They discovered a new application of an existing antibiotic that had been studied for pneumonia called Cetromycin. Turns out, cethromycin had potent antimalarial activity unknown until then. "Yet, the relationship with my co-founder fell apart at some point and I quit the company to look for my next venture," says Kaludov. And this is what brought him to the two, kind of, startups he's running now.  
New horizons
After leaving his previous venture, Kaludov and  Professor David Sullivan from Johns Hopkins University, one of the collaborators on the Gates Grand Challenges award continued exploring the capabilities of the Cethromycin antibiotic in a new company called AliquantumRx. Cethromycin is an old Abbott drug with broad-spectrum activities against a variety of infectious disease agents. It was originally developed for pneumonia but was never approved for use in humans as it failed to show superiority to existing pneumonia drugs. AliquantumRx, received an investment of $300k earlier this year and used the funds to discover and patent a novel salt of cethromycin. Since the chemical and composition patent of cethromycin expired in 2016, patenting a new salt started an additional 20-year patent term. This new patent will allow the company to pursue additional indications for cethromycin, affording multiple shots on goal and further de-risking its commercialization. Additional drug indications exist for drug-resistant bacteria, agents of sexually transmitted diseases, bioterror microbes, diarrhea, and atypical respiratory infections.  
And, thanks to the fact that this medicine has already been through many human clinical trials, they don't have to go through the whole drug development cycle (it typically takes around 10-15 years to bring a drug to market – ed.n.), and can start directly at a phase 2 clinical trial. So, after advice from the Food and Drug Administration (FDA – the US drug watchdog) on their clinical development plans  the co-founders are now looking for an investment of $3m to show cethromycin is efficacious in humans as a malaria therapeutic or prophylactic. "If successful, the market is unlimited – The World Bank is a potential client for the malaria treatment, but there's no limit for the treatment for sexually transmitted diseases or drug resistant bacterial indications." After this next phase 2 clinical trial, he's planning to license the drug to big pharma.
"Being an entrepreneur in the biotech space you wear many hats – one day you do research, the next day you deliver boxes or speak to investors or try to convince other scientists to collaborate with you. I guess this is what attracts me the most to entrepreneurship," says Kaludov. And probably that's the reason he has started another venture in 2017. Abilis Life Sciences applies modern metabolomics and artificial intelligence to more accurately and non-invasively diagnose cancer from urine specimens. This company is however in its very early stages. In any case, Kaludov is willing to set up operations and train people in Bulgaria, and this is the reason he came to the RE:TURN diaspora gathering in Washington, where we met him.
Will any of these products be Nikola Kaludov's big breakthrough? Who knows. Given his previous accomplishments, however, he will most likely continue to contribute to the advancement of science and medicine.