RENEWABLE ENERGY
Platio: Hungarian startup covers bike lanes with solar pavers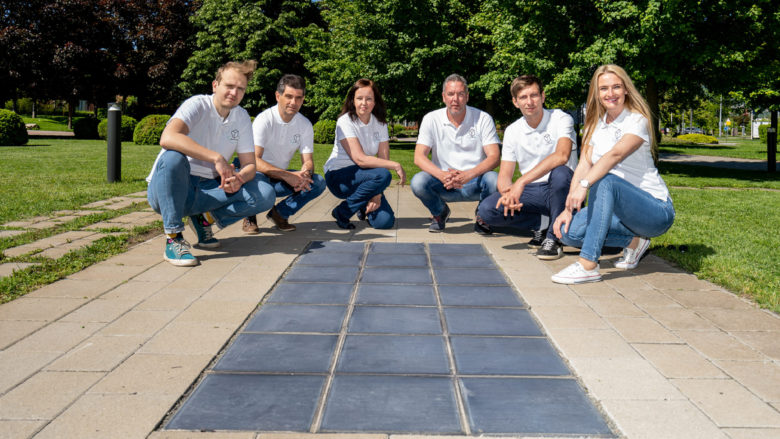 In view of the climate crisis, the urgency for an energy transition is increasing. A possible solution to this is a massive expansion of the photovoltaic infrastructure. In principle, solar pavers can be mounted on a variety of surfaces. This includes the pavement. This is exactly where the Hungarian company Platio comes in. According to pv magazine, the company recently unveiled a new solar paver that can be used for flooring or outdoor surfaces.
Bulgarian Solarpro and French GreenYellow to build 4 MW solar plant in Eastern Europe
Particularly resistant pavers
So far, solar ground installations have often not been particularly productive. Because they are usually expensive, not very resistant and their energy gain can also leave a lot to be desired. However, the new pavers from Platio should offer significantly better results. "They are based on a new frame structure that offers better protection for the glass surface," says Helga Ruscsák, the Hungarian company's marketing director. "They can be used for sidewalks, patios, driveways, parks, bike lanes, marinas, and low-traffic streets, as well as other industrial and off-grid applications."
The pavers should be particularly durable and protected. They are equipped with a variety of commercially available solar cells, including both polycrystalline and monocrystalline. According to the company, the cells have an efficiency of 18.6% and generate (under ideal conditions) 18.2 watts. Thick, tempered glass covers the pavers. Decorative patterns are etched into the glass itself, featuring a traction-enhancing texture. This is to prevent slipping when running or cycling.
Another mega project follows Europe's largest floating solar park
Platio wants sidewalks and bike paths with solar cells
Each individual cell is designed to support two tons of weight on a single wheel of a vehicle, and the entire vehicle can weigh up to eight tons. Platio is committed to sustainability in every respect. According to the company, the pavers are made entirely of recycled plastic. 20 square meters of solar patches should cover the average annual energy requirement of a household.
Even if the solar patches are very resistant, according to the company they are not suitable for building solar roads or solar highways. Rather, they should enable footpaths and cycle paths that can be used to generate clean energy. However, the pavers are definitely robust enough for this. Despite mechanical stress, they would have the same service life as those in conventional modules.