ProSiebenSat.1 Media SE Opens Up R&D In Sofia. What Does It Mean For The Local Ecosystem?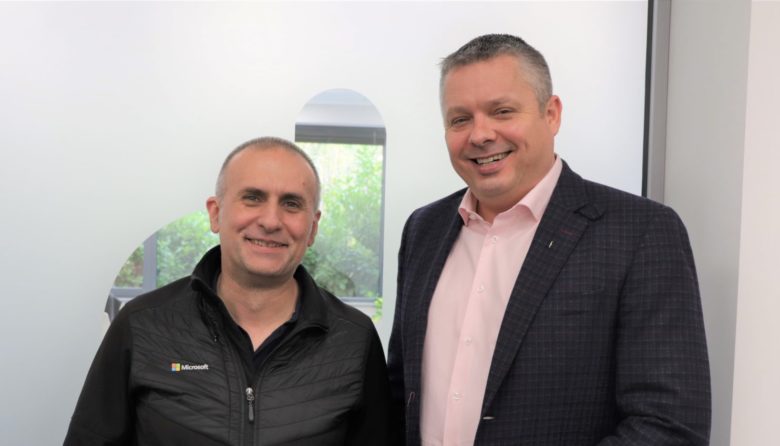 Since the beginning of 2019, a key project for the multinational mass media group ProSiebenSat.1 Media SE has been developed and engineered in Bulgaria. As of today, a team of almost 40 people is working in Sofia on a new core for the German-based company product – a mobile entertainment platform that allows online and offline interaction with both content and other users. The first version of this new generation digital TV that targets the younger audiences is expected to be on the market in the second quarter of 2020.
November 23, however, is the day when the project is set to be officially presented in front of the regional tech community during the biggest JavaScript conference in Bulgaria – jsTalks. Andrey Bachvarov, serial entrepreneur and General Manager of staffing and recruitment company BICA Services, one of the initiators of the collaboration with ProSiebenSat.1 Media SE, has chosen this event for the presentation as he firmly believes that the new R&D hub is a result of the matured IT community, and will also contribute to its further development. Bachvarov, together with Mihail Mateev, a key figure in the regional tech community building, and organizer of jsTalks, has set a goal – to help the Bulgarian IT industry reach the next level in its ongoing transition from outsourcing to high-tech product orientation. Having such a big R&D project, co-developed by BICA Services and the local software service company Dreamix, is a major step in this direction. Here's the what, how, and why of the ambitious endeavor:  
What is this new interactive platform you are developing all about?
Andrey Bachvarov: We develop a new generation platform for mobile entertainment. It's a solution to two problems with traditional TV. First, people don't watch TV anymore, they are on mobile. The second one is that users today expect to be able to interact with the content. With platforms like Facebook, Twitch, STEAM where users get used to sharing, sending feedback, winning badges, etc., interactivity becomes a must-have. So, to solve this problem for the ProSieben media group we are developing a mobile interactive show platform that gives users access to interactive and curated premium content. This is an important milestone in the digital transformation of the media group, one that might provide them with a significant competitive edge.
At the moment the channels from ProSiebenSat1 Media SE serve about 45m households in the DACH region, the group owns some of the most prominent formats like The Voice of Germany, Germany Next Top Talent. They also own studios all over the world that produce movies for all major entertainment platforms including Amazon and Netflix. 
How does such an interactive entertainment platform change TV and media as we know it?
A.B.: Mobile entertainment has nothing to do with static TV, it allows different types of experiences that could merge online and offline. With this type of interactive platform, we have quite distinctive use cases – you can watch it at home, outside with friends, while commuting, etc. Moreover, mobile devices allow also unprecedented offline interaction. For instance, a specific bonus in the online space is unlocked when 1000 people gather on one location physically. The technology already allows us to merge these two experiences. 
Can you tell us more about the technology part?
A.B.: One thing we are developing is the infrastructure – for instance the streaming services. We are also working on a project that should provide gamified and interactive media experience. The MVP for this will be ready a few months from now, parallel to this we are already thinking of the social interaction, voting and community layer. There we should use AI and machine learning to make the experiences more personalized – extract and analyze information, make suggestions, etc. We are also currently putting together a data and analytics team that will have to deal with predictive consumer behavior.
And what is the story of attracting ProSiebenSat.1 Media SE to Bulgaria? 
A.B.: ProSieben was first referred to us last year, as we are one of the strong players in the IT staffing market. At the same time, a media company does not necessarily have digital as part of its DNA. So they came to us, told us they have an idea, and we developed it further. It started as an outsourcing project. However, the people involved in it demonstrated willingness and capability to engage in product innovation so we realized there is a lot more potential in this. The increased involvement of experts from the ecosystem helped us discover more Bulgarian startups in the media domain.
In May, we sat together with several tech CEOs in Bulgaria, people like Vassil Terziev and Hristo Hristov, we held a workshop to showcase the capacity of the local ecosystem. Our idea was to explore whether we would be able to attract the core product development here. And this already is something different than outsourcing. 
How did you manage to convince a conservative German media company to open up an R&D center in Bulgaria?
A.B.: By offering a model called B.O.T. (build, operate, transfer), which gives ProSiebenSat.1 Media SE an acquisition button from day one. This gives them a certain level of security because they maintain control over resources and intellectual property on a daily basis. The involvement of seasoned product owners and relevant experts helped further convince Prosieben to trust us.
This model also allowed them such a fast delivery time to market, that they started to ask us for more. The message was close to "whatever is innovation, should be in Bulgaria". We are now also working on one of their most popular programs Galileo, something like National Geographic for Germany. 
There was one more thing that helped us a lot – the reputation of Bulgarians. The Chief Product officer of the group is Bulgarian – Stefan Atanasov. So, thanks to him, ProSieben already knew that Bulgarians are capable of product innovation. Last but not least, thanks to the efforts of our partner Dreamix, who built the project management core, we could jumpstart everything very fast – in two weeks, instead of 7-8 months.

So the solutions now all come from Bulgaria and local teams?
A.B.: When you are looking for solutions you are constantly in a "make to buy" kind of cycle. Interestingly and surprisingly enough, it turned out that in Bulgaria there are startups that develop products in the media domain. Viblast is one example that currently there is a  solution for streaming. Of course, such collaboration between a traditional corporation and a startup would be hard without any intermediary.
Why and how is such a project important for the local tech ecosystem?
A.B.: First of all, it showed that people in Bulgaria are capable of product innovation. This is part of the natural evolution from an outsourcing destination to a product-centric ecosystem. Bulgaria is still not widely known and recognized as a product development center. The most exciting thing about this project is that the actual R&D team that develops an important part of the mobile entertainment future of ProSieben is in Bulgaria. Yes, the HQ in Germany gives the vision and the general direction, but the whole implementation is here. People are empowered to make product-related decisions. This is quite different from the model in which the office in Germany gives directions, and only the programming is happening in Bulgaria. 
Mihail Mateev: When you look at the IT sector in Bulgaria, you see several big players like VMware or SAP, outsourcing companies, and too little R&D centers of companies that are going through digital transformation. I was leading infrastructure architect at Daimler at the time it was going through its transformation, that's something companies usually do within or near their headquarters. So being able to convince a German company of this size to have its R&D here, is a major leap forward already. There's one more relevant factor – people. On the one hand, the more product companies there are on the market, the more opportunities for young specialists to start their careers with a vision. At one point, for everyone in the sector money stops to be a factor. People want to create. So, when working on a new product, energy and motivation are higher. Six years ago, it was almost impossible to find product roles. With such projects, we cultivate product culture and expertise. 
Why is building a product culture important in Bulgaria?
M.M.: To a certain extent and in certain areas, the Bulgarian ecosystem is similar to the Western European market. The market is already advanced and mature but there are not enough people, and the ones that have qualities and skills start working very early on. These people can have good business opportunities, but exactly this is a burden for them to develop in-depth expertise in specific technologies. The situation in countries like Ukraine is the opposite – they are less customer-facing but have more effort in mathematics and algorithms. 

Is Bulgaria finally shifting towards a product-oriented IT sector?
M.M.: The evolution actually happened quickly thanks to product companies that entered the market in the past 5-6 years. The big boom is in the past 10 years when the face of the ecosystem changed a lot. I'd say we have one of the most developed societies with IT expertise. And thanks to the fact that we are a quite small market, the expertise has developed in several directions in which business developers could attract deals. I think we can make a big difference in the ecosystem. But there's one more thing. Most of the large companies across verticals need to turn into high tech companies in order to survive. This is a huge potential for the development of high tech products from Bulgaria. So, we are not only talking about b2b or b2c products, but we are also talking about companies that do digital transformation to develop their own platforms.
What are the next steps with the ProSieben platform? 
A.B.: We will officially present the project on November 23 at jsTalks in front of the tech community. The MVP of the mobile entertainment platform will be introduced to the market in the first half of next year. ProSiebenSat.1 Media SE has already asked for more – we started working on one of their most popular programs Galileo, something like National Geographic for Germany. As we have already received the message that the company will be expecting its innovation to come from Bulgaria, the sky is the limit. We will be putting together an AI and analytics team as it's essential for any innovation in this sector. We'll probably grow to at least 100 people developing ProSieben's core product in the next months.
This may also interest you:
+ Outsourcing and body leasing? Not anymore. Meet the new wave of software companies in Bulgaria
+ Product Manager – the new role in the Bulgarian tech and startup ecosystem