RE:TURN
Rumen Hristov: From The Informatics Olympiads To An MIT Spin-Off For Preventive Healthcare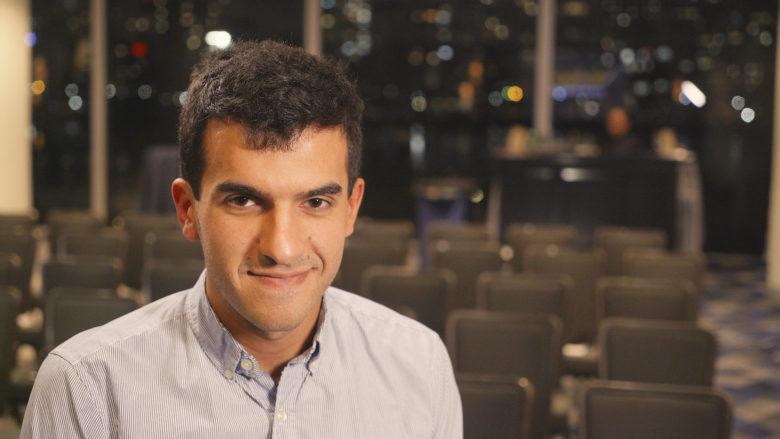 Rumen Hristov comes from the small Bulgarian town Shumen. In the seventh grade, he heard that The Massachusetts Institute of Technology (MIT) grants admission to the best of the best winners of Informatics Olympiads, and he was hooked by the idea. He read the blog about the first days at MIT of another Bulgarian and was convinced. At the time, Hristov was not sure what exactly he'd one day want to do but knew he wanted to go to MIT. 
Тoday, seven years after Hristov first came to Boston, he's spinning off a startup from MIT together with his professor and two other co-founders. Emerald Innovations, as his company is named, is a piece of evidence that all dots eventually connect, but also a good example of the role of academia in the startup world. 
From undergrad paper to a spin-off
Hristov might have not known MIT's role in his career in the beginning, but now he certainly does. Emerald Innovations is a company that aims to help people track their health on a regular basis. "I've been working on this project for almost four years now – throughout my undergrad and master studies, and it has evolved to a real company now," he tells us.
He and his colleagues have developed a sensor that is used for indoor health monitoring. The Emerald device looks like a picture frame, which attached to the wall monitors the people in a room, their positions, motion, pulse, etc. "There's no data about the people's health unless they go to the doctors and do a whole checkup, which wouldn't happen more than once or twice a year. We want to fill this gap," explains the co-founder. For example, for people with mobility diseases like Parkinson's or Alzheimer's, the way they move is an important metric and indicator for how their conditions are progressing, and this is a sort of data that Emerald collects and analyzes. 
Their technology analyzes the surrounding wireless signals using neural networks and infers patients'​ movements, breathing, heart rate, falls, sleep apnea, and sleep stages without requiring users to wear any sensors or wearables. "A lot of research has been developed inside MIT and now we are building the company around the technology. Our team developed the software, and the machine learning algorithms that allow all this to happen," he explains.  
A new approach to disease management
But why is another device for health monitoring needed at all? "Two of the top reasons for death in the US are COPD – Chronic obstructive pulmonary disease, a type of lung disease, and also heart failure. Imagine if we can detect that something is not okay and prevent hospitalization – it could save tremendous costs to the healthcare system," he explains. Yet this is data and information potentially interesting for the health insurance industry, he goes on. 
Emerald's team of under ten people is now working with medical doctors, pharma, biotech, providers, and health insurance companies to develop new digital biomarkers and enable a new approach to disease management and drug development. The Emerald device has already been deployed in over 200 homes and its first customers are from the pharmaceutical sector, and the company is already generating revenues that allow it to grow further, without having to raise capital. And Hristov and his team are already preparing to scale.
Back to where it all started
And while for him, this is just the beginning of an entrepreneurial journey in the US, Hristov has not lost the connection to Bulgaria. We met him during RE:TURN, an initiative aiming to bridge the diaspora in the US and the Bulgarian innovation and startup ecosystem. He came to this gathering to hear how he can engage with the Bulgarian ecosystem, he tells us. "I've learned so much and would love to be of help and give back in a way. Not least, I'd actually be happy to help students who need information on how to get to MIT," he tells us. 
And by the way, Rumen Hristov did win an olympiad. He indeed holds three gold medals and the 6th position of the all-time ranking of the International Olympiad in Informatics.