GARY GENSLER
SEC boss: "All tokens except Bitcoin are securities"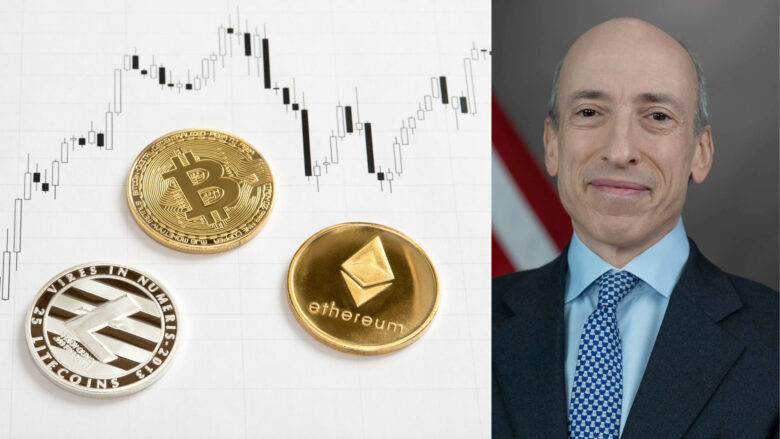 Coinbase, Kraken, Paxos, Terraform Labs, Ripple – and maybe Binance soon too: The US Securities and Exchange Commission (SEC) is taking increasingly tough action against crypto companies. Anyone who reads and follows the lawsuits and the specialist reports closely knows that all of this always comes down to one key question: Are cryptocurrencies just digital commodities (similar to gold) or digital vouchers (e.g. for one dollar like stablecoins), or are they something completely different: securities, i.e. digital shares, shares in companies.
There has been a dispute over this question for many years. At least since the SEC's lawsuit against Ripple, which involves billions, courts have been dealing with the question of whether XRP and other tokens should actually fall under securities laws. Just as an Apple share is regulated, ETH, BNB, or SOL would also have to be regulated. Yes, you read that correctly. Even Ethereum is considered by the SEC and its powerful boss Gary Gensler as so-called "securities".
"Always a group in the middle"
"Everything other than bitcoin, you can find a website, you can find a group of entrepreneurs, they might set up their legal entities in a tax haven offshore, they might have a foundation, they might lawyer it up to try to arbitrage and make it hard jurisdictionally or so forth," said Gensler in an interview with New York Magazine. Behind all cryptocurrencies except bitcoin would be people using a variety of complex and legally opaque mechanisms to promote their tokens and attract investors.
Some would use tricks and sell the tokens overseas first. "But at the core," Gensler said, "these tokens are securities because there's a group in the middle and the public is anticipating profits based on that group." While Bitcoin is a provably decentralized network (albeit with partially strong mining associations), Gensler also makes the very uncomfortable assumption that ether is also a security. And if ETH is a security, is Vitalik Buterin the CEO of the Ethereum company that issued these securities illegally (because they were not registered)? And then did Binance, Coinbase, Kraken and Co. trade illegal securities and make billions with it?
Crypto & Stocks: "Extreme Fear" Rules Markets Ahead of Winter
SEC cracks down on key players
The SEC's lawsuit against Terraform Labs and its fugitive founder Do Kwon for issuing LUNA and UST and promoting so-called "wrapped" tokens like wLUNA speaks for itself. In the USA there is the notorious Howey test, which is supposed to clarify in 4 questions/points whether something is security or not. These would be:
An investment of money: 

 is it a cash investment?

in a common enterprise: 

 Are you investing in a company?

with expectations of a profit: 

 Is there a profit expectation?

to be derived from the efforts of others: 

 Are third parties responsible for generating the profit?
According to the SEC, the matter is clear in the case of wLUNA and UST: both wLUNA and UST are clearly securities for the US authorities because they could be exchanged for LUNA and thus served as proof of security. There was also a lawsuit against Coinbase to clarify whether and which of the nine tokens in question (AMP, RLY, DDX, XYO, RGT, LCX, POWR, DFX, and KROM) are actually securities. Luckily for Coinbase, the case was won with a dismissal of a lawsuit alleging illegal token sales.
But just days later, Kraken paid the SEC a $30 million fine for allegedly violating securities laws for its staking service. Again Coinbase had to come out and emphasize again. "Coinbase's staking services are not securities. We will happily defend this in court if necessary," it said in a tweet. This also shows that there is a major confrontation between the SEC and Coinbase. And that will ultimately clarify the question of whether tokens are securities or not.