deal
Stasher: UK-Greek Luggage Storage Startup That Started With A Joke and A Cold Investor Mail Picks Up €2.5M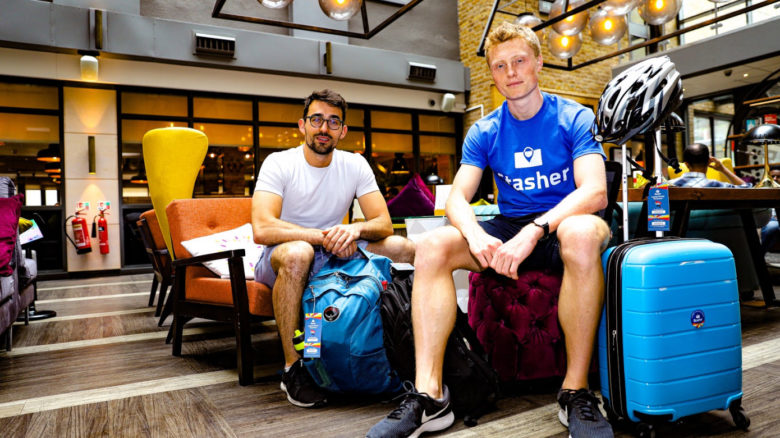 Stasher, a platform that allows tourists and travelers to stow their luggage in apartments, hotels, coffee, or parcel shops around the world, has raised €2.5M to continue its expansion. Currently, Stasher features a network of locations in 350 cities in Europe, North America, Australia, and Asia. Based in London, the company has a Greek cofounder and is infused mostly with Greek capital. 
"We have been impressed by the demand for the service as well as the ability of the team to expand the offering in so many cities within just two years. However, what really impressed us with the team at Stasher was their uncompromising focus on the consumer experience and safety from day one. This is what sets them apart and will allow them to remain the leading service provider globally," comments Apostolos Apostolakis, managing partner at Greek fund Venture Friends, that leads the round. Apostolakis and his fund have been supporters of the company almost since its start, leading a seed round of $1.1M in 2015. According to Crunchbase, Stasher has so far raised $5.4M.
From a joke to a global business
For Stasher, it all started with a joke, when the co-founders Anthony Collias, Jacob Wedderburn-Day, and Matthew Kajewski, were still at university. Back then people were constantly asking Collias to store their stuff at King's Cross Station. When Matthew once asked, Anthony replied "Sure, but I'm charging you for it". And so it went. The three started working on the idea of charging people who leave their luggage at his apartment and were also negotiating terms with other locations. 
"We were having something like a WordPress blog. We started to get to the point when people started booking every day. The day we made 100 pounds, was the day we decided to start doing it full time," Wedderburn-Day told us in an earlier conversation.
Seeing a potential after several months, they decided it could indeed turn into a business, and started looking for investors. A cold mail (something that every VC would advise you not to do) brought them their first angel investor who backed them with £100K. With the initial capital, they further developed their prototype and managed to attract venture capital in 2018 – Venture Friend led a $1.1M seed round. Expanding the network far beyond the UK and reaching 250 cities across four continents at the end of 2019, according to Crunchbase, has raised another $1.7M to conquer Australia. Since the start the company's network of StashPoints has stored over 350k bags, says the team. 
The Airbnb for bags
The business model is simple. Users can pick a convenient spot to drop their luggage and 24 hours of storage of an item costs the user around $6 (including insurance to the value of £1K). Stasher charges around 50% of the fee, while the rest is left for the luggage hosts. In the beginning, it was seen rather as an additional revenue stream for brick and mortar shops. With the time, the concept developed, and currently, the company is also partnering with bigger brands and hotel chains such as Klook, Sonder, Marriott, Hotels.com, Premier Inn, Expedia, and Accor.
 "We're bridging the gap between VR and hotels. In fact, our model is so scalable that we could launch in any urban area in which you could reasonably stay in an Airbnb. This means there's an opportunity to launch more than 10,000 new cities in the near future," commented Collias. 
Of course, Stasher is not all alone in the space as storing luggage and providing a platform to book spots is a low-hanging fruit attracting many entrepreneurs. Therefore, the startup is emphasizing on trust and now focusing on partnerships with other large trusted brands.