Interview
The Complex Government-Startups Relationship: "Build One That is Free From Alarmism"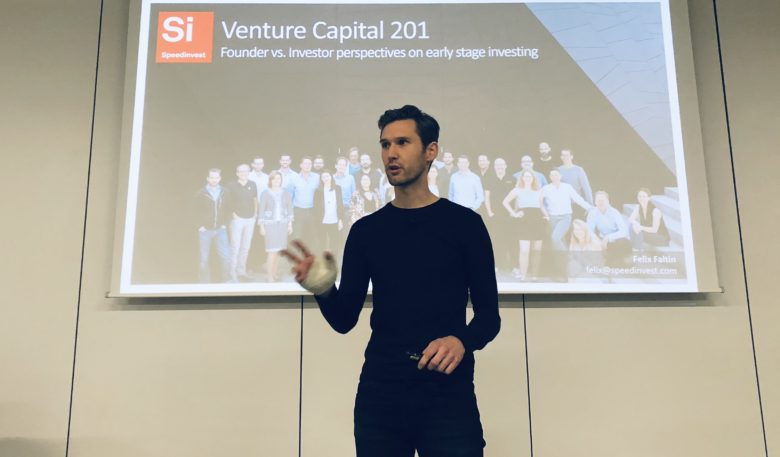 Felix Faltin is a philosopher and economist by training and has always wanted to go to public policy and do something big. With degrees in PPE from Warwick University and a Master of Public Policy from Georgetown, his career started in Vienna where he was managing health care reform. After that he moved on to develop new service lines for a healthcare corporate across Europe and Asia. There are two major startup highlights in his career though – in 2016 he was the right hand of the Austrian federal minister of infrastructure on innovation and economic and passed a €185M initiative to support the national startup community. After that, as it was the most logical next step, Felix joined the Austrian investment fund Speedinvest as Head of Strategic Projects.
As one of the few people with governmental background in VC, Felix knows the both worlds that are sometimes so hard to bring together. Тhe team of Campus X, the incubator for tech talent and companies in Sofia, invited Felix to give a talk about Venture Capital and trends in the industry, so Trending Topics used the opportunity to ask him what he learned in the seven years of his career between different definitions of innovation.
Trending Topics: Prior to Speedinvest, you've been part of many other interesting initiatives. The €185M Government Startup Package in Austria is one of the projects in which you were actively involved. What triggered this process in Austria? How is it to work with public institutions on such a matter?
Felix Faltin: This is something that in Austria, and I think in all the Western European countries, has always been on the agenda. The question is how much attention startups get relative to  other things on the agenda. In Austria in 2016 the Prime Minister at the time, who had a background in the private sector, put a lot of energy into those topics. I think it's always on the agenda, in the EU as well. Just look at the money the EIF (European Investment Fund) is pouring into VC.
A lot of entrepreneurs are saying that the government needs to do more. I'd say governments are doing a lot, they're just very far away. As a policy maker, you speak a completely different language. That's frustrating for both sides, but if you manage to bring them together, it can be productive.
How does that work on practical level?
Talk. As a government, you need to be willing to go down and hang around in incubators and accelerators and with the investors to get a sense of what's going on. Likewise, as a tech entrepreneur, as an investor, you need to take the time to talk to people who speak a different language. You also need to understand as an entrepreneur or investor, that decision-makers in government need to move much bigger ships. They move slower because they have a lot of interests to balance.
Who should an ambassador of the ecosystem be talking to? What are the DOs and DONTs?
Talk to whoever calls the shots. That is different in every system and depends on your objective. If you are an entrepreneur and just want funding for your company, you need to find out who is in charge of that and talk to them. If you have a bigger mission for the ecosystem, it probably pays off to find out who the relevant advisors for the relevant politicians are. As a senior decision maker, it was crucial for me to have consumable information, and I was grateful for people in the ecosystem who sent me actionable briefings.
It's important to understand that  politicians are allergic to public pressure. Pressuring them publicly can either produce a result or prevent them from acting because they feel like you're stepping on their toes.
What would be your top three advices for the local ecosystem in Bulgaria and the organizations trying to pass similar initiatives?
My number one advice is to provide well-written, concise policy recommendations that are actually implementable. As a politician, you are running around all the time and find it hard sometimes to prioritise. The more specific the advice, the more quickly you get it – the better. Two, building a relationship that is free from alarmism. If you constantly talk about how bad everything is, you won't build support for your case. Build a relationship to the people, help them understand what really is an issue.
What is the role of the state in the development of a startup ecosystem?
An example: I was in Silicon Valley some months ago and talked to a successful Austriаn entrepreneur there. He told me that moving to the U.S. opened his eyes for the fact that regulation is annoying everywhere. Have you ever tried getting a social security number in the US? The state has two clear responsibilities regarding startups – education and very early stage risk financing, typically through grants and research grants – for technologies that are somewhere between development stage and the market, too early for private investors. If you go back in history, every major tech we use today, like the iPhone, is a result of  massive governmental investment. In Austria, we have tons of public grants and a lot of the best companies use them. It gives them some runway, they don't need to give away equity, and they use it to hire early staff. It's money well spent.
Why is Bulgaria and the CEE region interesting for Speedinvest? How many companies from the region has Si invested in?
I'm part of the deep tech team and for us everything is on the map – CEE is a great source of deep tech deals. In Bulgaria we have two investments – Dronamics and Metrilo. We have a number of investments in Hungary, in Slovenia we've backed Flaviar or BlubBlub. Roughly 20 to 25% of our investments are in CEE and the Balkans.
Are there any Bulgaria related deals in the pipeline?
I met 20 companies today. I think we'll follow up with three of them. But it's important to have in mind that we see 3.500 companies a year and invest only in a small percentage. We are fundraising for Dronamics, they're doing really well.
We see a lot of Bulgarian founders and one of the reasons we are here is that many of our companies employ talented people from Bulgaria.
What is the next strategic move for Speedinvest?
We have an office in the U.S. that serves as a business development platform for our portfolio. As our portfolio matures, more companies will try to access the U.S. market, so I'm working with our US team to prepare for that. Of course, we're also working on other exciting projects.
You are talking a lot about reinventing VC. What does this mean?
What we see is that a lot of VCs promise the moon to the companies when they are trying to invest:  support with hiring, with fundraising, intros to clients etc. Only very few VCs deliver on that promise. We've built a model that allows us to do so. If you look at our website, you will see a very large team. These are all specialists that work for our portfolio. They provide support in areas such as HR, marketing, growth hacking, business development. In the US, we have a business development team just for our companies. We do that because we see a need. Crucially, this support is for strong companies that will benefit from our work.
And how do you pay for that? Traditionally funds get 2% of the committed capital annually. How do you sustain a team of 50?
We've developed a unique model to pay for this – our Growth Partner Program. We agree with founders on certain milestones and if we hit them, we get reimbursed with small equity stakes. The advantage is we are not burning cash, the founder is always in control and, these are all services that are hard to source on the market.
How do you work with other funds?
We have co-invested with almost all, if not all, major European VCs. We like to co-invest.  There is a lot of research that companies, which have co-investors, end up raising better Series A, for obvious reasons like bigger networks, etc. We want to be lead investors and we invest all over Europe – from Scandinavia to Bulgaria. We've also co-invested with U.S. funds.
Is there any difference between working with U.S and European VCs?
Size is a big difference. Entry prices in Europe are lower than the US. So smaller exits can still have great multiples. In the US, there is an assumption that it needs to be a unicorn or a decacorn to pay off. That's not the case in Europe. As a fund, we can have great returns with 500m to 1B companies. Our experience is that US investors take very little notice of Europe, a lot of them have never been here professionally. This is quite different for us, of course.
There seem to be huge differences between VC offering in Western and Eastern EU countries. Is that correct and what is the reason? What does this mean for companies from Bulgaria for example?
It's very easy to get visibility as a Bulgarian company. Just go to events and have a great pitch deck. Be ambitious and don't think that you can only get funding or customers from Bulgaria to Poland. go to France, Germany, Italy etc. These are huge markets waiting to be taken. One of the practical challenges we see again and again in less developed VC markets, including Austria, is a need for  professionalization among business angels.
We see a lot of great companies with broken cap tables because angels came in too early and took too much equity. Sometimes that makes it impossible to get follow-on funding. On the investor side, it's a matter of building volume and critical mass. Speedinvest also started with a €10M fund. You need to do your work and build a great brand. Many funds in CEE are still very young and it will take time to prove their merit.
Speedinvest is an investor in TrendingTopics.