MOBILITY
The E-scooters of Hobo Are Setting Foot on the Streets of Blagoevgrad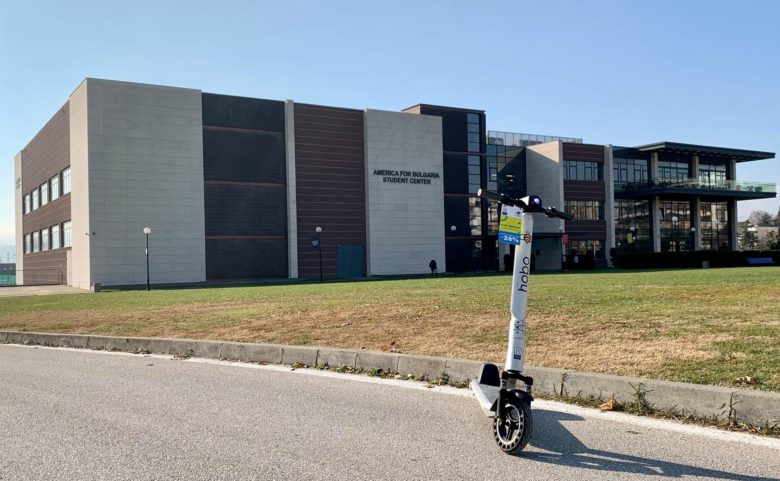 One year after its launch in Sofia, the first Bulgarian e-scooter startup Hobo has increased its fleet to 250 vehicles, has improved the features of its model, and is now expanding its service to another Bulgarian city – Blagoevgrad. In October 2020 Bratan Bratanov, the business development strategist of Hobo shared with our team that the startup aims to make their service available to the residents of at least one more city by the end of the year, and on the 1st December 2020, Hobo officially began its operations in the Southwest Bulgarian city in a close partnership with the American University in Bulgaria (AUBG) which is situated there. "Our goal is to offer AUBG students a greener way to commute between their campus and the university building in the city center in order to encourage them to reconsider commuting with personal cars and taxis," shares Bratanov in front of Trending Topics SEE. 
Smart expansion and validation through private partnerships 
As highlighted by Bratanov sustainable growth and incremental expansion are essential when it comes to going into new markets because this allows enough time for realistic research and analysis of available opportunities. He goes on to explain that the typical way that Hobo operates and attracts new users is through developing partnerships with different local businesses and organizations and collaborating closely with the municipality. 
"Besides Blagoevgrad, we are currently negotiating to launch the service in another three Bulgarian cities. For the launch in Blagoevgrad, however, we decided to try a slightly different approach: we are launching our service exclusively for the AUBG campus, instead of the entire city," explains Bratanov. What this means is that Hobo is not entering Blagoevgrad entirely but is rather extending its services exclusively on the campus of AUBG. However, the e-scooters will not be only available for AUBG students and all residents of the city will be able to use them. 
This is part of Hobo's smart strategy for expansion because it will allow them to test and validate the scalability of their operations in the new market of Blagoevgrad while avoiding the need to deploy huge resources. "This is a good pilot test of the city's infrastructure and service demand. Our strategy is to validate the business model on a smaller scale (as a private partnership with AUBG) and present the need and benefits of that service to the local municipality in order to discuss the opportunity to launch the service across the entire city," continues Bratanov. Hobo plans to operate in this way for one year to allow the idea to validate on a small scale before entering into negotiations with the Blagoevgrad municipality in 2021. 
Right now the e-scooter startup is starting off with a 20-vehicle fleet, five exclusive parking spots across the AUBG campus, and one local employee who will be responsible for the management and relocation of the fleet as well as for disinfection of the e-scooters, a practice that Hobo used to remain in business during the first serious wave of Covid-19 in Sofia. 
New open-API software and carbon neutrality mission
Hobo recently improved the functionality of its open-API software to make it possible to integrate with the open-API systems of existing routing apps and software. This will allow their business to more easily turn the e-scooter service into a first and last mile solution that is offered as an addition to the public transportation systems and solves the problems of the citizens who want to travel between urban spaces that are not covered by the public transportation systems. Hobo's software also uses geofencing that is connected to the GPS devices integrated into every e-scooter to plan and set on the map, which zones are active and available for parking. This means that users are not able to leave e-scooters wherever they want and will have to park the vehicles on the indicated spots, which in Blagoevgrad will be on the AUBG campus. 
Another innovation that Hobo has introduced in Sofia is the use of an electro cargo three-wheeler, which is a sustainable substitute for the buses used to collect and relocate the e-scooters across the city. This is aligned with its mission to achieve carbon neutrality on an operational level by 2021.
How does Hobo attract new users?
Bratanov explains that the business model of Hobo is focused on the introduction of different plans, which are possible through public-private partnerships and give preferential terms to different groups of users. In Sofia, the startup collaborates with the Center for Urban Mobility and offers public transport users a number of free rides when they upload a picture of their transport card in the app. Another plan that they have introduced targets young people under twenty-six years by giving them a 26% flat discount if they validate they are currently enrolled in university with their ISIC, EYC (European Youth Card), or with a student card and photo. Bratanov explains that everything is done through their app – the users can choose their discount plan and once they enter the code of their cards, Hobo's open-API software validates the number and accepts the discount by connecting with the open-API software of their partners. Another thing that Hobo does to increase its client base is organizing events to educate users on the environmental benefits of using e-scooter and train them on how to use the vehicles. Bratanov shares that such demo events and test drives will be held on the campus of AUBG and can also be conducted online if the situation requires it.