pitching contest
The Fridge Management App CozZo is This Years Betapitch Sofia Winner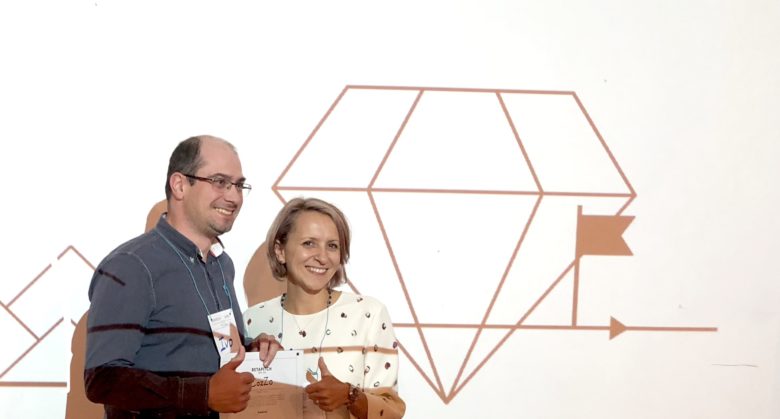 Ten companies pitched their businesses during the fourth edition of betapitch Sofia, an annual pitching contest organized by the coworking community betahaus. Sustainability, but also blockchain and tokenization were the hot topics this year. Four of the contestants presented blockchain based solutions and the other six had a business model aiming to positively impact different environmental, social or business issues. There were two female founders among the pitchers and they both perceived an impactful business.
The winner: CozZo
The company that won the contest and will be pitching at the global final in Berlin on November 15  is called CozZo. The startup, better known as CogZum, was recently rebranded. Its core product is a mobile fridge and pantry manager, coupled with grocery shopping list. CozZo's mission is to prevent food spoilage by tracking expiry dates of products.
The founded by Ivo Dimitrov company targets primarily the U.K. market and already has 10K downloads, one thousand of which turned into active users. In 2018 the startup closed its first angel investment round and received €105K funding for further development of its products. According to Dimitrov, there are two new products in development – the CozZo eye and the smart jar CozZo box. The eye is a small camera that would track and monitor the grocery in the fridge and notify the user about the expiry date, to develop the product Dimitrov has partnered with software leader in image recognition – Imagga. Dimitrov's goal is to develop an integrated solution for household food management, which combines complete pantry inventory, shopping assistance and an expiry date tracking system.
The mobile apps combines free and subscription-based features. Additional revenue stream for CozZo would be partnerships with supermarket chains.
The other impact players
A new venture called reUse got recognition by several of the event sponsors. The core products of the female led startup is a web and mobile platform that allows users to get rid of their old furniture and be rewarded for that. Through a network of business partners, reUse team aims to give a second life to old furniture and prevent large-scale domestic waste. The old and unused items are then taken to hobby furniture makers for refurbishment and after that sold via reUse platform. reUse would then receive commission on every sold item.
Volontime is another female founded and led company developing a platform with social mission. The main product is a social network that connects volunteers, people willing to donate, companies with CSR campaigns and NGOs. Volontime, which aims to be a one-stop shop for good deeds, also has an online store for goods with causes. In 1.5 years, Volontime has attracted 15K users and won €has 10K award during the mobile tech conference Mobocon.
Easydoc is a mobile app that helps users find the right specialist and book an appointment online. It has different interfaces for doctors and patients. The application is free for patients but has a subscription-based model for doctors. According to EasyDoc's founders, 20 doctors have started using the app in less than a month.
LiveMatter is a very early stage biotech company that targets the vegan fashion market with a new type of tissue. The team has found a way to produce an organic leather replacement from an ancient mushroom.
Parknshare is a solution for drivers in big cities who cannot find a parking spot and wants to be the Airbnb for parking spaces. The platform allows owners to rent their parking spots while they are not using them and benefit from that. Park&Share gets a commission from every transaction via its web and mobile platform. So far, there are seven spots and 140 subscribed users.
The blockchain pitchers
Blockchain is probably the most frequently used word in the startup community recently. therefore, it's not a surprise that 40% of the betapitch participants rely on this technology. It's also not a surprise that the most frequently asked question by the jury was whether the companies really need blockchain to build their products. Here are the solutions presented:
With over 800 universities, offering online courses and over 80M students taking advantage of this new way of learning a need to verify skills and certificates arises. This is the hypothesis that Open Source University is built on. The company develops a blockchain platform that allows academia to verify certificates so businesses know whom they are actually hiring. Open Source University profits from university courses featured on their platform and companies that pay to have access to their data.
15togo is blockchain platform that targets travelling millennials. Based on the hypothesis that this generation prefers to travel with people they like, 15togo provides a Tinder-similar platform for travellers. In addition, the social platform also offers the opportunity to choose already organized trips and split the costs with other customers. The startup has found a way to cut off the intermediary and travel agents and it gets a commission from any transaction within 15togo.
Colibra claims it is the first democratic insurance company. The startup is willing to enter the $22B insurance market by providing an open based on smart contracts platform that can handle insurance claims in a transparent, autonomous and fair manner. The first product of the company is the one-minute travel insurance. Colibra tackles a major problem in the insurance industry, which has turned into a profit-driven less transparent business by giving the community to make decisions over customers' claims.
CargoCoin is web platform that aims to introduce marine shipping to the digital world. The solution is based on smart contracts and connects ship owners with brokers of cargo or cargo shippers. The startup targets smaller companies and is aiming to replace traditional bank payments with crypto. The company gets a commission on every transaction through the platform. CargoCoin is currently fundraising through ICO.