awards
These Are The Winners of DigitalK Startup Competition 2019
Over 100+ international applicants and 13 semifinalists from seven countries – this is what info security LogSentinel startup had to go through. The company is this year's DigitalK Startup Competition winner and receives €10K, no strings attached.
LogSentinel was founded in late 2017 by Anton Gerunov and Bozhidar Bozhanov, who have both led the process of developing the Bulgarian e-government system while counselors in the Bulgarian Council of Ministers. Combining their economic and technology background with a good sense for business, they decided to conquer some of the information security problems they have faced in the course of their carriers so far.
With as little as 100K angel investment, the company has developed two solutions . Sentinel Trails, which was the focus of the pitch during the contest, is a fraud detection and notifications system. The blockchain layer eliminates the chance for anyone to delete logs and harm a system. The startup has recently introduced another product – cloud-based datastore that encrypts data per-record, called SenitelDB. In April, Logsentinel won this also the startup contest during the GovTech.Pioneers, the special governmental tech track of the famous Pioneers Festival in Vienna.
The Angels have also Chosen
For the very first time this year, DigitalK had not one but three winners. The €10K in form of convertible notes provided by the Bulgarian CEO Angels Club went to a company we have discovered recently – Gaida.ai.
Gaida.ai has developed and piloted a data science based tech solution for real estate agencies to help them serve all incoming leads. It works completely invisible to the buyer, yet answers every inquiry, and always has a relevant offer. In seven months of operations, this solution brought the company €210K of revenues on the Bulgarian market alone. The company is already working with the leading real estate group in Bulgaria and has another 26 prospective clients in the pipeline.  Now the company is looking for €750K to expand internationally.
The Community also has its favorite
With 25% of the almost 600 votes, the social network for travelers 15toGO won the Trending Topics wildcard and went straight to the finals. In addition, the venture receives a media pack of €3K. 15toGo is a marketplace for group trips with a social network element that was launched last year. The company, which is officially registered in Ireland, has so far attracted around €230K from Telerik co-founder and business angel Vassil Terziev, the CEO of Netinfo Hristo Hristov, the CEO of Experian Bulgaria Peter Bankov, and two other business angels. The company already has 14K users.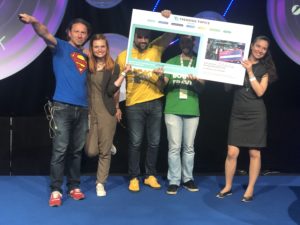 In November in London, 15toGo won the second place in the travel-tech pitching contest TravelForward, part of a large forum called World Travel Market. The platform aims to bring together people who like to travel in groups, helps them find co-travelers and get to know them before the trip via a mobile app.
The other participants
The fourth finalist who got to pitch on the main stage of DigitalK was Payhawk.io. The  Bulgarian startup runs a Platform for expense management for small businesses. The company issues debit cards that can collect and read expenses in real-time. Payhawk issues company cards with automated expense management and discovery of subscription overspend on auto-renewals. It also partners with brands like Visa, Mastercard and Wirecard.
Here's who else was selected on the semifinals:
Colibra – Bulgaria – Colibra is an air flight travel tool that helps travelers in the process of getting direct flight delay compensations with instant payments, directly on their phones without any claim processes. The company was originally started with the idea to bring back transparency to the insurance industry by putting some of the processes on the blockchain.
CryptoAPIs – Bulgaria – The platform is marketed as the backbone of any blockchain and crypto project. Crypto APIs is an API provider for crypto & blockchain applications. They provide live and historical data for both Crypto market and Blockchain protocols.
FastCast – Slovenia – The company develops an easy to use online casting platform that allows scouts to browse through a database of artists, performers, singers and entertainment talent in general, and also post offers.
Green Charger Network – Bulgaria – The company is building a worldwide GreenCharger™ network by bringing together the leading e-vehicle charger operators. EV owners can charge EV freely on every charger within the network, regardless of charging operator.
Personify XP – UK – Personify XP automates personalized experiences for anonymous website visitors through automation and AI without requiring any personal data. They use a visitor's behavior to identify the reason behind their visit, while the platform automatically optimizes onsite content and products.  
Spanners CI – Greece – Spanner CI helps IoT device manufacturers build & test their products at a fraction of the cost. They do that by replacing the manual testing of their devices with an automated testing service.
TwogNation – Estonia – Тhis venture creates a 1-stop-solution for gamers and industry stakeholders. It has two products – TwogHub, a competitive gaming aggregator platform providing unique features for gamers and industry stakeholders, and TwogNews – an esports aggregator, which allows the user to consume content in a customized and short format. The company also does consultancy in the e-sport sector.
Unboxed.Network – Lithuania – Unboxed is a mobile application that connects Instagram micro-influencers with companies that want to build up their brands through user-generated content. The company has worked with over 100 global brands including Mars, Nestle, and Philips, running campaigns in 9 different countries.
ViaCorex – Lithuania – ViaCorex is a cloud-based e-procurement platform which streamlines and centralizes procurement processes. They provide deficient functionality in ERP or accounting systems like e-sourcing, suppliers and e-catalog management, requisitions and approvals, purchase orders, b2b e-commerce and many more.
Wiserstate – Latvia – Wiserstate provides affordable personal development for managers – it's an automated coaching platform for junior managers in video form. Certified business coaches have recorded and configured video coaching scenarios that are changing according to users learning needs.