#SAVETHEDATE
Trending Events Weekly Calendar: What you shouldn't miss this week!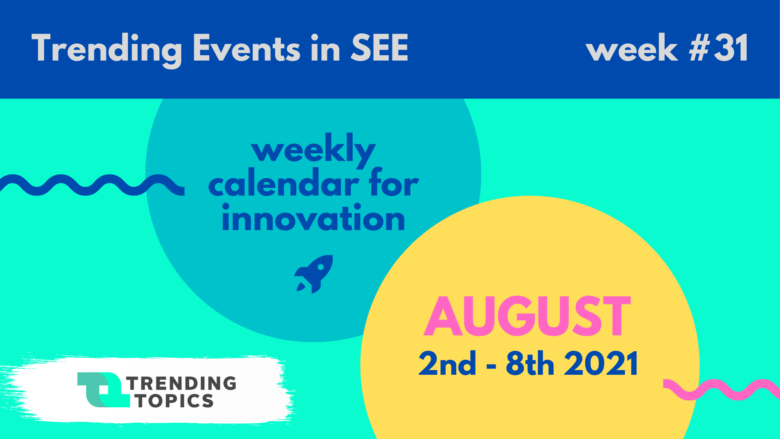 This is our list of all major events and open calls from the world of startup, innovation, and all things trending in the week of August 2nd – August 8th, 2021. Save the dates!
3 August 2021
Pitch your Startup Idea to Stuttgart Investors & Experts Online (by Founder Institute)
On this live and interactive online event, you can pitch your ideas to a panel of Stuttgart startup investors and experts for ratings and feedback, all from the comfort of your home. Even if you don't want to pitch, you are invited to hear startup ideas and watch how the experts analyze businesses.
More information HERE
3 August 2021
Ratio и Рожен представят: За звездите и хората (by Ratio)
The event is part of the celebrations on the occasion of the 40th anniversary of the National Astronomical Observatory "Rozhen" and focuses entirely on the amazing story of stars. How did the solar system occur, why don't we find life anywhere but on Earth, and what could we learn from asteroids and comets are just some of the questions that will be discussed.
More information HERE
3 August 2021
Forum of the NGO sector in Bulgaria (IIC International Initiatives for Cooperation)
A two-day forum within the project "Visual communication and identity" and its relation to NGO initiatives. The event is supported by Iceland, Lichtenstein, and Norway.
More information HERE
4 August 2021
Sofia Tech Park & Gabrovo Green Accelerator '21 (by Sofia Tech Park)
Gabrovo Innovation camp is visiting Sofia Tech Park. Join a conversation in which experts answer questions such as "How can public authorities promote the entrepreneurial environment? How innovative solutions for cities can be created in formats such as hackathon and innovation camps?
More information HERE
5 August 2021
The Startup Playbook Series Ep5: Building a scalable sales model (by e27)
In this episode of the Startup Playbook Series, experts help answer questions such as "Which customers should they target? How would they know what kind of messaging to use on their leads?" and will take you through the steps of building a sales model that would work for your company now and as it grows.
More information HERE
5 August 2021
2nd Annual Inhaled Drug Delivery Summit 2021 (by QEPLER)
The meeting facilitates hands-on experience sharing of successful development of inhaled drug products for enhanced patient care.
More information HERE
5 August 2021
DeFi Conference 2021 (by Bitcoin Events)
Decentralised Finance or DeFi is disrupting the world of finance as we know it, growing from strength to strength over the last year. The event will bring together 2500+ attendees from 80+ countries and over 35 global speakers, sharing their knowledge on the future of this fast-growing industry.
More information HERE
6 August 2021
EduVation Summit 2021 | Future of Education (by EduVation)
EduVation Summit 2021 will focus on all that is new and effective technological methods that work for the educational process and to develop the entire educational sector.
More information HERE
6 August 2021
New Age Technologies in Pharma & Life Science (by ITEX)
The seminar will provide the platform to discuss how pharmaceutical manufacturing companies can achieve flexibility, optimized production, and regulatory compliance with integrated automation, process control, and information solutions.
More information HERE
7 August 2021
Vitosha comes to Varna (by Vitosha Venture Partners)
All startups, founders, and aspiring entrepreneurs are invited to join for a drink by the sea and discuss mutual ideas and goals. The Vitosha team would be delighted to speak with all of you and check in on the development of the local startup ecosystem. Please confirm your attendance by signing up in the following form.
More information HERE
8 August 2021
Digital Marketing over Breakfast (virtual) #46 (by Digital Ideas)
The event is all about getting new ideas to grow your business and sharing knowledge with similar-minded people.
More information HERE
We forgot to list your event? Drop us an email at office@trendingtopics.bg.