#SAVETHEDATE
Trending Events Weekly Calendar: What you shouldn't miss this week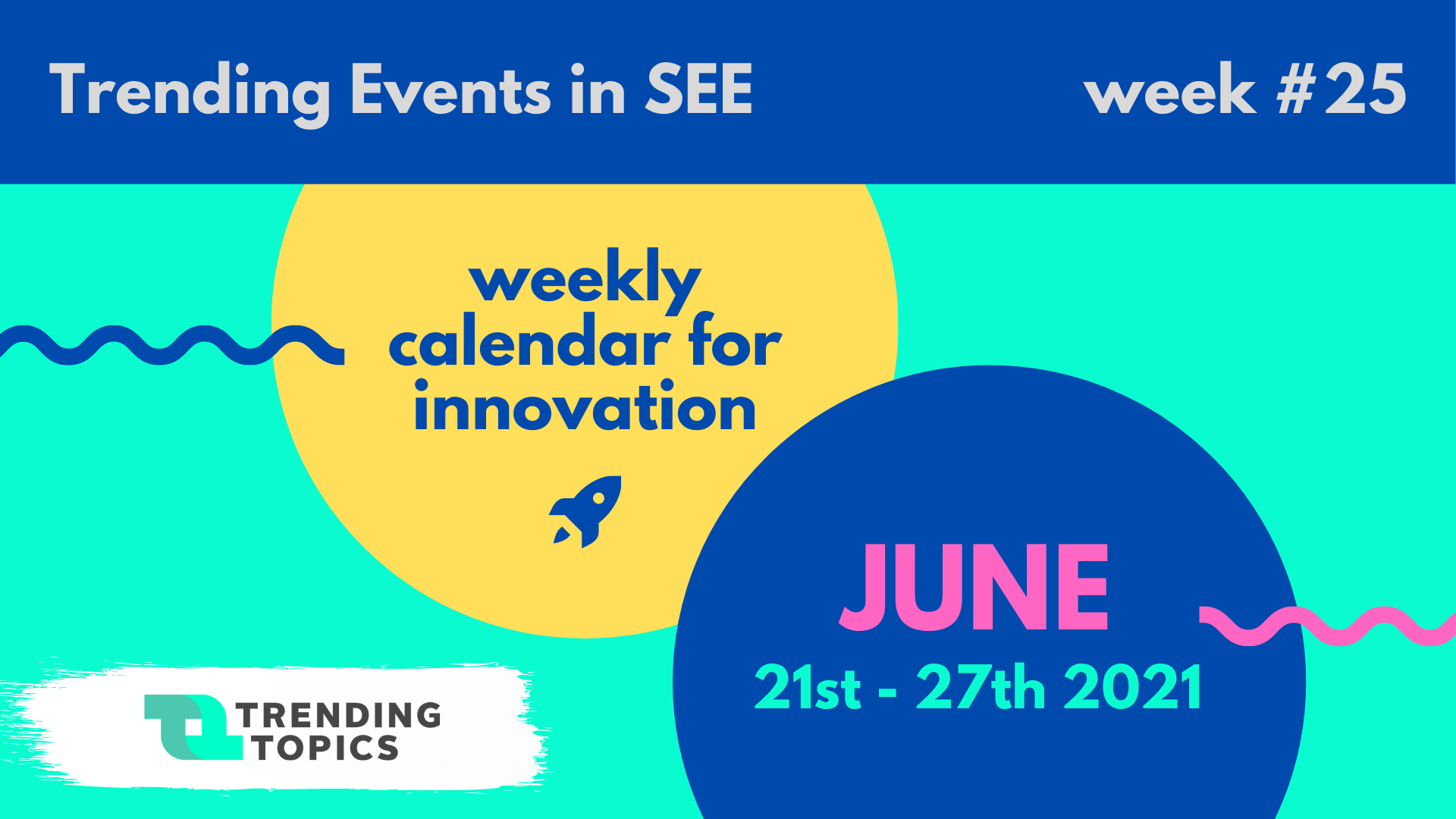 This is our list of all major events from the world of startup, innovation, and all things trending in the week of 21st – 27th June 2021. Save the dates!
21 – 25 June 2021
World Sustainable Energy Days
In 2021, the conference – which attracts over 600 participants from over 60 countries each year – shows how we can make a green recovery happen in practice and how the energy transition can contribute as an investment engine to this deep transformation.
More information HERE
22 June 2021
Executive briefing: Positive Team Building in 3 Steps
Leading a team is challenging in the best of times. During a period of crisis, it demands even more energy from tam leaders. How can you flip this and begin to harness the power of your team and drive performance and output with energy from within your team?
More information HERE
22 June 2021
XII Green Forum – Manager Magazine / XII Зелен Форум – сп. Мениджър
Green transformation is becoming a key concept for the future of the world. The vision of the business and institutions for sustainable production and consumption, the strategies for carbon neutrality, and the positioning of Bulgaria in the energy reality of the future.
More information HERE
22 June 2021
Get excited about GoLang!
This is a fast-track course building a production-ready robotics system using GoLang in 6 weeks alongside Ocado Technology engineers and expert Go trainers.
More information HERE
23 June 2021 
European Research and Innovation Days 2021
The European Commission's annual flagship Research and Innovation event, bringing together policymakers, researchers, entrepreneurs and the public to debate and shape the future of research and innovation in Europe and beyond.
More information HERE
23 June 2021
16th European Spectrum Management Conference 2021
The conference will provide a platform for stakeholders to come together and discuss topical issues relating to the management and coordination of spectrum policy across the region.
More information HERE
24 June 2021
Founders in Europe: Free Company Building Session
A free session by Founders in Europe that has the mission to help as many founders as possible succeed with their startup ventures. Early-stage founders have the opportunity to network with other more experienced founders and ask all the questions they have.
More information HERE
25 June 2021
Webinar: Planning and Measurement of Investments by Channels
The webinar focuses on how to plan and measure the money invested in advertising, based on the analysis of your own data.
More information HERE
28 June 2021
Virtual Expert Panel | Artificial Intelligence: Compliance with Human Rights and Societal Values
Join the discussion about major challenges and opportunities associated with the implementation of AI systems into social systems as well as policy recommendations to address risks appropriately.
More information HERE
We forgot to list your event? Drop us an email at office@trendingtopics.bg.