Trending Topics: Our new job platform powered by wecanbeheroes.io is here!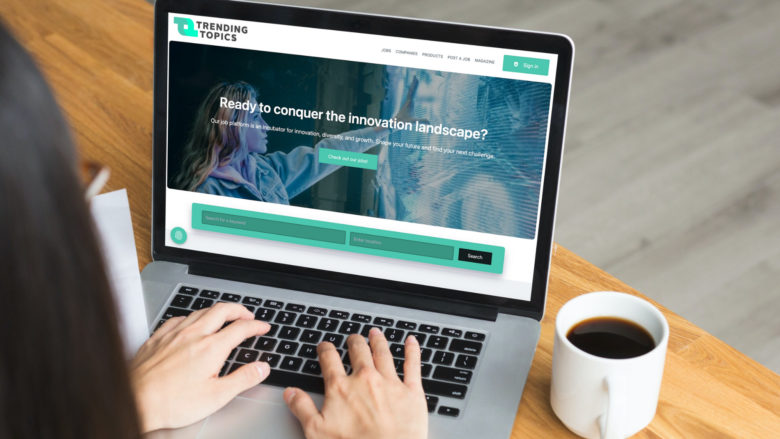 Seeking a job or a new professional path could be an overwhelming process – a jungle of various online job portals and possibilities. So.. Where is the ideal place to find the next big professional challenge in the innovation landscape? In cooperation with wecanbeheroes.io we created a new job platform that, hopefully, will be a gamechanger for professionals across Europe. There are already more than 1,000 jobs available at more than 200 European startups.
Does your heart start beating faster when you hear the words innovation, growth, and diversity? If that is the case, you are more than ready to explore Trending Topics Jobs. We have teamed up with the European startup job exchange wecanbeheroes.io and our partners Bitpanda, Verve Ventures, Speedinvest, Treatwell, Mjam / Delivery Hero, and Female Founders to create a high-quality job platform for the innovation economy. Now your professional growth can be lifted to the next level!
Discover the most exciting startups and scale-ups
Trending Topics Jobs is not just a job platform. It is a community that aims to provide the best job opportunities to people in different stages of their professional development. Here you will find all future employers who share your passion for digitization, technology, and innovation. It is time to choose a career that you have dreamed of and that will spark your own superpowers.
If you are just starting your career, at Trending Topics Jobs you can look for the best solution for the first chapter of your career and join a team that not only inspires you but also encourages your ideas, skills, and dreams.
If you are looking towards new challenges and broadening your horizons internationally? Maybe in Austria or in one of the CEE countries? At Trending Topics Jobs you can get in touch with the hottest innovative companies in Europe.
If you are aiming for a career in an innovative field such as FinTech, DeepTech, ConsumerTech, IndustrialTech, or HealthTech, or if you simply want to develop yourself further, this is also the right place.
Strengthen employer branding and attract the best talent
Professional development and growth is a two-way street and both employees and employers play an important role. The future of successful companies rests on their employees and their corporate culture. But honestly, it's not always easy to find and attract the best talent. How do you keep applicants interested after reading the job advertisement? How should companies overcome this obstacle? The answer is: employer branding!
Fortunately, we specialize in employer branding videos and content. We support companies in building a strong employer brand, strengthening their own strategy, and attracting new qualified applicants from various industries. Trending Topics Jobs shows the world who your company is, what it is, and what honest values, goals, and missions make it stand out from others.
Companies can show their true glow through a video, an interview, or a podcast.
That's how it works:
Set up your personalized company profile on the Trending Topics job platform.
Publish your job advertisements.
Reach more talent by choosing the "Twice the Nice" offer. That way your job will also be published on wecanbeheroes.io for half the price. If you already have a profile on wecanbeheroes.io, you do not have to upload the information again. Just contact us and we will activate your profile on the Trending Topics job exchange: jobs@trendingtopics.eu