TECH GIANTS
Up to 47.5%: High fees for creators in Zuckerberg's Metaverse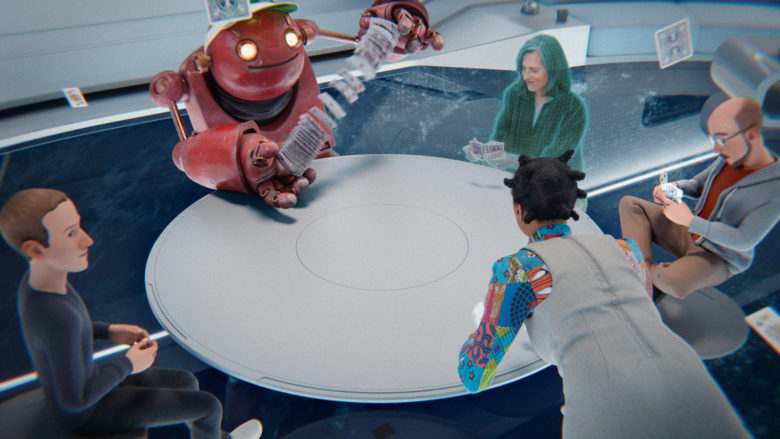 The Metaverse(s) is slated to be a roughly $800 billion market by 2024 — and that's what eventually got Mark Zuckerberg's Meta on the scene. Because the suffering social media company is currently looking for salvation in a new trend called Web3, which promises many new revenue opportunities with digital content.
Meta has not only launched "Horizon Worlds" as a virtual world but also has the right VR glasses on the market with the "Meta Quest" headsets (formerly known under the Oculus brand), with which you can immerse yourself in the virtual world. So that this 3D world is also filled with life, developers can create virtual goods for it and sell them in "Horizon Worlds".
And since Meta wants to earn fat. On the one hand, a 30% fee is charged by the developers in the Meta Quest Store as a commission, and then there is an additional 25% fee in Horizon Worlds itself. The bottom line makes up to 47.5% fee to bring virtual items (and we're not even talking about NFTs) in Zuckerberg's new online world.
Metaverse: Digital revolution that you (maybe) need to take seriously
Criticism of whopping fees
"If a creator sells an item for $1.00, then the Meta Quest Store fee would be $0.30 and the Horizon Platform fee would be $0.17 (25% of the remainder), leaving $0.53 for the Creator before any applicable taxes," a company spokesman told Business Insider, who first drew attention to the high fees.
That's a huge expense for a metaverse that hasn't actually been able to establish itself at all and lives mainly in advertising videos. What's amusing is that Mark Zuckerberg himself criticized Apple's App Store 30% fee – only to raise the bar again. Although the virtual items for "Horizon Worlds" are not NFTs, they are compared to those in other metaverses. For instance, the NFT marketplace OpenSea charges a fee of 2.5% of the sales price.
While Meta considers these fees to be very "competitive," the rest of the crypto industry scoffs at them. The whopping fees would actually be a relief for other providers – because developers would then just stay with The Sandbox or Decentraland.