INTERVIEW
AzSamFree: Bulgarian platform fosters and helps freelancers grow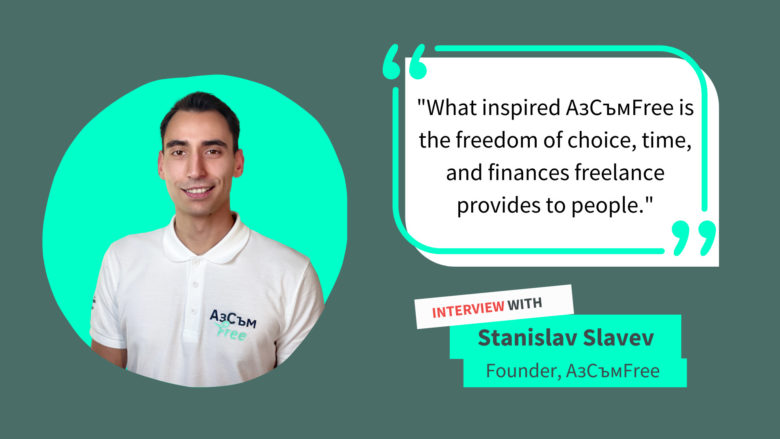 The possibility of remote working and operating from anywhere, the concept of "workstation" and combining work and vacation, or the increasingly common desire for a 4-day week are just some of the work-related trends that occurred in the past years. Freelance is also key for the future of work as a growing number of people choose to work independently.
Today we introduce to you Stanislav Slavev, founder of the Bulgarian freelance platform АзСъмFree (also AzSamFree; in English: "I am Free"). Stan Slavev is an expert at producing industry-leading creative content, integrating creativity and entrepreneurship to maximize his clients' success. He is passionate about advising other entrepreneurs and freelancers and helping them realize their goals. Founder of several flourishing businesses, Stan combines what he loves to do with what he is best at in order to share his knowledge and experience with others.
In an interview for Trending Topics, he shares more insights on the newly launched platform AzSamFree:
Can you tell us more about the idea behind AzSamFree? What inspired the project?
AzSamFree is the first place in Bulgaria that helps freelancers grow and develop. The idea was first seeded in 2020. We started researching about freelancing and remote work in Bulgaria and, sadly, all the information we found was wrong, misleading, or just lacking.
We noticed the enormous potential of professionals in Bulgaria to contribute to and increase the competitiveness of the international market. Since the Bulgarian ecosystem has already established a good name in the IT field, we strongly believe that with the rising need for more freelancers, Bulgarians can expand this worldwide acceptance to other fields like design, marketing, virtual assistance, and much more.
And this is exactly our goal. AzSamFree helps emerging and already established professionals to exchange work on the global market. We pride ourselves in being experienced in working with high-level international clients as freelancers and we want to share our know-how. 
What inspired the project is the freedom of choice, time and finances freelance provides to people. I've personally experienced the positive impact freelance had on my life. Besides that, advising other people and their following success is also a major motivator for the development of the project. 
What are the key problems that AzSamFree solves?
People fear choosing freelance as a career for multiple reasons and often quit early in the process due to lack of information and false expectations. We understand that starting as a freelancer can be overwhelming and the first steps may be unclear. That's exactly where we come in place – by providing structure and guidance, and helping people set the right mindset for success.
We inspire people and encourage them to adopt the idea that freelancing is achievable. We provide them with well-structured information based on 10 years of experience and by presenting the personal stories of other successful professionals. This way, freelancers could recognize themselves in other people's past experiences and can learn from their mistakes.
AzSamFree not only solves a variety of challenges for freelancers but also creates countless opportunities for talents, professionals, and communities. With all the information and inspiration we provide, we're sure it's indeed the freelancers who are going to create even more possibilities for themselves and their communities. We're just here to help by guiding them in the process and assisting everyone in finding their own freedom of work, time, and choices.
Who is AzSamFree aimed at?
We are targeting professionals who are just starting or are already established in their field. It is important to have a professional skill that can be exchanged on the market. The most common and needed skills in the current market are related to marketing, design, copywriting, web/app development, programming, and virtual assistance.
Just to name a few examples: a freelancer can be a student who has graphic design skills. He or she can also be a developer who also works full time but still has time and desire for new challenging projects. Agency owners or managers, and even parents with kids can do full-time freelance successfully.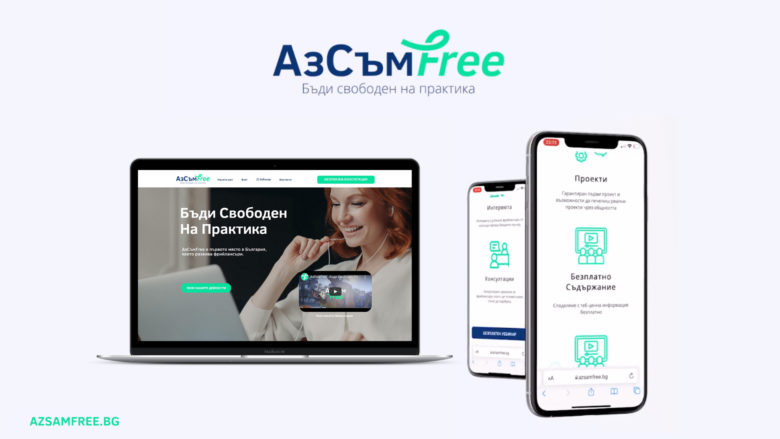 What are the challenges and benefits of freelance work?
Freelancing, contracting, and working as self-employed are not new concepts but now there is a growing demand for work done by freelancers. The past two years are proof of that. Freelance and remote work are the new currency of monetizing our time. 
Having a community of vetted professionals is of extreme importance to many businesses out there. The natural progression of a freelancer evolves to actually needing the services of other freelancers. So we manage to reinforce the community from multiple directions thanks to the information we share and the professional opportunities we create within our networks.
Uncertainty is seen as the biggest disadvantage of freelance work. In the dynamic world we live in, certainties and uncertainties shift rapidly. A lot of professionals choose to become independent because they understand that when you invest your time in yourself and your progression – the benefits are entirely for you.  Also, with freelance work, it's much easier to grow your income than in a regular job. The higher your professional level and experience is, the easier it will be to convert successfully and be paid properly on the free markets. Of course, the beginning of every professional is hard, however with enough persistence (usually in less than 6 months) all the efforts pay off.
How do you train freelancers to be successful?
We have defined 3 main channels for sharing our know-how. The first one is our YouTube channel where we upload insightful videos about the industry, freelance lifestyle, and platform specifics. We also host interviews with highly successful professionals, business owners, and generally people whose stories can benefit our audience. 
The second main channel is our website, where we offer valuable resources for free such as webinars and up to five free consultations to professionals who register on our website. 
The third channel is actually all of our social media accounts, where we share lots of bite-able and engaging content about freelance and our activities as a brand. This plays a role in forming our community where freelancers can directly interact with others and with us.
What are your plans for the future?
The first milestone of our freelance platform is to attract $1 million to Bulgaria via projects of freelancers whom we've helped. Apart from achieving this specific goal, our vision is to establish ourselves as the organization that builds successful freelancers in Bulgaria. We plan to expand our activities by teaching people skills like Graphic Design, Video Production, and Marketing on a world-class level, so that they can go in after and exchange that valuable know-how as freelancers.
The beauty of our industry is that what we do locally, is a successful model for an international business and expansion of our activities. As our professional experience is mostly with international clients, transforming AzSamFree to international markets with content in English is our ultimate goal. We know that what we do can help people worldwide, but we have a long way to go until then. We also plan to create content in English aiming to help expats and the English-speaking community of freelance workers.