Daily Data
Bulgaria With The 2nd Largest Percentage Of Women Scientists and Engineers In EU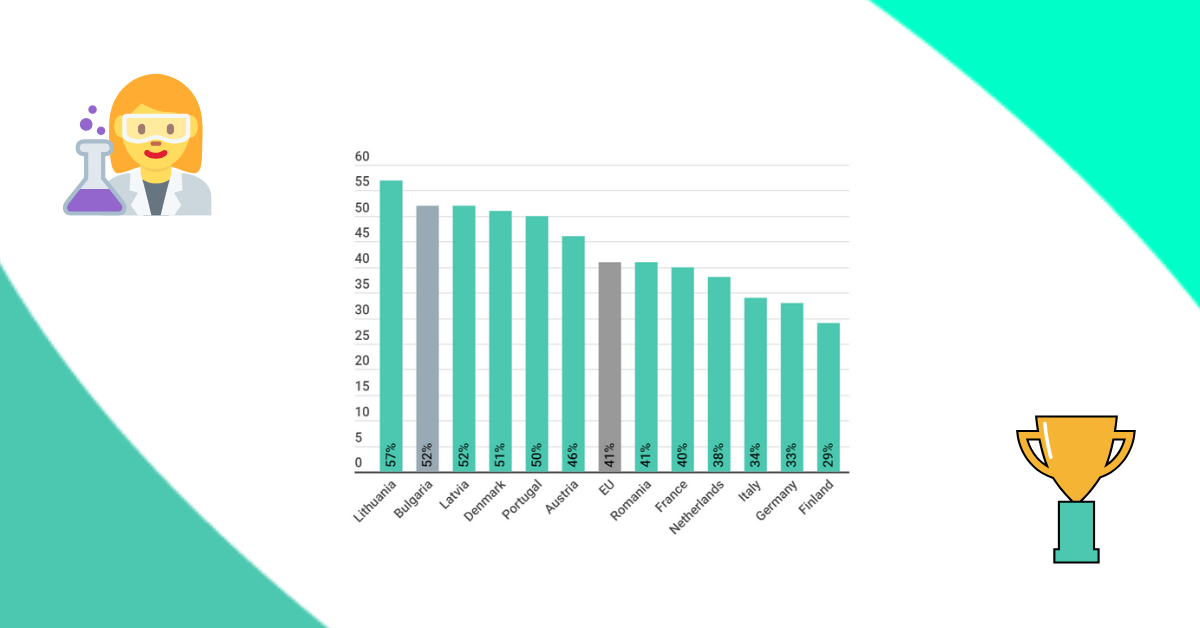 February 11th marked the International Day of Women and Girls in Science so lots of research on the topic was shared and lots of new initiatives announced. The European Commission actively joined the party and brought us the data that Bulgaria has the second largest proportion of women scientists and engineers in the European Union (52%). In addition, a new contest for women innovators was announced and will accept applications until April 21st.
The data
The Eurostat research says that in 2018, of the nearly 15 million scientists and engineers in the EU, 41% were women and 59% were men.
Expectedly, in high-tech and manufacturing men are overrepresented, with 75% and 79% of the employed scientists and engineers being male. However, when it comes to the knowledge-extensive services sector, the situation looks more balanced – 54% male to 46% female.
According to the publication, women scientists and engineers were the majority in only four EU member states – Lithuania (57%), Bulgaria and Latvia (both at  52%) and Denmark (51%).
The EU Prize for Women Innovators 2020
Yesterday, we also the Bulgarian EU Commissioner Mariya Gabriel launch the 7th edition of the EU Prize for Women Innovators. The goal of the award scheme is to recognize the role of women running game-changing innovative companies. Three prizes of  €100k each and one prize of €50k for a young woman innovator (born after January 1st, 1985) will be awarded.  Those who wish to submit an application can do it
online
as long as they are residents of an EU member state or a country associated to Horizon 2020, and are a founder or a co-founder of an innovative company registered before January 1st, 2018. A jury will evaluate and score each application using three criteria – breakthrough innovation, impact, and inspiration (has the founder actually played an important role in the success of the company and inspired others).
You may also read:
+++ WomenTech Sofia: The Newest Initiative To Connect Female Tech Talent With Diversity-Focused Companies
+++ Behind the Numbers: These are the Women from the Bulgarian Startup and Tech Ecosystem you Need to Know
+++ Female-led Sustainable Fashion Startup Kool & Konscious Raises €200k Pre-Seed Investment