Corporate Innovation
Business Talks Better & Beyond: Top Employers Institute joins virtual business forum in Bulgaria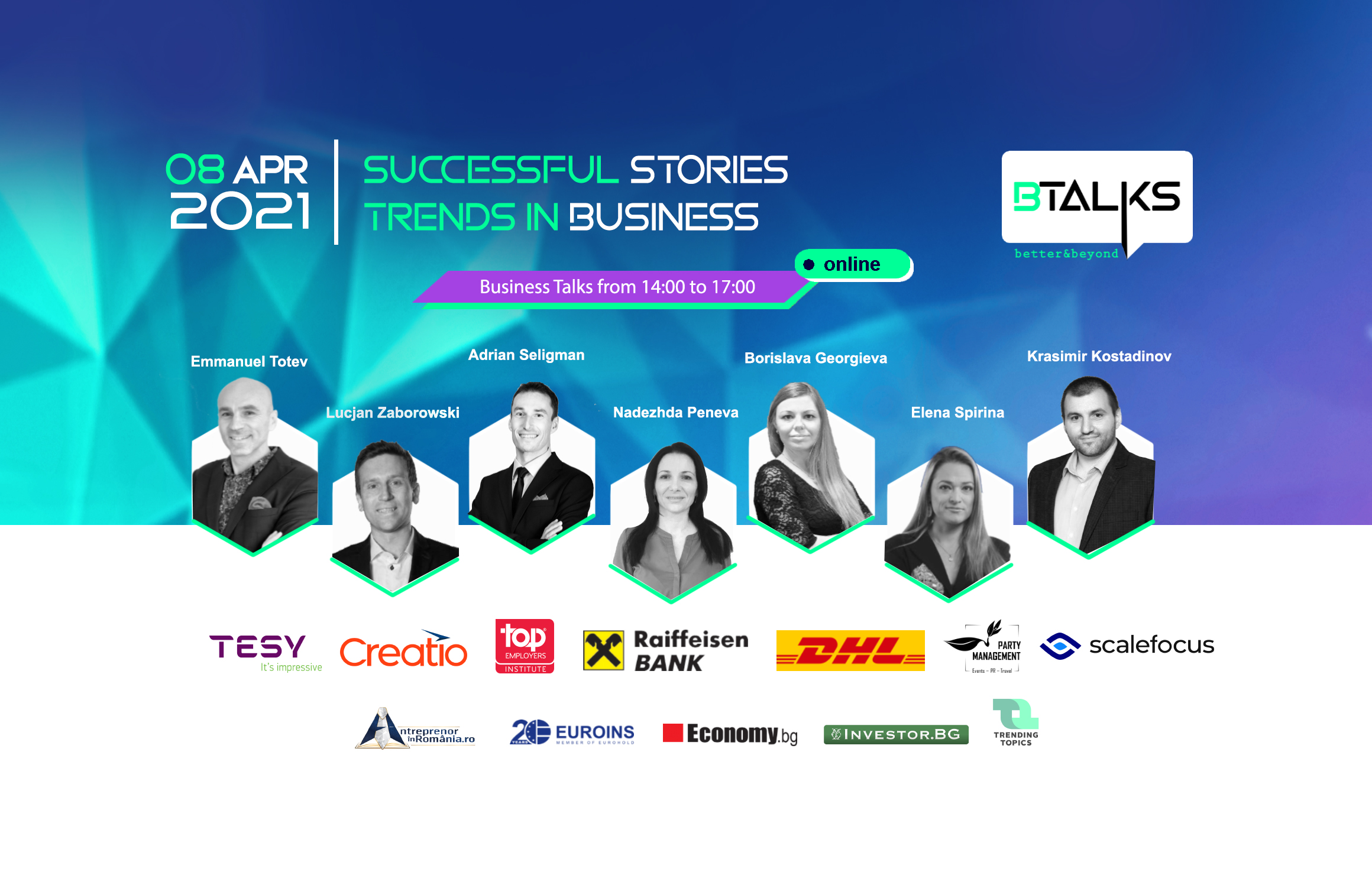 How to protect your business from cyber-attacks through training and tech protection and where does the Employer Branding Manager actually belong – in HR or PR? You can find out the answers to these questions, and many more, as part of the 2021 Business Talks Better & Beyond online event that will take place on April 8th. For the first time ever in Bulgaria, the forum will be joined by the Top Employers Institute, whose representatives will share their experience in best work-related practices.
The conference is a continuation of the successful Employer Branding Restart series, which has already had three practical virtual events, where big companies shared their "business for business" experience. Business Talks Better & Beyond focuses on innovation, technology, and digital communications for a better customer experience, global expansion and employer branding.
Panel highlights
Speaking of employer branding, one of the panels will focus particularly on the benefits and challenges of this growingly popular profession. HR and PR managers will "clash" to find the place of the Employer Branding Manager within a company's structure. Wherever it may be, one thing is certain – the need for employer branding is increasing amid the growing competition between brands.
Another panel will be dedicated to cyber security – an equally important topic and a growing threat to businesses worldwide. Did you know that every 39 seconds a cyber-attack takes place in the world? Last fall, several big Bulgarian businesses were simultaneously hit by a similar attack, blocking their systems completely. As part of the "Cyber Security" panel, experts will discuss ways to restrict the risks of cyber crises, and the importance of training and technical protection. Speakers to be announced soon!
Speaker lineup
For the first time in Bulgaria, representatives of the Top Employers Institute, which has been certifying the best employers in 120 countries for over 30 years, will share their expertise in best work-related practices. The organisation has been certifying the best employers worldwide for more than 30 years in over 120 countries.  Adrian Seligman, Member of the Board of directors, will tell more on the HR priorities of high-performing companies
Borislava Georgieva, Human Resources Manager at DHL Enterprise Software Solutions, will talk about the company's success in retaining and developing a team responsible for the digital transformation of the giant. With just five members in Bulgaria at the start, DHL ESS today has offices in several countries and their logistics software solutions will soon cover 35 countries. They are responsible for the digital changes in the work life of over hundred thousands of employees.
Nadezhda Peneva, head of the Multichannel Sales Division at Raiffeisenbank, will share some insight on what it takes for a company to offer a superior customer experience. She will tell more about innovative solutions such as AI that the bank implemented recently in its communication with customers. She will also take us down the road to customer centricity using customer journeys mapping, revealing why scaling up customer analytics and powering omnichannel right-time personalized interactions matters in the "new normal".
Lucjan Zaborowski, Marketing Director of US-based software company Creatio, will show how to achieve highly efficient business communication and implement digital marketing campaigns with integrated low-code CRM solution (all-in-one). He will also present the power of low-code CRM – what it is and why marketers should consider investing in it with marketing case study, resulting in pipeline growth.
How can the innovations, technologies and the corporate values ​​of a team created in Bulgaria lead to expansion on four continents, sales in 55 countries around the world and the distinctive 4th place in an industry? Emmanuel Totev, Chief Commercial Officer of TESY, will introduce us to the strategy, design and technology behind the company's global success and what it takes to lead a team working in 11 languages ​​in six different time zones.
Krasimir Kostadinov, Chief Technology Officer at Scalefocus, will share his knowledge about "Future of the IT industry". The company is one of the fastest growing Bulgarian software development companies, with over 750 employees in offices in several countries. He will share his experience as a programmer from the distant 1995 until today.
As part of the "HR vs PR" debate, expert will discuss  the topic "Where Employer Branding belongs as a hybrid profession?" PR experts Lyubomir Alamanov, CEO (Site Media) and Katya Dimitrova, CEO (Interimage) will be strong advocates of the idea that the communication of the employer brand belongs to the communicators. Ivelina Zhelezcheva, CFO (Fadata) and Kamelia Atanasova, Employer Branding and Talent Acquisition Manager (Pontica Solutions), will be advocates of the idea that everything related to the "People – Business" strategy belongs to the "Human Resources" specialists.
Register now!
The "Business Talk Better & Beyond "event will be held online on April 8th. Register to ask live questions, take part in surveys, and join various digital games with prizes. Only few days left for early-bird tickets!
Trending Topics SEE is media partner of the event.