CEE Startup Challenge: get EUR 1m and free credits!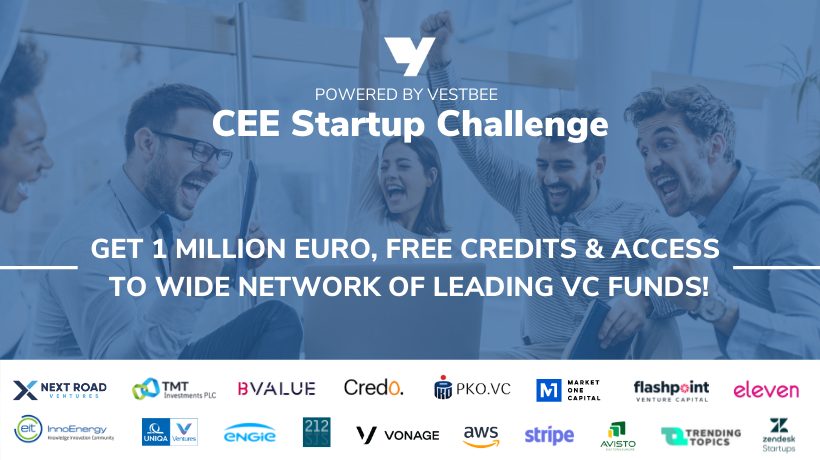 Innovative companies from Central & Eastern Europe have a chance to land investment from the leading VC funds in CEE Startup Challenge by Vestbee
Innovative startups and scaleups from Central & Eastern Europe have a chance to get fast track to 1 Million Euro Investment from Next Road Ventures and many valuable prizes in the next edition of CEE Startup Challenge, the biggest 100% online competition in the region organised by Vestbee, an online matchmaking platform for startups, scaleups, VC funds, accelerators and corporates.
The winners will present their businesses to many recognizable VC funds and corporates such as EIT InnoEnergy, Credo Ventures, Market One Capital, 212, Engie, Eleven Ventures, TMT Investments, PKO VC, Uniqa Ventures, Flashpoint and more.
Free tools, startup credits and valuable discounts await.
Applicants will get many free tools, startup credits and discounts on different business services provided by many recognizable partners! Some of the valuable prizes include up to $25.000 credits on Amazon Web Services, up to 90% discount from HubSpot and up to €30.000 credits from Stripe. Applicants will also get a unique opportunity to use free business tools from Brand24, Beautiful.ai, Digital Ocean, Vonage, TrustMate, Zendesk, Typeform, Avisto and receive media coverage and tickets to leading events, from companies like Techsylvania and Startup World Cup & Summit. Moreover, top startups will get the opportunity to pitch in front of the WeXelerate corporate partners!
Who should apply?
CEE Startup Challenge is seeking companies raising seed, pre-series A, series A and beyond in following verticals Business & ICT, SaaS, AI, Analytics, Big Data, Fintech & Insurtech, Smart Cities & Home, Industry 4.0 & Proptech, Planet & Sustainability, Healthcare & Wellbeing.
Companies should apply to the CEE Startup Challenge before 31st May 2021.
For more information about CEE Startup Challenge competition visit: https://www.vestbee.com/cee-startup-challenge