Place your bid!
For a good cause: This is how the auction of our NFT cover works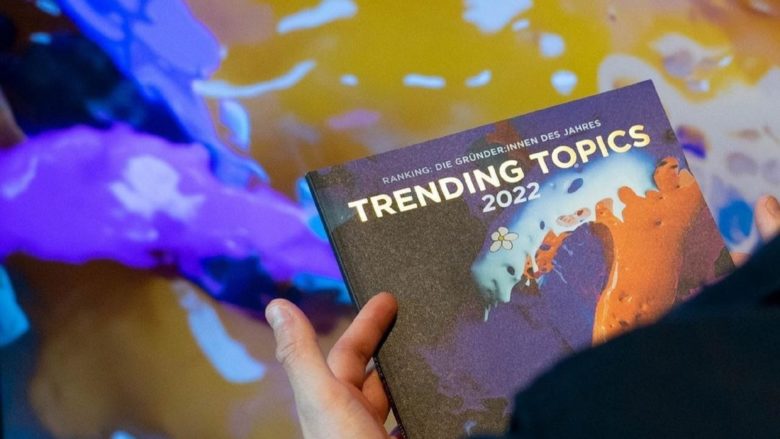 The artwork on the cover of our new magazine is also available as an NFT with a beautiful picture designed by John Petschinger. If you want to bid, you can do so on the Foundation platform. We will donate the proceeds to the Sterntalerhof – in line with the basic Christmas idea. The Sterntalerhof is a hospice for seriously, chronically, and terminally ill children from all over Austria with its headquarters in Loipersdorf-Kitzladen in southern Burgenland. The suggestion for this came from John Petschinger to whom it is particularly important to support a good cause in his home country. Below are instructions for bidding.
This is how the NFT auction works
From January 10, 2022, it will be possible to purchase the Trending Topics-NFT – for exactly 24 hours from the first offer. The following steps are necessary in order to be able to bid on Foundation for NFTs.
Call foundation.app/@johnpetschinger (the link leads directly to our NFT)
Create a MetaMask wallet, if not already available
Transfer ETH to MetaMask
Bidding: Determine a minimum price, whereby the artist himself determines the starting price. Observe the commandments over the next 24 hours. The countdown begins as soon as the first bid arrives. Extensions are always possible if there is a new bid in the last 15 minutes of the auction
If successful, transfer the amount in Ethereum to the blockchain. The NFT then ends up in the MetaMask wallet
Happy about a great NFT and a good deed for children who have a hard time!
Trending Topics 2022: We are launching Austria's first magazine with an NFT cover!
About Foundation
As a digital auction house, we have specifically chosen "Foundation" for the auction. Foundation only allows verified artists to use the platform – it is not the best-known or largest marketplace, but it offers a unique collection of internationally recognized artists.
This is John Petschinger
Born in Burgenland, Austria, in 1994, the freelance artist grew up in his parents' hotel business – and directly into the hotel business. The now 26-year-old worked on luxury cruise ships and in well-known hotels in Austria and Switzerland until he decided to turn his passion into a profession.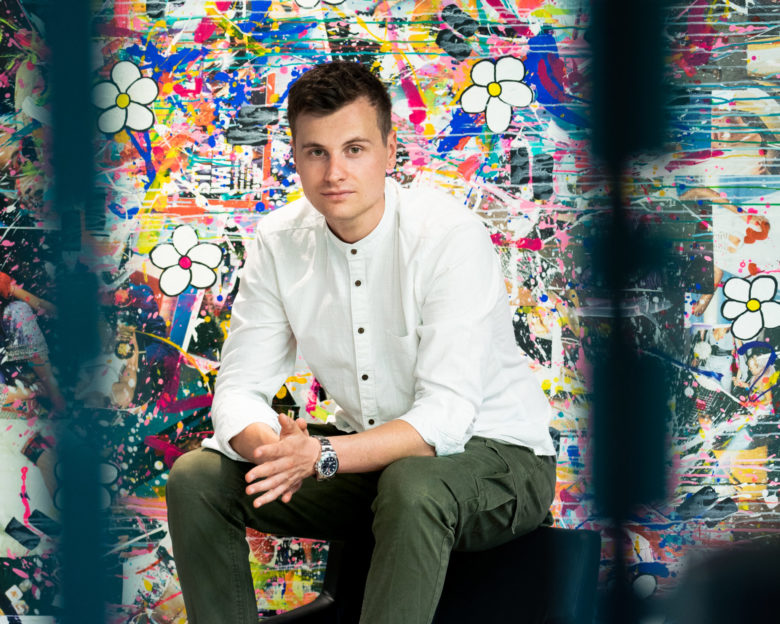 However, John found art already in childhood, or the other way around – art found him. Marked at an early age by the paintings of his grandfather and his mother he is drawn to where he is today: the studio.
Petschinger is one of Austria's most sought-after artists and has already been exhibited in Milan, Zurich, and Berlin. His works of art are characterized by abstract ideas, bright colors, the element of chance, and its unmistakable signature: the flower, which can be found in many of his works. It should remind you that life always offers beautiful moments – even if everything doesn't seem rosy. Since his mother, through whom he came to art, is a trained florist, flowers always played an important role in John's life. On the work, they should remind him and the viewer again and again where we come from and what the really important things in life are.
His works on metal or canvas often weigh up to 50 kg and are made from acrylic and several layers of epoxy resin in a complex process. The works of John Petschinger reach five-figure sums and hang in international art collections. He also creates digital NFT works of art for special haptic works. He transforms virtual goods via the Ethereum blockchain into unique and forgery-proof collector's items – a digital certificate of authenticity, so to speak. And you can bid for exactly one of these NFT works of art!