Future of health
Halo Dx, Advanced Diagnostics Startup with a Tech Team in Sofia Receives $1.5m from Zarian Capital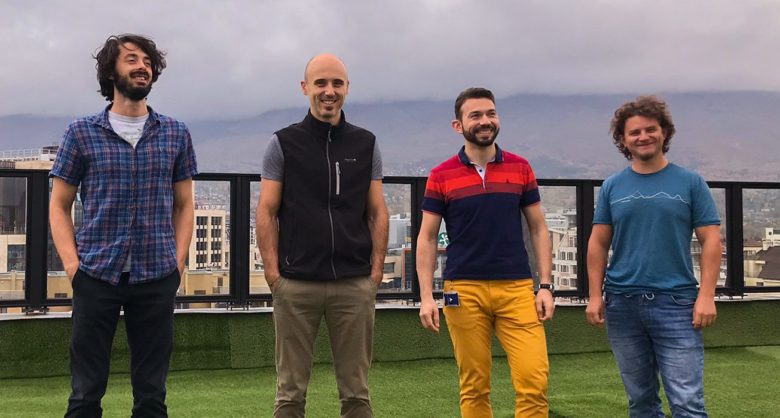 Earlier in 2020, Zarian Capital started a new VC fund with the goal to build stronger and more meaningful ties between the US and Eastern European companies. Now, we have the first deal that reinforces that sort of bridge between the regions: $1.5M investment in Halo Dx,  an advanced image-based diagnostics company that currently has an engineering team of 25 people in Bulgaria.
Angel Kelchev, Partner at Zarian Capital, shares a long list of reasons why Halo DX was a great fit for the fund's thesis. "They have a world-class executive team with former execs from Google, 23andMe, VMware, and Stanford Medicine.  The senior tech team located in Sofia is responsible for all of the engineering and most of the product and DevOps work at the company. There is a huge market opportunity estimated at $100B in the US and $180B worldwide. Furthermore, Halo Dx has a strong market validation based on the meaningful difference in patient outcomes that the company delivers with regard to some of the most common world population health issues such as prostate cancer, breast cancer, and neurodegenerative diseases."
All this has translated to a current revenue run rate of over $50m which is expected to more than double in 2021. The investor base is also quite strong with Anne Wojcicki, Founder & CEO at 23andMe and Fred Moll, Founder at Intuitive Surgical and Auris Health, the latter acquired by J&J for $3.4B. 
From a best-man at the wedding to an investor 
"Our initial contact with Halo Dx came about from my personal relationship with Alexander Kolev, a brilliant engineer who is the Director of Engineering at Halo Dx and who also leads the Sofia team. I have known Alex and his wife since high school and I was honored to serve as best man at their wedding," tells us Kelchev. In 2017, he invested in a small software development company (Centroida) and reached out to Kolev for help with engineering and product delivery.
At the time Kolev had a high-profile job at VMware Bulgaria where he served as Senior Manager, R&D. Nevertheless, he decided to leave this position and join Centroida as a CTO. He transformed the firm in terms of delivery capacity and process efficiency and positioned it for exceptional organic growth – scaled from 10 to 60 people in the span of 12 months, increased revenues 6.5x YoY and generated a profit margin of 30% as opposed to loss generation in the previous year. Centroida was later selected as 2018 Tech Startup of the Year Award in Bulgaria before getting acquired by ScaleFocus in May 2019. So, Halo Dx was Kolev's next professional challenge. 
One thing leading to another, Kelchev and the other partners at Zarian got in touch with the executive team in the US and they discovered multiple synergies. "Texas is a very important market for Halo Dx and Zarian Capital has a solid network on that market on its own and through its LPs. As a result, we believe that we could provide valuable insights and introductions to Halo Dx regarding its physical expansion in Texas as well as insights on effectively navigating the local market. In addition, we can provide hands-on support with the expansion of the tech team in Sofia and with additional capital raising from individuals and institutional investors with strong ties to the health tech industry," explains Kelchev.
Zarian Capital is also looking to double its investment in Halo Dx before the Christmas holiday. 
Cracking the advanced diagnostics market
Halo Dx is going after an extremely fragmented market with 14,000 imaging centers in the US alone where the largest single-player, RadNet, operates 332 centers as of November 2020. "We believe that this market is ripe for consolidation and that the roll-up of innovative centers that Halo Dx is currently executing on, combined with the technical innovation that the company is applying to the diagnostics market, is what it would take for them to unlock the market," states Kelchev.
Moreover, the advanced diagnostics market growth in the US is further catalyzed by the aging population, higher image requirements, lower number of radiology graduates, Medicare and Medicaid Services (CMS) site neutrality and Hospital Outpatient Department (HOPD) rates, insurance-driven outpatient volumes, and others. 
"We think that AI has a major role to play in imaging and diagnostics going forward. We are confident that AI image-based diagnostics insights, combined with access to leading medical content and professionals as well as the utilization of additional biomarkers, will significantly improve patient outcomes in the next 3 to 5 years," shares Kelchev.
According to him, Halo DX's offering has strong differentiation in two main aspects:
Acquisition of imaging centers:

The company buys out imaging centers across the US and standardize and augment their

processes

and offerings. Their current imaging centers generate more than 1m patient encounters per year across 42 centers which results in an exceptional amount, diversity and quality of data gathered over time.

Development of an advanced integrated diagnostics platform:

The company is developing an advanced integrated software platform for such centers in order to unify and streamline their processes (for example, lowering the cost of patient acquisition, same day scheduling, no show reduction, revenue recovery improvement, enhanced record keeping, automation of insurance policy processing, etc.), thus unlocking much higher efficiency and profitability levels. 
More importantly, this platform leverages machine learning in order to automate the reading of the various images that the centers take (Neuro, Cancer, Cardio), including the creation of companion diagnostics using image and molecular biomarkers which deliver significantly better results. 
Halo Dx is building solutions for individual imaging centers under a SaaS model and will start offering the integrated platform in late 2021. As they accumulate more data over time, Halo Dx will be able to identify suitable clinical trial patients which will turn into another revenue source for the company.
"Halo Dx's team includes top radiologists who are leveraging deep learning across millions of images in combination with leading clinical research and additional biomarkers. In that respect, we believe that Halo Dx is in a position to significantly improve the workflow, accuracy, and level of diagnostic insights related to some of the most common world population health issues such as prostate cancer, breast cancer, neurodegenerative diseases," concludes Kelchev.
The Bulgarian Office
"The team in Sofia is the main driver behind HALO Diagnostics' NextGen Platform. A system designed to make dramatic improvements to HALO Diagnostics' center operations and more importantly, to enable a truly one-of-a-kind patient experience. The work of the Sofia team is critical in delivering on our mission to improve patient experience and outcomes through the development and delivery of the most advanced diagnostic and treatment solutions," shares Alexander Kolev, director of engineering at Halo Dx. 
Currently, the Sofia team has 25 people on it – 15 engineers, two product managers, one UX Engineer, two DevOps specialists and several other roles. Moving forward, the Bulgarian office of Halo Dx will grow the site by another 25 to 30 people to a total number of about 50.
Adding the US team of ten serving in various roles brings the platform team size to 35. In total, there are 200 employees in the US between product development, administrative, sales, marketing, and technical staff managing patient care across the HALO Diagnostic outpatient centers.
What's next
"We plan to continue our expansion and growth through the acquisition and joint venture with leading outpatient centers that provide exceptional patient care. This allows us to not only expand our leadership in healthcare but helps accelerate the development of our advanced diagnostics. In addition, we are focused on driving organic growth through improved operational and commercial execution of the current HALO Diagnostic Centers. The excellence enabled by the platform in development by the team in Sofia is paramount in achieving our operational goals and organic growth. Finally, we are laser-focused on building advanced diagnostics solutions, powered by deep learning and machine learning, that combine advanced imaging with molecular diagnostics. We believe this is the future of diagnostics and the leap forward that will have a geometric impact on healthcare, and the lives of patients and their families," tells Trending Topics SEE Brian Axe, Chief Product Officer at Halo Dx who has over 20 years of digital marketing experience and was also the creator of Google's $20B AdSense business.
The investment from Zarian Capital will enable Halo Dx to achieve several things – expand their footprint and patient reach with more diagnostic centers and therefore increase the patient encounters required to accelerate both revenue growth and development efforts; continue building the infrastructure and team required to deliver and scale engineering and product development efforts; and expand commercial capabilities to accelerate organic growth of our centers.
Halo Dx plans to have a presence in all critical US markets, including large metropolitan markets and more rural settings where improvements to healthcare are needed. Near term, the company will be focused primarily оn three core areas: (1) prostate cancer screening, diagnosis, and treatment, (2) improved diagnosis of dementia and Alzheimer's disease and (3) breast cancer screening and earlier diagnosis. 
"Our entire leadership team have all had very successful careers and could not be more excited about the impact we can make on patient outcomes by creating advanced diagnostics at scale. We've all lost loved ones too early and want to do our part in the years we have left to mitigate the loss of life from today's major population health issues," shares Axe.