How to Web 2023 Conference: Collabwriting grabs the €800.000 prize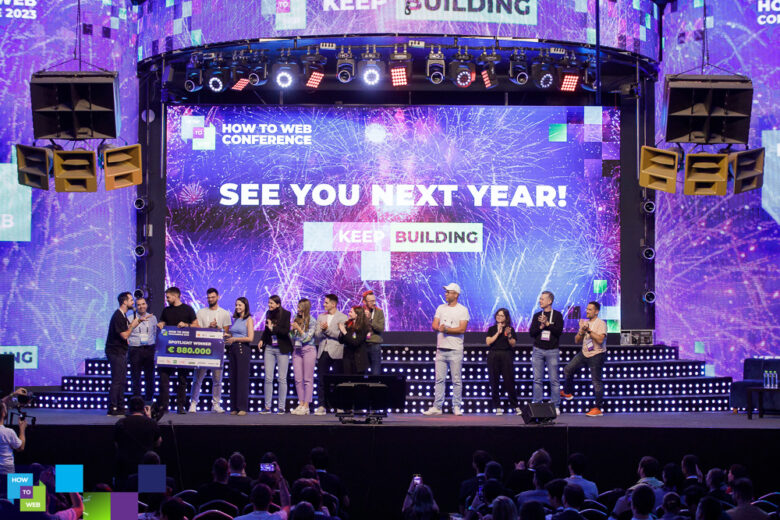 The How to Web 2023 conference was the meeting place for technology and innovation enthusiasts from Eastern Europe. Over 2,500 participants from 26 countries gathered in Bucharest on 4 and 5 October to discover industry best practices, connect with experts and investors, and take part in the region's largest startup competition.
With over 60 global experts on stage from companies such as Warner Bros. Discovery, Google DeepMind, Atomico, Paddle, Seedcamp, and many others, along with more than 350 startups, 150 European investors, and numerous other specialists and innovation enthusiasts among the participants, How to Web has once again marked a significant moment for the regional technology industry, providing a unique and comprehensive experience for attendees.
How to Web Conference 2023: The biggest startup and innovation event in Eastern Europe
How to Web and How to Grow
This year's conference brought to the stage experts in building digital products, high-performing technology teams, startups and other innovative businesses. Software pioneers such as American author Ryan Singer, investors from Europe's largest investment funds – Atomico, Creandum, Seecamp, or unicorn startup founders such as Hristo Borisov, founder of Payhawk, and Mada Seghete, co-founder of Branch, took to the How to Web stage to reveal to attendees the entrepreneurial vision that has brought them success. The event's four stages hosted engaging debates, presentations, startup pitches and Q&A sessions with industry leaders.
"We always seem to fall into an apparent opposition between corporations and startups: some have stability, some don't, some are slow, some are fast-forward, and the list goes on. By closely supporting businesses in their early stages, which is what we do at How to Web, we have a different perspective, namely that we have more in common than what separates us. And the first thing that comes to mind is that both corporations and startups apply the advice that the famous tech entrepreneur Paul Graham gave to startup founders: simply learn. And experience has shown us that the evolution of startups is a very good teacher," said Anca Nuțiu, Chief Retail Officer at BRD – Groupe Société Générale.
Who is the Spotlight 2023 winner 
Spotlight, the biggest competition for early-stage startups in the region, took place on the second day of the conference. Out of more than 300 Eastern European startups registered, 40 participated in the Spotlight program and 6 of them made it to the grand final of the competition for the €880,000 investment prize. The finalist startups, which took the main stage of the event, are:
ClientZen (Romania)

Vaqat (Poland)

RepsMate (Romania)

Collabwriting (Serbia)

Salesforge (Lithuania)

Bluedot (Ukraine).
Collabwriting is the winner of the €880,000 grand investment prize. The Serbian startup offers a simple browser extension that helps you share, comment and collaborate on content you find online.
The investment-prize is syndicated by renowned investment funds in Europe: Credo Ventures, SMOK Ventures, Fiedler Capital, Startup Wise Guys, Underline Ventures, Fortech Investments, Seedblink and angel investors such as Iulian Cîrciumaru.
"We believe that startups are drivers of economic growth, and at Google, we see them as essential partners in fostering innovation. By collaborating with How to Web, we wanted to provide a platform for startups in the region to connect, provide resources and opportunities to connect. We are happy to contribute to the growth of the local entrepreneurial ecosystem and thank the How to Web team for their efforts in making this event a success", said Silvia Carasel, Marketing Project Manager Google Romania.