STARTUPS
Innovation map: Exploring Poland's Dynamic Startup Ecosystem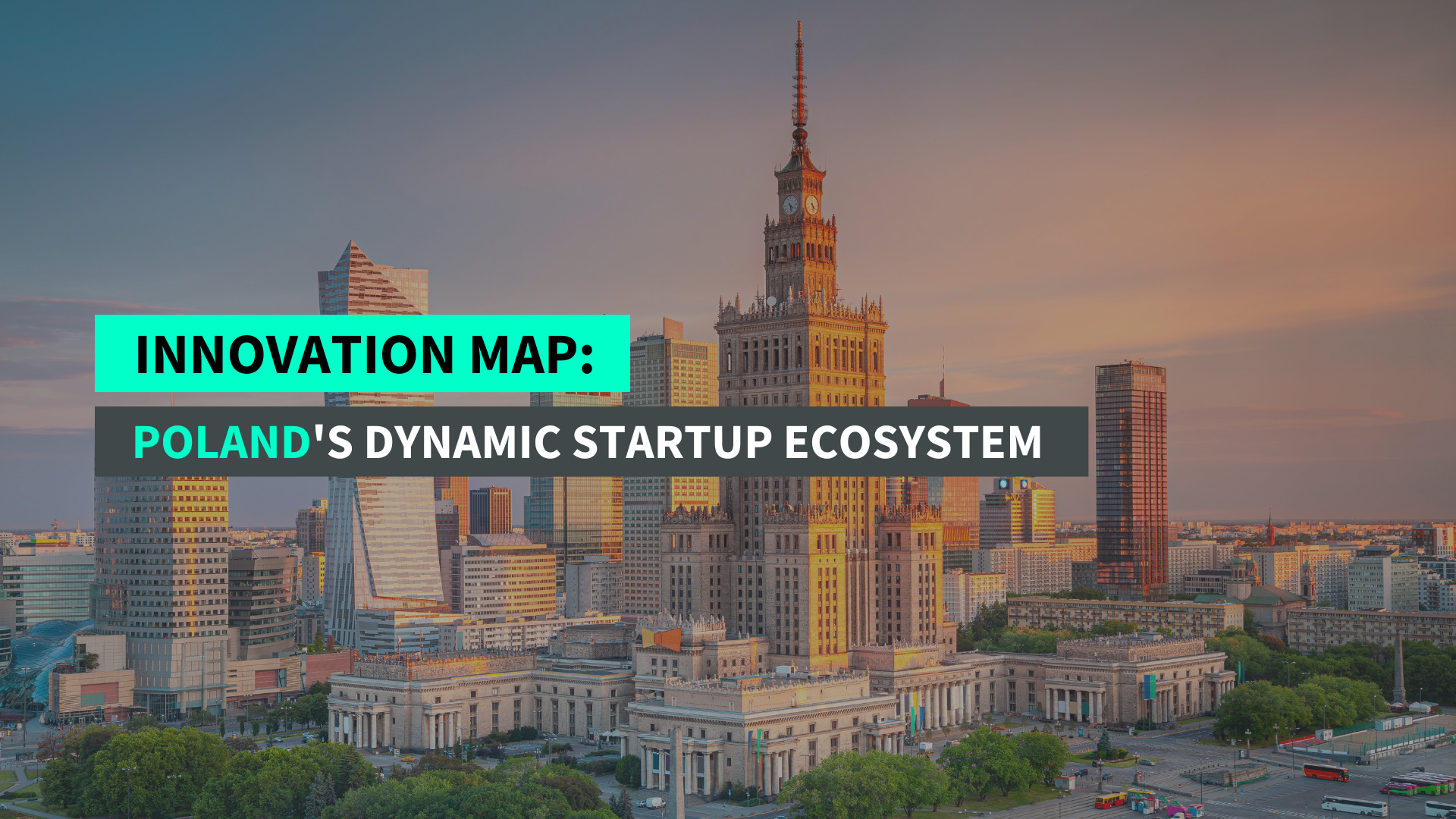 With a rising number of startups, robust infrastructure, and substantial funding, Poland is becoming a prominent hub for innovation and entrepreneurship in the Central and Eastern European (CEE) region and beyond.  Poland has experienced major growth over the past 25+ years with its economy ranking as the 6th largest in the EU.
10 Southeast European startups and scaleups that have conquered Europe
Mapping the Polish Startup Ecosystem
The Polish startup ecosystem is one of the most active in the CEE region, boasting an impressive lineup of 3000+ startups, 300+ co-working spaces, 130+ venture capital (VC) firms, as well as various acceleration programs and tech conferences.
Poland offers a strong economy, affordable cost of living, a skilled workforce, notable gender equality in the tech sector, and a modern banking system, making it an ideal location for launching a business with ambitions to expand into other EU markets and beyond. However, the ecosystem has yet to realize its full potential.
A significant challenge lies in the lack of private capital investment, a result of the public sector's historically active role with a focus on direct investments and government-backed funding. Nevertheless, the tide is turning, as local venture capitalists are now raising substantial amounts of private capital and co-investing at higher rounds.
Major Startup Industries in Poland
Polish startups are predominantly operating in the IT sector, with a particular emphasis on big data, analytics, and the Internet of Things (IoT). Additionally, FinTech, Marketing technologies, and Management tools (CRM/ERP) industries are gaining traction.
Multinational e-Commerce platforms like MODIVO (formerly eobuwie.pl) for shoes and accessories, and Allegro, which acquired one of the main Czech e-Commerce stores, Mall.cz, in 2022, are prime examples of Poland's prowess in the e-Commerce sector.
Moreover, there is a noticeable increase in startups incorporating Artificial Intelligence (AI), indicating potential rapid growth in this domain. Emerging businesses dedicated to FoodTech and sustainable solutions are also catching attention, potentially following the footsteps of FinTech and Big Data trends. Poland's aspirations to become a regional climate tech leader further add to its innovation potential.
Startups: The investment landscape in Europe is increasingly drying up
Notable Polish startups you should know about
Iceye
Established: 2014, Espoo, Finland (Polish-co-founded, office in Warsaw, Poland)
Founders: Rafal Modrzewski, Pekka Laurila
About: Iceye is a commercial satellite company that provides timely and reliable synthetic-aperture radar (SAR) imagery to customers in the government and commercial sectors, empowering them to make better decisions.
Highlight: Iceye raised a Series D round of ~€125M in 2022, adding to a total funding of ~€287M. The startup is expected to become one of the next Polish-founded unicorns.
Brainly
Established: 2009, Krakow, Poland
Founders: Michał Borkowski, Lukasz Haluch, Tomasz Kraus
About: Brainly is an online learning platform that connects students with peers and experts for homework and study help. The platform encourages collaborative learning and aims to build students' confidence by providing them with opportunities to help others.
Highlight: Brainly closed a Series D round in late 2020, raising ~€73M led by Learn Capital. In total, the startup has raised ~€136M and is set to be one of the next Polish unicorns.
DocPlanner
Established: 2011, Warsaw, Poland
Founders: Mariusz Gralewski, Lucjan Samulowski, Jakub Skoczylas, Grzegorz Krysiak
About: DocPlanner is a software provider for doctors that aims to simplify booking appointments for patients and help doctors manage their practice more efficiently. The platform allows patients to find the best possible care and doctors to improve their online presence and focus on providing quality care to their patients.
Highlight: DocPlanner is one of the world's biggest healthcare platforms. The startup closed a Series E round in 2019 led by GS Growth and One Peak Partners, raising €80M to its total funding of ~€129M. DocPlanner became Poland's first unicorn in 2021.
Booksy
Established: 2013, San Francisco, US (Polish-founded, office in Warsaw, Poland)
Founders: Stefan Batory, Konrad Howard
About: Booksy is a beauty marketplace that offers a SaaS App for business management, allowing customers to easily find, schedule, and manage appointments with their health and beauty providers. It aims to provide a seamless and accessible way for customers to connect with their preferred service providers.
Highlight: In 2021, Booksy secured a Series C funding of ~€65M led by Cat Rock Capital. The company raised ~€109M over six rounds and is on the list to become one of the next Polish-founded unicorns.
Uncapped
Established: 2019, London, UK (Polish-co-founded)
Founders: Piotr Pisarz, Asher Ismail
About: Uncapped offers revenue-based financing to founders, providing access to growth capital without the need for interest or equity. The company charges a transparent flat fee on the capital provided, allowing founders to access fair and flexible finance.
Highlight: Since its establishment in 2019, Uncapped raised ~€109M over a seed round, two venture rounds, and the latest debt financing of an undisclosed amount in 2021. Like the previous startups, Uncapped is rising to become one of the next Polish-founded unicorns.
Packhelp
Established: 2015, Warsaw, Poland
Founders: Wojtek Sadowski, Arkadiusz Wasilonek, Konrad Kwiatkowski, Maciej Woźniczko, Maciej Zając, Patryk Kabaj
About: Packhelp is an online platform that simplifies creating and managing fully custom-branded packaging. With solutions for both small and mid-market companies, Packhelp offers a wide range of packaging products and delivery options to customers worldwide.
Highlight: In 2021, Packhelp raised €40M Series B led by InfraVia Capital Partners. The total funding received so far reaches ~€53M. The solution has been used by over 50 000 companies, including H&M, T-Mobile, Bolt, Google, or L'Oreal.
Tidio
Established: 2013, San Francisco, US (Polish-founded, office in Szczecin, Poland)
Founders: Tytus Golas, Marcin Wiktor
About: Tidio provides small and medium businesses worldwide with a live-chat app powered by chatbot solutions to serve their clients efficiently.
Highlight: Tidio raised ~€25M over three rounds up to date. In 2022, the startup secured most of its funds, ~€23M, in a Series B round led by PeakSpan Capital. The solution can be integrated with common apps and platforms, like Shopify, WordPress, or Google Analytics.
Symmetrical.ai
Established: 2019, London, UK (Polish-founded, office in Warsaw, Poland)
Founders: Piotr Smolen, Daniel Wartolowski, Maciej Artur Noga
About: Symmetrical.ai is an innovative payroll solution that simplifies the payroll process and automates onboarding to reduce human error and increase efficiency. Providing real-time, daily, weekly, and monthly payout options helps companies scale up quickly while eliminating time constraints and complexity associated with traditional payroll systems.
Highlight: In 2022, Symmetrical.ai secured a Series A round of ~€17M led by Target Global, adding to the total amount of funding of ~€24M. The startup operates in the UK and Poland and plans to expand to other EU countries.
WorkTrips (formerly Hotailors)
Established: 2016, Warsaw, Poland
Founders: Filip Błoch, Maciej Stopierzynski, Michał Szeksztełło
About: WorkTrips is an AI-powered enterprise travel management solution that offers access to real-time offers from millions of hotels and transportation options worldwide. Its reporting, integrations, and analytics features enable companies to control their travel policy, reduce spending, and increase efficiency.
Highlight: WorkTrip has secured a corporate round of €23M in 2022, led by DialCom24. The startup cooperates with Amadeus, Microsoft, Google Campus Warsaw, Kiwi.com, Mastercard, and others.
via The Recursive