#SAVETHEDATE
Trending Events Weekly Calendar: What you shouldn't miss this week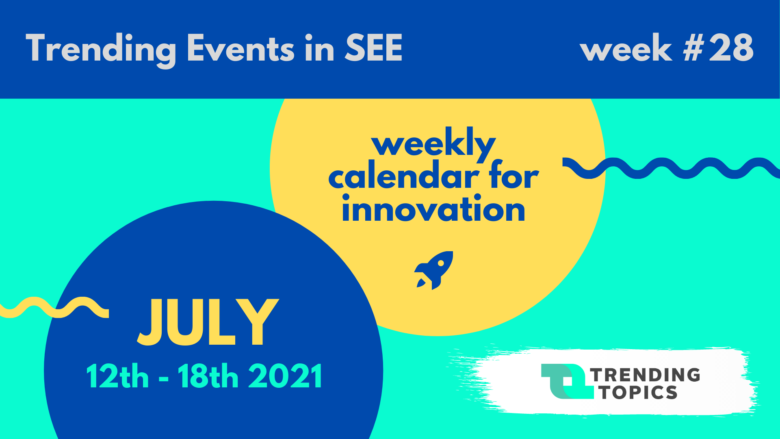 This is our list of all major events and open calls from the world of startup, innovation, and all things trending in the week of July 11th – 18th 2021. Save the dates!
15 July 2021
#WICxInspire 2021
Connecting Female Founders With Microsoft And Their Channel Partners – #WICxInspire is a multi-day networking experience with thought-leadership power talks, diverse recruiting, and curated business development to connect female tech founders and showcase their technology solutions with enterprise buyers, investors, and influencers.
More information HERE
15 July 2021
Unicorn Cup Finals – Summer Cup
Welcome to the Finals of the World Largest Startup Pitch Contest with startups presenting from all over the world.
More information HERE
15 – 18 July 2021
Social Entrepreneurship Festival / Фестивал на социалното предприемачество
The aim of the festival is to continue to give greater publicity to the causes of social enterprises, to support their activities, and to encourage the production and supply of value-added products.
More information HERE
OPEN CALLS: 
Weekend Startup Crash Course
Apply until July 15th 2021
The aim of the initiative is to ignite the interest of 30 participants aged 16-35 in entrepreneurship and teach them to apply different startup methodologies and techniques so they can start to view everyday challenges as potential business opportunities.
More information HERE
Green-up / Zero Waste
Apply until July 15th 2021
The first startup camp in Bulgaria to create new sustainable businesses with a green horizon. GreenUP will provide you with theoretical and practical knowledge about the design, validation and growth of an idea.
More information HERE
InnovX- BCR
Apply until July 16th 2021
InnovX BCR is a Business Accelerator driven by passion and hard work, which centers around scaling up companies and developing innovative ideas, operating as one of the most valuable initiatives for determined entrepreneurs around the world.
More information HERE
XPRENEURS Incubator

Apply until July 16th 2021
XPRENEURS is an incubator for high-tech start-ups. In the 3-month full-time program they support strong, early-stage teams on their way to market entry by helping them validate their business model, win their first customers and secure their first investment.
More information HERE
We forgot to list your event? Drop us an email at office@trendingtopics.bg.