#SAVETHEDATE
Trending Events Weekly Calendar: What you shouldn't miss this week!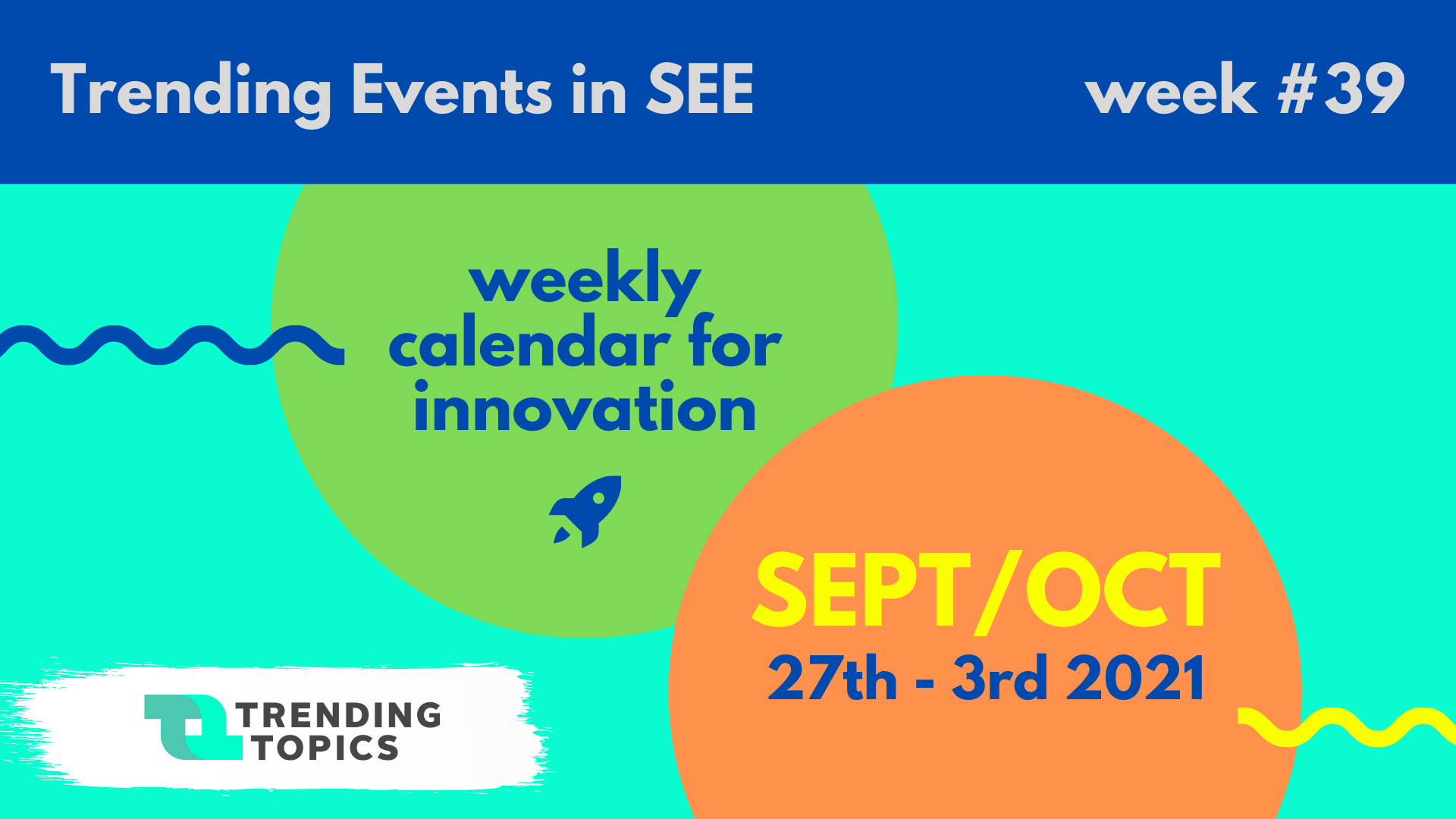 This is our list of all major events and open calls from the world of startup, innovation, and all things trending in the week of September 27th – October 3rd, 2021. Save the dates!
28 September 2021
EVENT: The road to COP 26: The choice of Bulgaria (by MOVE.BG)
The initiative is dedicated to the preparation of our country for the UN Climate Conference COP 26 at the end of October, hosted by the United Kingdom in partnership with Italy. At the Glasgow Forum, each country must present its national strategy for tackling climate change in relation to the objectives of the Paris Agreement to Limit Global Warming.
More information HERE
29 – 30 September 2021
EVENT: Career Show 2021 (by Career Show)
Career Show brings together the leading employers in Bulgaria and Europe, allowing participants to attend the career exhibition both online and in-person. Career Show aims to gather top employers operating in different sectors of the economy and present opportunities for people with diverse competencies and experience.
More information HERE
29 September 2021
EVENT: ROBOSTRATEGY 2021: Robots, Industrial Automation, Chips & Batteries (by PARA Bulgaria)
Robostrategy 2021 is the biggest robotics event in Bulgaria. Organized by PARA, the Professional Association of Robotics and Automation, the event aims to gather all the key players in the industry. The focus is on the growth of robot usage, industrial automation, chip, and battery manufacturing.
More information HERE
29 September – 3 October 2021
EVENT: Open Banking Hackathon (by FINQWARE)
Teams from all across CEE will join in the challenge of building real use-cases implementations on the multi banking API testing environment made available by Finqware, connecting to banking sandboxes for access to account information, payment initiation and financial product distribution.
More information HERE
29 September – 1 October 2021
EVENT: Biotech Atelier 2021 (by Bulgarian Association for Personalized Medicine)
The conference gathers together outstanding scientists, business leaders, and international experts who are shaping the future of Biotechnologies and Healthcare. The focus is on intriguing topics like personalized medicine, breakthroughs in diagnostics and their application, aimed to provide the best care for patients, digital therapeutics, data spaces, and many more.
More information HERE
29 – 30 September 2021
EVENT: Fintech Inn 2021 (by Embassy of the Republic of Lithuania)
The conference gathers companies, start-ups, investors, associations, policymakers, and technology leaders from all over the globe to exchange knowledge and discuss the most challenging industry topics today: digital banking, payments and remittance, lending, insurtech, compliance, digital identity, cybersecurity, blockchain, digital assets, and more.
More information HERE
30 September – 1 October 2021
EVENT: TNW – The Next Web Conference 2021 (by TNW)
The conference offers a mix of international technology executives, top-tier investors, policymakers, startups, and scale-ups, during two days of business, knowledge sharing and a whole lot of fun.
More information HERE
1 October 2021
AWARD: Central European Startup Awards (by xo.company)
Central European Startup Awards is part of the Global Startup Awards, providing an annual spotlight to those who dare to dream big and shape the way our future will look. It brings together the best ideas and best minds in 10 regions, in 105 countries in Europe, Asia, and Africa to celebrate entrepreneurial spirit and startups ecosystems
More information HERE
1 – 10 October 2021
EVENT: Digital Festival Poland (by European Digital Days)
The Digital Festival is the largest initiative in Poland focused on showing how to best take advantage of the opportunities offered by new technologies. The festival is an opportunity to acquire digital skills and practical digital knowledge.
More information HERE
1 October 2021
EVENT: 4th Digi Pay Conference (by ACFE Bulgaria)
The conference targets all kinds of fintech topics such as safe and accessible digital payment methods in Bulgaria, cybersecurity and cyberattacks, verification, and digital identity. The event gathers together owners and managing directors of various bank institutions and companies, leaders and experts from the fintech and banking sector.
More information HERE
2 – 3 October 2021
EVENT: Space Apps Challenge "The Power of Ten" (by NASA)
NASA is collaborating with nine international space agency partners to bring the largest annual global hackathon in the world to even more communities. Focus is on Space Apps that provide the opportunity to bring projects to life for a wide range of applications.
More information HERE
We forgot to list your event? Drop us an email at office@trendingtopics.bg.