INNOVATION
WWDC 2022: Apple's attack on the competitive "Buy Now Pay Later" market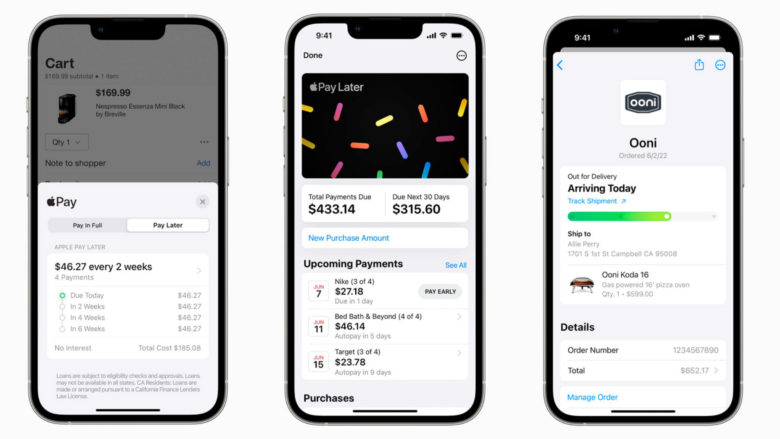 Apple's Worldwide Developer Conference 2022 (WWDC) is an event that attracts the attention of users, developers, and tech enthusiasts from all over the world. The highlights from the opening keynote are:
the new iOS16, packed with a variety of features for more engaging and interactive communication;
the long-awaited M2 chip that is next-gen of Apple`s processors for MacBook Air and MacBook Pro;
the CarPlay updates that will soon spring Apple to your car´s instrument cluster;
the watchOS improvement and new health-tracking features;
the continuity camera that allows your iPhone to function as a webcam.
The big news: Apple Pay… Later
But the wow moment for many was the announcement that Apple is getting on the "Buy Now, Pay Later" (BNPL) trend.
Actually, it's pretty much shaking the BNPL market right now. Providers of purchase on account, installment payments, and quick loans in e-commerce are particularly feeling the effects of the recession because consumers' desire to shop has fallen noticeably with rapidly rising inflation. It is precisely in this phase that the most valuable company in the world comes along and says: "Pay later with Apple Pay".
The iPhone group enters the "Buy Now Pay Later" business. Users in the US will be able to spread the cost of an Apple Pay purchase into four equal installments over six weeks without incurring interest or other fees, the promise says. However, the offer will not be completely free: "The card-issuing bank can charge a fee if the user's debit card account does not have sufficient funds," says Apple – and points out that you can end up in the red quite quickly.
The update is part of iOS16, which will come to iPhones in the fall. "Pay later with Apple Pay" is integrated directly into Apple Wallet and should also make it possible to display, track and repay the installments. The installment payment option is not available for every user – you need Apple Pay or you have to pay via the wallet, and you have to be activated for the new service.
Possible in many apps and online shops
It is important to recognize that Apple's BNPL solution is not only intended for in-house online stores but should work wherever "Apple Pay is accepted online or in apps with the Mastercard network," it says. This means that installment payments will be available in many online shops very soon – at least for those US users who are eligible. Receipts and information for tracking orders should also be visible in the wallet for Apple Pay purchases, but only from participating retailers.
In general, the liquidity and creditworthiness of users are checked for BNPL solutions. Apple could do this based on Apple Pay's past purchase history or through its partnership with Mastercard — after all, one of the most important issuers of debit cards. It will also be exciting to see how the new offer will affect the rest of the market – because the free installment payments within six weeks are of course a declaration of war and serve to strengthen Apple's payment system.
However, it is particularly important which online shops will integrate the offer. It won't work at Amazon, for example, which already has the BNPL solution from Affirm, founded by PayPal co-founder Max Levchin, integrated. Klarna has already got numerous partners on board or in its "super app", and PayPal is integrated into many check-out processes with its installment payment solutions.
However, the market environment is risky. Klarna, one of the market leaders in Europe, recently laid off ten percent of its workforce. "Consumer confidence in the future has changed, inflation has risen sharply, the stock market is very volatile and a recession is likely on the way," argued CEO Sebastian Siemiatkowski. Many other BNPL providers are also rather uncertain.