Interview
Dimitar Karaivanov: Young Entrepreneurs In Bulgaria Can Succeed If They Are Willing To Work Hard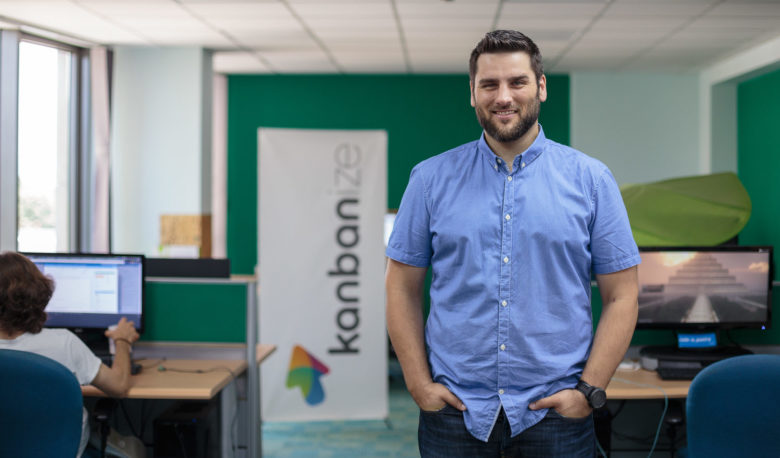 Dimitar Karaivanov is the co-founder and CEO of Kanbanize, a late-stage Bulgarian startup that provides Kanban software for agile project management and has more than 700 customers across the world – ranging from SMEs to Fortune 500 companies. The Dimitrovgrad-born entrepreneur is also currently working with the GarGarage startup accelerator to help more young people in his home town develop their startup ideas. As if these activities were not enough, he joined the last season of The Farm and tried applying the Kanban method to farming tasks. So given this diverse background, we were curious to learn more about Karaivanov's entrepreneurial journey, what he learned over the years, and what was his motivation to participate in a reality TV competition.
Trending Topics: How did you decide to start Kanbanize?
Dimitar Karaivanov: When I first heard about the Kanban method, I worked at Software AG and I practically had the role of a 'change agent' as the company was in the middle of its agile transformation journey. Thanks to a number of training sessions in Germany and the United States, back in 2010, I was one of the first people in Bulgaria who got familiar with Kanban. As I got to know Kanban's ins and outs, I realized that it has many advantages over the most popular at the time lean management framework – Scrum. So, I figured I had to do something about it. Fortunately, one of my co-founders, Hristo, was not only my best friend but also a software engineer. Back then he wanted to build some sort of ticketing system and I convinced him that we should build a Kanban system instead. That's exactly what we did and 9 years later, Kanbanize is one of the global leaders for Kanban software.
How does your day as a CEO of Kanbanize usually go?
It's mostly meetings – team meetings, partner meetings, and client meetings. One of my main jobs is to ensure that people across Kanbanize are aligned around the same goal and everyone is doing what needs to be done. The Kanban method gives us answers about how something should be done, but the 'what' is a much more complicated question that stems directly from the company's strategy, the initiatives planned for the year, the current progress on our goals. Like any company, we face problems and challenges, and it is also my job to delve into these issues and come up with solutions. I often go to conferences because events are a very successful channel for us since our partners feel much more comfortable referring us to clients when they had met us in person.
You made the transition from working in large corporates to entrepreneurship. Was there anything at the beginning that was way out of your comfort zone? 
One thing I don't feel comfortable doing to this day is being 'The Networking Guy'. You know, the one who goes everywhere, meets new people, creates new connections, and grows their business through relationship-building. Personality-wise, I am on the introverted side and I don't really like being the center of attention. Although I speak at a lot of conferences, meeting new people just doesn't come naturally to me. Obviously, being the CEO of Kanbanize I don't have much choice, so I challenge myself every day with the goal to constantly improve over time.
You are just coming out from the latest season of The Farm (Fermata). Why does the founder of a successful IT company decide to join a reality show?
My main motivation was to show young people in Bulgaria that you can always accomplish something meaningful here if you work hard enough. I wanted to spread this message to more people as nearly all the news outlets showcase the negative examples – who stole something, who defrauded someone, and so on. From previous seasons, I was familiar with The Farm's positive tone and knew that the show was trying to remind us of old Bulgarian traditions, and it was promoting a change for good. So, I figured that this is my opportunity to encourage people to think of business as a tool that can make Bulgaria a better place. We are always waiting for politicians to do something but we should also take the responsibility to create successful companies and educate young entrepreneurs.
Talking about young entrepreneurs, we heard that you had the ambition to create a university for entrepreneurs. Can you tell us more about this initiative?
Well, we are currently establishing a Haskovo and Dimitrovgrad chapter of GarGarage's startup accelerator. They are already active in Sofia, Burgas and Stara Zagora, and since I am from Dimitrovgrad, I suggested that they should come to that part of the country as well. In general, the goal of the program is to teach high-school students from the region how to do business. We want to see if there are any good ideas around and help them grow. Hopefully, the successful ones will stay in the region and boost the local economy. 
As of today, this is more like a month-long extracurricular activity. But I hope that in the long-term, we will generate enough success to build an actual university. Places with universities are full of life and young people. Unfortunately, in 2019, we can see that the population of small cities and villages is declining and half of Bulgaria is concentrated in 4 cities – Sofia, Plovdiv, Burgas and Varna. The country has much more to offer and I feel like I have a duty to do something to change things.
For now, alongside other mentors, I will work with students to help them clarify their business ideas and develop an MVP. I will try to share my modest experience with the participants and let's hope they will have something to take home.
So, what will be the most important lessons from your entrepreneurial journey that you would like to share with the students?
All the lessons we have learned over the years at Kanbanize are related to the mistakes we have made. We made a lot of mistakes. I can think of three main types.
First, we used to get distracted way too often. We should have kept a laser-focus on our target personas, which we sometimes didn't do and therefore lost a lot of time chasing dragons. Second, we made many decisions based on our beliefs about the world, but in fact the only way you should make decisions is through data and experiments to validate whether what you want to do really makes sense. Third, we didn't have the right growth strategy and tried to scale way too early. It's a typical mistake that many entrepreneurs do. 
I would also like to emphasize once again that we need to spread the message that everyone who is passionate about something and willing to work very hard can succeed. If we stop looking for excuses and roll up our sleeves, Bulgaria will be a much better place to live.