Event
EIT Manufacturing CLC East invites CEE startups to Discover Vienna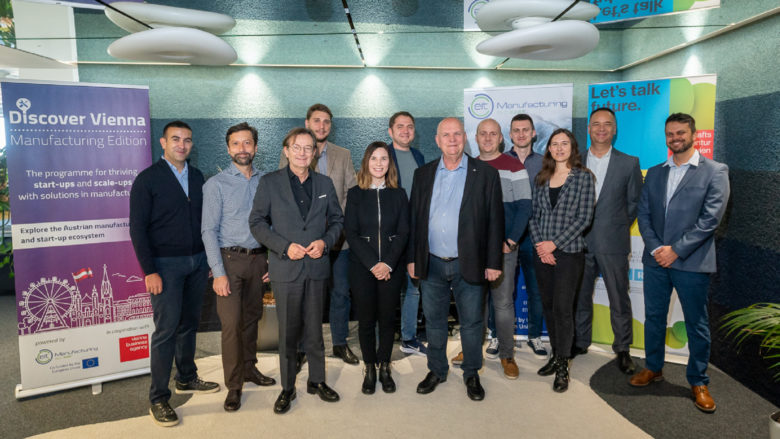 Following the success of the first edition of the Discover Vienna: Manufacturing Edition programme in 2021, EIT Manufacturing CLC East is again teaming up with the Vienna Business Agency to organize the event for the second time. This time the event will take place during the ViennaUP'22 festival. Up to 15 fledgling companies from Central and Eastern Europa can get tickets. They can receive business coaching from the EIT Manufacturing-experts and win a fast-track ticket to its deal flow for funding of up to 300.000 Euros.
EFFRA and EIT Manufacturing join forces to support Europe's manufacturing industry
Discover Vienna: "A rare chance"
"Discover Vienna: Manufacturing Edition is one of those rare chances when someone is really interested in helping you develop your business. The programme is an excellent opportunity to grow your business outside of your home market by finding customers, partners, or investors, not just from Austria, but across the region", says Svetoslav Vasilev, CEO of SIVIKO, a participant of Discover Vienna: Manufacturing Edition 2021.
Vienna is well-known as the most liveable city in the world, because of its human-centred approach in designing all major areas in the city. The Austrian capital has a long-lasting history in manufacturing innovation. Over 8,500 companies are creating over 12,3 billion EUR in revenue. Vienna has also established itself as a central European startup-hotspot with high attractiveness to innovative founders from Austria and beyond.
How European startups are revolutionizing the future of work
Entry point to funding opportunities
With their initiative, EIT Manufacturing CLC East and the Vienna Business Agency want to give 15 startups and scale-ups from Central and Eastern European countries – including Austria – the chance to participate in a five-day intensive programme in Vienna. The young founders will be invited to the city from May 30th to  June 3rd to explore the industry scene and the local startup ecosystem.
During the stay, the programme will contain networking opportunities with startups and potential investors during the ViennaUP'22 festival. Also included: Company visits to key industry partners, meetings with corporates and info sessions about funding opportunities and latest technology. On top of this, the participants will receive business development training and investment readiness mentoring. Discover Vienna: Manufacturing Edition is meant to be an entry point to the EIT Manufacturing funding opportunities and to allow startups access to the CLC East partner network.
Nexo Ventures: Bulgarian Nexo launches $150M investment fund for metaverse projects
Live pitching at BoostUp! East Finals
EIT Manufacturing CLC East will provide the participants with free office space for the duration of their stay. All of the travelling costs as well as accommodation (except for applicants based in Vienna) will be covered by the organizers. Chosen candidates get the chance to gain visibility and international publicity by pitching live at the BoostUp! East Finals event at the Manufacturing Day powered by EIT Manufacturing on June 1st. The winners of the BoostUp! East Finals will get a fast-track ticket to the EIT deal flow for funding of up to 300,000 EUR.
Startups and scale-ups that have solutions in the area of manufacturing and are incorporated are eligible to participate. They must also come from either Austria or Bulgaria, Croatia, Cyprus, the Czech Republic, Greece, Hungary, North Macedonia, Romania, Serbia, Slovakia, and Slovenia. The companies should not be older than eight years and must have at least two team members. Applicants must be beyond the prototype stage and have already successfully launched in their domestic market.
All information about the Discover Vienna: Manufacturing Edition programme can be found on the website of EIT Manufacturing. The application deadline is May 3rd 2022.