interview
Martin Kadinov About the Entrepreneurial Spirit in Esports and Gaming in Southeastern Europe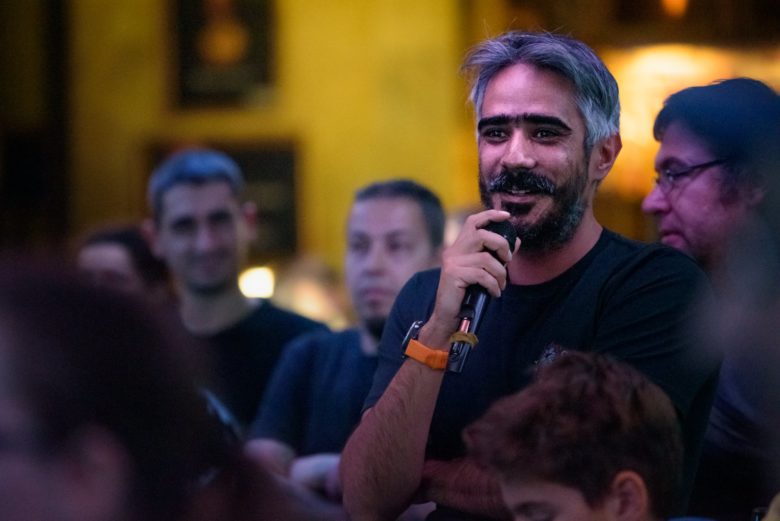 Video games are not only the richest and fastest growing entertainment industry in the world, but also the most popular form of entertainment for the generations born after 1980. The global video game market size was valued at $151B in 2019 and is expected to grow at a compound annual growth rate of 12.9% from 2020 to 2027. From a niche subculture, video games have become an integral, even central, part of the modern lifestyle. And with the recent pandemic and lockdown – even more, driving a threefold growth the average time a user spent playing. As video gaming is growing, so is also esports – competitive gaming in an online environment. Esports is also expected to reach a market size of nearly $1.6B in the next couple of years. This gives birth to new subsectors, new professions and revenue incomes, new communication and media channels, and more. 
To explore the global trends and their translation in the local and regional markets in SEE and Bulgaria, we are talking to Martin Kadinov. Kadinov spent the past over 20 years in the industry – as professional player, as leader of companies in the gaming industry, as founder of such ventures, and as founder of the Bulgarian Gaming Association. This summer he decided to go on another entrepreneurial journey founding the first Bulgarian agency specialized in esports – TDB Play. His mission is to help gaming companies develop their products, but mostly help brands use esports as a novel way to communicate to their desired audiences. The first product of TDB Play is the Bulgarian Gaming Marathon, which happened on the 30th of August gathering some of the most prominent streamers in Bulgaria. The marathon was a one day festival for everyone who'd like to explore the new gaming and esports trends and have some fun, explained Kadinov. But what made him think that SEE and Bulgaria are fertile soil for such events and what's going on in the local ecosystem in general?
Trending Topics: You organized the first Bulgarian Gaming Marathon last Sunday on the 30th of August. Can you please tell us a bit more about it and also what are the trends you are observing that made you launch such an event right now?
Martin Kadinov: Esports and gaming have been and still are growing rapidly worldwide. This is also true for Bulgaria and SEE, but it seems that the subject of video games, as a pop-cultural phenomenon has not yet fully found its place in the Eastern European societies. In Western Europe, the US, Japan, or China, video games have been recognised as a vital segment of the contemporary way of living, in our region, the video games culture is still struggling to be fully accepted – as a leisure activity, business, art… as an equal member of society.
Nowadays, video games and gaming content consumption have become a central part of the entertainment diet of the so-called generation Z (those born after 2000), but also have large amounts of fans in the Millenials (those born after 1980). For these people watching live gaming streams, esports tournaments, gaming VoD content is a preferred way of entertainment as opposed to classical media formats.
With the Bulgarian Gaming Marathon we saugh to create a one-day online festival dedicated to the video games culture. We collaborated with some 30 content creators who prepared, produced and broadcast their shows as a part of the Marathon. We had leisure streams, hardcore game runs, collaborations between different content creators, various esports tournaments. The marathon was a celebration of the video games culture that not only provided entertainment for the gaming fans, but also opened the door to the gaming world to new audiences, to people who had not played video games or watched gaming streams.
The idea of the Marathon was born during the lockdown when the routines for so many people were disrupted. Gaming naturally came as one of the low-hanging fruits in terms of entertainment. Data shows it globally, as well as in SEE and Bulgaria, that the average time spent with video games during the lockdown has increased by roughly 50%, which is quite significant. This comes not only from gamers but also from people who didn't play games on a regular basis before. Also, spending on video games has increased. So the idea of the gaming marathon came around as we were looking for a way to stay connected, have fun together, and not least, it's an attempt to change the perception from "waste of time" to "valid form of entertainment, education, communication, and personal growth".
Can I ask you for a quick explanation on what's the difference between esports and gaming?
Sure, that's an important question. Esports is always gaming, and it's a very small, but increasingly more significant  part of gaming. Esports is the competitive activity of playing a game. Gaming, in the context of video games,  is a very broad term that stretches from casual mobile games, through single-player games to multiplayer games online. Esports, like sports, is about human stories, about challenging yourself to get to a place where you thought you weren't able to go before. The marathon was 95% gaming and probably around 5% of it is esports, as we had only four tournaments. 
Already at the beginning of the year, there were reports stating that the global esports industry is booming and expected to reach nearly 500M viewers and $1.1B in revenues by the end of this year. Then COVID happened and further boosted the growth trends. What's the outlook now?
It's a super interesting topic to explore even from an anthropological perspective. Esports cannot function without the internet, it is a product of the internet, whereas traditional sports have a completely different DNA. What we saw during the lockdown with almost all sports events canceled this year, is that the majority of the sports couldn't react. Well, of course with some exceptions such as Formula 1. 
COVID triggered many processes, even esports events like the annual esports championship in Katowice, Poland, which had to take place without a live audience, but I believe the esports industry managed to adapt rather quickly. The tournaments are happening, the audience is growing, it is something that allows everyone to continue playing, streaming, and watching from home. Of course, it also creates challenges. 
In a nutshell, it was a shock because the whole supply chain and the whole society and businesses are under stress. The pandemic affected sports heavily, also because one of the main revenue streams comes from sponsoring, which is marketing budgets, and these were heavily revised in the COVID context. In the past 20 years, esports enjoys double-digit annual growth, there was a small temporary drop with the coronavirus, together with the global market shock, but it is getting back to the "new normal" now and will certainly continue growing. 
Moreover, the corona crisis forced classical sports to look for ways to enter the esports space. We'll see games like FIFA growing to represent football in the digital playground. This is a trend that won't be reversed. We, and our new agency TDB Play, in the beginning of the COVID lockdown partnered with the Romanian football league and organized a national charity competition with the 14 clubs in the country as participants. Each of them employed a professional FIFA player to play for them. This was a very interesting project to be part of. A real fusion between classical sports and esports. 
Can you compare the esports and gaming culture but also markets? What are the major differences between SEE, Western Europe, the US, and Asia?
I don't really feel comfortable commenting on Asia as I don't have in-depth first-hand insights from there. Japan has its own culture, as it is the birthplace of video games. I have been in South Korea as a professional player back in the days. China is gradually taking the dominant position in gaming as it is also doing in technology.
From a cultural perspective and the general topography of the business, Eastern Europe, Western Europe, and the US are similar to a large extent. The US has always been at the vanguard of innovation, the major investments and entrepreneurial risks are taken there. That's why most of the publishers and most of the large platforms like Twitch come from there. In Western Europe, gaming has long established itself as a fair part of the culture and the way of living. It is much stronger in terms of purchase power and market as a whole. In Southeast Europe, we need to face the fact that it is a region with much weaker purchase power, divided into small markets with their own languages, legal framework and specifics. Therefore, it is hard for brands and publishers to operate in this region because the investments are hardly justifiable. Esports and gaming companies would sometimes move some R&D resources to a country in SEE, but they less see it as a market.
So in a nutshell, Europe and the US are similar in terms of culture, the games that are played, the businesses. The US is at the front, Western Europe is following closely, and SEE is at the tail-end. But to finish positively, all this doesn't mean we shouldn't do something. I think there's a huge amount of opportunities in the field of esports – especially for brands who could be early adopters of this new trend that is coming. There's also a lot of entrepreneurial activity that I observe and is worth following. For instance, last month, one of the most important things in the gamedev and publishing business happened in Bulgaria – the local division of Creative Assembly has finished developing and published Total War: Troy. The franchise is among the biggest PC game franchises, and the game that has been developed 100% in Bulgaria is now sitting on the PCs of 8M+ people all over the world. This is potentially the most significant digital entertainment cultural product that is coming from Bulgaria. These things stir energy in the gaming societies and generate talent and entrepreneurial spirit. 
Let's move away from the market perspective and talk about the ecosystem here. What does the gaming and esports ecosystem look like in Bulgaria and the region?
Еsports can only happen with video games and with a special type of games that are suitable for esports. The first stakeholders for esports are the game publishers and developers. Then we have the players – the people who play the games and create communities around them. These players also sometimes organize themselves in professional teams and leagues, as in football or any other team-based sport.Then we have the tournament organizers, the sponsors who are looking to establish connections with particular audiences.This are the key stakeholders in the global ecosystem.
In SEE some of the stakeholders are missing. We don't have local publishers for esports games, we do have, though,  a significant amount of players with high competitive potential and a standing tradition in it.  Nowadays, there are around 40-50 people in Bulgaria who play professionally or make a living out of esports. We do have some tournament organizers who are operating locally like the telco A1, who are running an esports league in Bulgaria. Regionally there's also one Romanian company – PGO, who are operating globally, mostly in Asia. There's nothing really significant in SEE in the field of esports apart from the players.
You were talking about this entrepreneurial activity. What do you mean?
There are many needs that could be addressed in esports and gaming. Of course, it's an extremely competitive market, not only because it's already large but it's about to continue growing. One thing that I see is that there are a lot of passionate people. Among the young individuals in the age of 14 and 18, present and past, are those  who are playing their favorite games 6-8-10 hours a day, on average. As a result they are becoming experts in them – they understand the games, but also the needs and the opportunities in the market. Then they seek to get themselves employed in this sector or build things up. A lot of the entrepreneurs in gaming and esports come from such backgrounds. I see more and more interesting products emerging already, and not least angel investors gaining interest in the field. One of the products I recently discovered is a tool that allows streamers to perform better – it digests feedback from the audience allowing the streamers to adjust the content quickly, it also aggregates data about the streamers behavior, which is handy for the brands who seek to engage with certain audiences. Another project is focused on building a sort of an academy for esports talent. Their name is Tr1be Esports. 
I expect to see a lot of action in the new types of formats. For the generation born after 95, TV and print media, anything that is not on-demand or isn't live action,, is something that is less familiar. I see a lot of opportunities to build content directed at these audiences. 
Where is the capital in this equation? 
There are not that many people and teams here to justify the existence of dedicated investors. Game Development and publishing is an extremely competitive business. There are probably 50 new games published since we started the conversation. When you add that SEE, except for Croatia and Serbia, doesn't have a vibrant entrepreneurial community in gaming, it becomes harder to have investors here. There's a bit of reluctance and lack of expertise in the field of gaming among the VC funds over here, but I do believe that with teams and projects with good track records, things can change in the near future.
This may also interest you:
The Bulgarian Game Dev Industry Consists of Micro Studios and is Specialized in Desktop Games
Game Studios In Bulgaria: Who Is Who In Ten Words
Rebellious Software: The Startup That Develops A Collectible Card Game Based on Mythology
Former Pixar Art Director Launches Multidisciplinary Creative Academy in Sofia
The Latest Exit in Bulgariа is in the Gaming Sector and it Might Rise to a €27M Deal
Romanian Game Design Platform Machinations Closes A €580k Seed Round
Chobolabs: One Exit and Many Lessons On Doing a VC Backed Gaming Business