RENEWABLE ENERGY
RePowerEU: Europe's plan for breaking the dependency from Russian oil and gas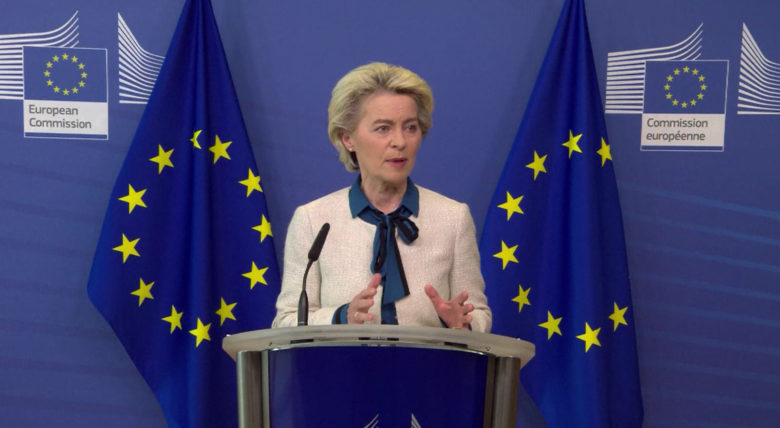 "Putin's war is disrupting the global energy market. It shows how dependent we are on imported fossil fuels. And how vulnerable we are to relying on Russia for importing our fossil fuels," EU Commission President Ursula Von der Leyen said at a May 18 press conference. This is why it is so crucial to minimize Europe´s dependence on fossil fuels from Russia as soon as possible. This should succeed with the "RePowerEU". "I'm strongly convinced that we can do it," said Von der Leyen.
"RePowerEU" is intended to accelerate the energy transition
The "RePowerEU" plan envisages investments of up to €300 billion by 2030 in order to become more energy independent. When presenting the plan, Commission President Ursula von der Leyen pointed out that massive investments and reforms are required for the transformation: "
"We mobilize close to €300 billion. Approximately €72 billion in grants and €225 billion in loans. This will include some financing – up to €10 billion – in missing links for gas and LNG so that no member state is left in the cold."
Von der Leyen refers to the progress that has already been made. For example, the exit from Russian coal has already been achieved. And natural gas is also making steady progress. "Last year, 40 percent of imported gas came from Russia. This April we were already able to reduce this value to 26 percent," says Von der Leyen. "It's going in the right direction, but it has to go faster," said the Commission President.
Saving energy in industry and transport
With the RePowerEU, the EU Commission wants to achieve two main goals: to end the EU's dependence on Russian fossil fuels by the end of the decade and to overcome the climate crisis. They use different strategies to do this. One of them is massive energy savings. According to the EU Commission, this is "the fastest and cheapest way to overcome the current energy crisis and reduce bills." To this end, the EU Commission proposes strengthening long-term energy efficiency measures, including an increase in the EU's energy saving target for 2030 from 9 to 13 percent.
In a communication on energy saving that was also recently published by the EU Commission, the EU Commission is also proposing to its member states to establish tax measures to promote energy savings. As an example, the EU Commission refers to reduced VAT rates on energy-efficient heating systems, building insulation, and appliances and products. They have also summarized options for energy savings in industry and recommendations to cities, regions, and authorities for substituting fossil fuels in transport.
Another mega project follows Europe's largest floating solar park
Photovoltaic mandatory for residential buildings from 2029 proposed
Energy should not only be saved but also expanded. Instead of the previous 40 percent, 45 percent of energy is to come from renewable sources within the EU by 2030. "The European Green Deal and 'Fit for 55' were already very ambitious, but today we are taking our ambition to a new level," says Von der Leyen. In order for this to be achieved, the Commission, therefore, recommends speeding up the approval process for projects involving renewable energies. "Today, the approval process for a wind farm often takes six to nine years," says Von der Leyen.
That's counterproductive. Therefore, the member states should designate areas for renewable energies that are particularly suitable for such large-scale projects and in which "shortened and simplified approval procedures apply in areas with lower environmental risks." The approvals should then be available in these areas within a year. In order to facilitate the rapid identification of such areas, the Commission is making available a digital mapping tool for geographic data in the fields of energy, industry, and infrastructure. In addition, the EU Commission advocates classifying renewable energy projects as projects of "overriding public interest".
A dedicated EU solar strategy to double photovoltaic capacity by 2025 and install 600 GW by 2030 is also part of the plan. To achieve this goal, the EU Commission is proposing a Solar Roof Initiative, with a gradual legal obligation to install solar panels on new public, commercial and residential buildings. The use of heat pumps is also to be promoted in the coming years and doubled by 2030. Measures to integrate geothermal and solar thermal energy into a modernized district and local heating systems are also planned.
Some CEE-states spend more money on fossil fuels than on renewables
Investments also in fossil energy
On the other hand, up to €10 billion are also to be invested in expanding the gas and LNG (liquefied natural gas) connections that are still missing in the individual countries. In addition, they are providing up to €2 billion for investments in oil infrastructure to replace Russian oil supplies. "The rest (95 percent of the financing) is intended to drive the turn to clean energies," assures Von der Leyen.
In addition, the EU wants to set up a common platform to purchase natural gas, LNG, and hydrogen together. "We know that Europe has more influence when it acts together," argues Von der Leyen for the step. Because hydrogen is now also set to make significant progress. It is planned to increase domestic renewable hydrogen production to 10 million tons by 2030, with a further 10 million tons to be imported, according to the press release. 
To accelerate hydrogen projects, additional funds of €200 million would be made available for research, according to the Commission, which also undertakes to complete the evaluation of the "first important projects of common European interest" by the summer. The action plan for biomethane also envisages increasing the production of biomethane to 35 billion cubic meters by 2030.
Many of the measures now have to be negotiated with the EU countries and the European Parliament. The measures are to be financed in part from the EU's Corona Recovery Fund. But also the auctioning of excess certificates from emissions trading should generate new funds, according to the EU Commission's proposal.
10-point plan: How can we quickly reduce our oil consumption
RePowerEU provokes controversial oppinions
"In view of the gas shortage and rising costs as a result of the Ukraine war, the electricity industry is currently facing enormous challenges in the areas of security of supply and price stability. At the same time, we have to further accelerate the transformation processes, especially in the current situation. We, therefore, welcome the backing at the European level that the measures presented today are providing," announced Barbara Schmidt, Secretary General of Oesterreichs Energie in a broadcast.
The environmental protection organization WWF is not very enthusiastic about this. "Instead of undermining environmental law, European politicians must finally do their homework to speed up the energy transition. From energy saving to better protection of nature to the mobility turnaround and the removal of bureaucratic hurdles, there is a lot to do," says WWF climate spokesman Thomas Zehetner in a first reaction. In principle, it makes sense to plan your own energy space, but all projects must comply with nature conservation standards and democratic participation rights.
Despite climate goals, Europe's 25 largest banks continue to invest billions in oil and gas