ANALYSIS
MAAMA: How the tech giants are buying into the future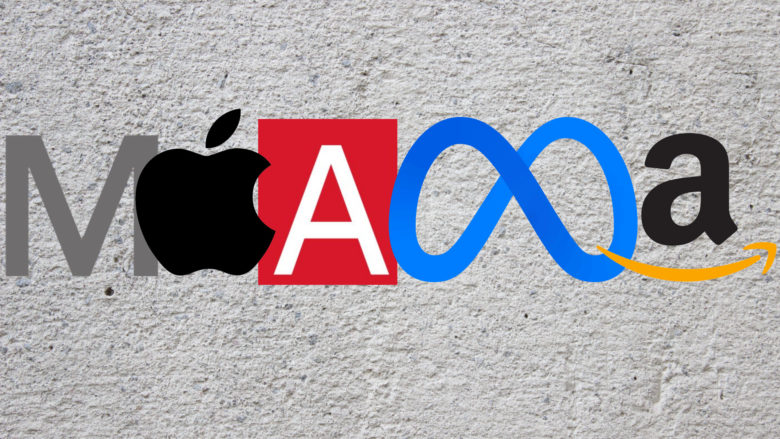 Forget GAFA, forget FAANG – the new abbreviation people are talking about is MAAMA. It stands for the five tech giants Microsoft, Apple, Alphabet, Meta, and Amazon that dominate the world's company rankings. And they no longer just stand for their specific sectors (business software, smartphones, search, social media & e-commerce). They are also among the largest investors on the planet, having invested a whopping $280 billion in new technologies and businesses in 2021, according to The Economist. This is to prevent them from becoming the next Kodak, Nokia, or IBM.
$280 billion, that's a big number. It corresponds to 9% of all investments made by US companies in 2021. Want more comparisons? Here we go (Numbers from Dealroom):
Investments in startups and scale-ups in Europe 2021: 100 billion dollars
Investments in startups and scale-ups in the USA 2021: 330 billion dollars
Investments in startups and scale-ups globally in 2021: $675 billion
So, MAAMA is investing massively in the future. The latest deal is that of Microsoft which wants to buy Redmond Activision Blizzard for $68.7 billion. It is about the billion-dollar gaming business today as well as about tech, know-how, and talents that can program the metaverses of tomorrow. It would not be surprising if Big Tech makes further acquisitions in 2022, because the war coffers are bulging after two very strong Corona years. Only regulatory authorities and competition watchdogs, especially in Europe, could thwart this.
Mega deal: Microsoft buys "World of Warcraft" creators for $68.7B
The new sectors in focus
So where are these many billions of dollars going? In a remarkable analysis (paywall), the Economist has recorded in which new sectors MAAMA has made acquisitions and investments (also via their VC vehicles), in which R&D areas money has flowed, and how many employees are already working on future topics. In summary, the following picture gives a good insight into where the journey is going:
| | | | | | |
| --- | --- | --- | --- | --- | --- |
| | Microsoft | Apple | alphabet | Meta | Amazon |
| gaming | x | x | x | x | x |
| AR/VR | x | x | x | x | |
| metaverse | x | | | x | |
| fintech | x | x | x | x | x |
| Autonomous cars | x | x | x | | x |
| Crypto/Blockchain | | | x | x | |
| healthcare | | x | x | | x |
| quantum computing | x | | x | x | x |
| SpaceTech | | | | | x |
| Robotics/Drones | x | x | x | x | x |
New fears of oligopolies
The sums that MAAMA invest in R&D are enormous. In the past 12 months, the Big Five have put an average of 53% of their cash flow into research and development and investments. In comparison, the median of all S&P500 companies was 32 percent. With the enormous sales that Alphabet and Co. achieve, these billions are more money than entire large states (except the USA and China) spend on armaments per year.
The enormous purchasing power is once again fueling fears that Big Tech will now consolidate its monopoly-like market positions in future-oriented sectors such as quantum computers, metaverse, or autonomous vehicles. The infamous kill zone that companies like Apple have built around them is in full swing. MAAMA has acquired more than 110 companies in the past three years. Microsoft in particular is currently spending a lot of money: $68.7 billion for Activision Blizzard, 16 billion for Nuance.
Tech & Talent: The Intricate Mechanisms Behind Apple's Startup Killer Zone
The four other tech giants Amazon, Alphabet, Meta, and Apple are currently a little quieter when it comes to large acquisitions. Because competition watchdogs, especially in the EU, are now keeping a close eye on these four large companies because it is feared that they will also strengthen their dominant market positions through acquisitions. The takeover of Giphy by Meta/Facebook, for example, is being investigated in both the UK and Austria.
But the monopoly allegations don't always hold up. Even after the acquisition of Activision Blizzard, Microsoft will "only" control ten to 15% of the gaming market, while Sony and Tencent have higher market shares. Meta can currently point to the new social media giant TikTok, and Amazon is increasingly confronted with Shopify, Klarna, and other e-commerce solutions. There are also numerous new players in the up-and-coming Web3 that are at least conceptually challenging the centralized giants. Then there is regulation: the Digital Markets Act of the EU is designed to put digital monopolies in their place.
So that means: The future is also quite uncertain for MAAMA.