Digitalk Startup Competition
These Are The 14 Chosen Startups to Pitch on DigitalK. You Have the Power to Vote One to the Finals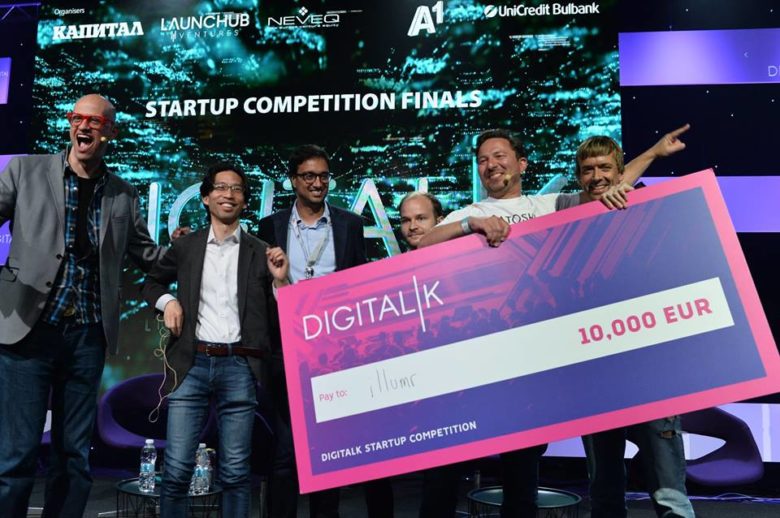 Between May 30 and 31, Sofia will be the heart of the CEE startup ecosystem. For the sixth year in a row, DigitalK, the leading digital and tech conference in CEE, has a special startup track for founders who want to meet and pitch in front of leading VCs from the region – the DigitalK Startup Competition.
This time the co-organizers LAUNCHub Ventures have attracted VCs like 500 startups, Earlybird, Tera Ventures, Outlierventures, Credo Ventures.
Among 100+ applicants from all over Europe, 14 founders from seven counties have been selected to pitch. On May 30 in Sofia 14 pitchers will fight for the attention of the investors and will get through the jury's tough questions. Four of them will get the chance to present in front of the whole audience on May 30 and win one of the prizes:
€

10K cash from DigitalK

€

10K in convertible note from CEO Angels Club

€

3K in media value from Trending Topics
Who will decide? The Jury that consists of Terra Ventures, 500 startups, South Central Ventures, Baltic Sandbox, Founder Institute, and SpeedInvest representatives (tbc based on availability during the conference).  But not only…
The Community WildCard
You have the chance to vote and fast track one company to the finals. As partner Trending Topics can give one wildcard to the team the audience selects. This one team will end up pitching on the main stage independently from the jury choice. So, make a wise decision and mobilize the community:
The Semifinalists
15toGO – Bulgaria – This company offers something like a social network for travelers they can match with like-minded people, book group trips and tours, share photos and experiences online. For one of the first 15, the trip might end up being free.
Colibra – Bulgaria – Colibra is an air flight travel tool that helps travelers in the process of getting direct flight delay compensations with instant payments, directly on their phones without any claim processes. The company was originally started with the idea to bring back transparency to the insurance industry by putting some of the processes on the blockchain.
CryptoAPIs – Bulgaria – The platform is marketed as the backbone of any blockchain and crypto project. Crypto APIs is an API provider for crypto & blockchain applications. They provide live and historical data for both Crypto market and Blockchain protocols.
FastCast – Slovenia – The company develops an easy to use online casting platform that allows scouts to browse through a database of artists, performers, singers and entertainment talent in general, and also post offers.
Gaida.ai – Bulgaria – The less than a year young venture has developed an AI-powered tech solution that allows traditional estate agents to serve more leads better. Gaida.ai works with the biggest real estate agencies in Bulgaria, has managed to activate 40% of their unserved leads, and generated revenues of €140K in the first five months of operations.
Green Charger Network – Bulgaria – The company is building a worldwide GreenCharger™ network by bringing together the leading e-vehicle charger operators. EV owners can charge EV freely on every charger within the network, regardless of charging operator.
LogSentinel – Bulgaria – LogSentinel provides an advanced secure audit trail application leveraging multiple layers of sophisticated encryption to ensure data integrity. With its cost-effective solution for key forensic and compliance needs, LogSentinel has recently won the GovTech Pioneers Challenge in Austria.
Payhawk.io – Bulgaria – Platform for expense management for small businesses. The company issues debit cards that can collect and read expenses in real-time. Payhawk issues company cards with automated expense management and discovery of subscription overspend on auto-renewals. The company partners with brands like Visa, Mastercard and Wirecard.
Personify XP – UK – Personify XP automates personalized experiences for anonymous website visitors through automation and AI without requiring any personal data. They use a visitor's behavior to identify the reason behind their visit, while the platform automatically optimizes onsite content and products.  
Spanners CI – Greece – Spanner CI helps IoT device manufacturers build & test their products at a fraction of the cost. They do that by replacing the manual testing of their devices with an automated testing service.
TwogNation – Estonia – Тhis venture creates a 1-stop-solution for gamers and industry stakeholders. It has two products – TwogHub, a competitive gaming aggregator platform providing unique features for gamers and industry stakeholders, and TwogNews – an esports aggregator, which allows the user to consume content in a customized and short format. The company also does consultancy in the e-sport sector.
Unboxed.Network – Lithuania – Unboxed is a mobile application that connects Instagram micro-influencers with companies that want to build up their brands through user-generated content. The company has worked with over 100 global brands including Mars, Nestle, and Philips, running campaigns in 9 different countries.
ViaCorex – Lithuania – ViaCorex is a cloud-based e-procurement platform which streamlines and centralizes procurement processes. They provide deficient functionality in ERP or accounting systems like e-sourcing, suppliers and e-catalog management, requisitions and approvals, purchase orders, b2b e-commerce and many more.
Wiserstate – Latvia – Wiserstate provides affordable personal development for managers – it's an automated coaching platform for junior managers in video form. Certified business coaches have recorded and configured video coaching scenarios that are changing according to users learning needs.
The Jury List
The 13 startups that don't manage to make their community support them, will have to convince the jury they deserve to pitch on the main stage or even win the competition. And given the jury members that might be a challenging task:
| | |
| --- | --- |
| Jury @ Semifinals | Jury @ Finals |
| Enis Hulli, 500 Startups | Adeo Ressi, Founders Institute |
| Adeo Ressi, Founders Institute | Milen Ivanov, CEO Angels Club |
| Marcin Kurek, Market One Capital | Alexander "Sasha" Galitsky, Almaz Capital |
| Stanislav Ivanov, Terra Ventures | Ivan Vasilev, Bulgarian Startup Association |
| Marton Medveczky, Flashpoint Ventures | Stephane Gantchev, LAUNCHub Ventures |
| David Rylski, Speedinvest | |
| Tatjana Mikuz, South Central Ventures | |
| Svetoslav Stefanov, 3TS Capital | |
| Milen Ivanov, CEO Angels Club | |
| Ton Van't Noordende, 01 Ventures | |
| György Simó, Day One Capital | |
| Wiktor Rybicki, Innovation Nest | |
| Angel H. Angelov, Innovation Accelerator | |
| Kristina Tauchmannova, Startup Bootcamp Fintech Dubai | |
| Guillaume Fournier, Credo Ventures | |